Responsible Governing v. Ideological Purity
What exactly is the GOP trying to accomplish in the debt ceiling negotiations?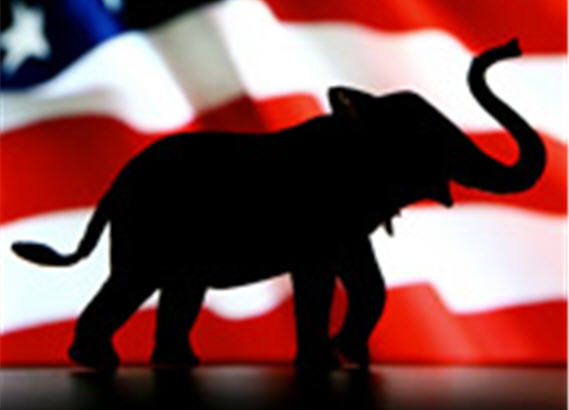 David Brooks takes the Tea Party wing of the GOP to task over the debt ceiling negotiations:
Republican leaders have also proved to be effective negotiators. They have been tough and inflexible and forced the Democrats to come to them. The Democrats have agreed to tie budget cuts to the debt ceiling bill. They have agreed not to raise tax rates. They have agreed to a roughly 3-to-1 rate of spending cuts to revenue increases, an astonishing concession.

Moreover, many important Democrats are open to a truly large budget deal. President Obama has a strong incentive to reach a deal so he can campaign in 2012 as a moderate. The Senate majority leader, Harry Reid, has talked about supporting a debt reduction measure of $3 trillion or even $4 trillion if the Republicans meet him part way. There are Democrats in the White House and elsewhere who would be willing to accept Medicare cuts if the Republicans would be willing to increase revenues.

If the Republican Party were a normal party, it would take advantage of this amazing moment. It is being offered the deal of the century: trillions of dollars in spending cuts in exchange for a few hundred million dollars of revenue increases.

A normal Republican Party would seize the opportunity to put a long-term limit on the growth of government. It would seize the opportunity to put the country on a sound fiscal footing. It would seize the opportunity to do these things without putting any real crimp in economic growth.

The party is not being asked to raise marginal tax rates in a way that might pervert incentives. On the contrary, Republicans are merely being asked to close loopholes and eliminate tax expenditures that are themselves distortionary.

This, as I say, is the mother of all no-brainers.
The problem, Brooks says, is with the GOP itself:
We can have no confidence that the Republicans will seize this opportunity. That's because the Republican Party may no longer be a normal party. Over the past few years, it has been infected by a faction that is more of a psychological protest than a practical, governing alternative.

The members of this movement do not accept the logic of compromise, no matter how sweet the terms. If you ask them to raise taxes by an inch in order to cut government by a foot, they will say no. If you ask them to raise taxes by an inch to cut government by a yard, they will still say no.

The members of this movement do not accept the legitimacy of scholars and intellectual authorities. A thousand impartial experts may tell them that a default on the debt would have calamitous effects, far worse than raising tax revenues a bit. But the members of this movement refuse to believe it.

(…)

To members of this movement, tax levels are everything. Members of this tendency have taken a small piece of economic policy and turned it into a sacred fixation. They are willing to cut education and research to preserve tax expenditures. Manufacturing employment is cratering even as output rises, but members of this movement somehow believe such problems can be addressed so long as they continue to worship their idol.
Megan McArdle is similarly pessimistic:
I am getting the same sinking feeling that Brooks is having–that there is a sizeable faction on the right, and worse, in the GOP caucus, that is willing to default rather than make any deal at all. In fact, I think it's worse than Brooks suggests.  It would be bad enough if these people were simply against higher taxes, because then you might persuade them by pointing out that if we default, we're probably going to end up with higher taxes, right now, in order to close the current gap between spending and tax revenue.

But when I point this out, the response in my comments and email and twitter is "Fine, I'll accept higher taxes, as long as they come with radical changes in spending."  The BATNA (best alternative to negotiated agreement) is default on either our debt, or entitlements like Social Security that people have planned their lives around; the Democrats properly view this as a disaster.  But I'm hearing from people who seem to think that it's better than raising one thin new dime in taxes.  This makes me very much afraid of where this is headed.

The political logic is infantile.  The American public does not want you to cut Medicare, Medicaid, or Social Security.  There is no monopartisan substitute for persuading people to agree with you.  Just as the Democrats spent way too much time reading their own press releases on ObamaCare, only to find that their cherished legislation was instantly at risk of dismemberment by legislative and court challenges.   Imagine that the GOP forces through an all-cuts deal–or forces the country into default?  What's the next logical step?
Tyler Cowen agrees, as does Bruce Bartlett, but as Brooks notes the statements of people like them have little influence in the GOP these days. Instead, it's Grover Norquist, who has spent his career as a political activist rather than a professional economist or  policy adviser, who seems to have the most influence in the GOP these days. His "no tax increase" pledge essentially has the GOP hamstrung to a negotiating position that, while it may have the benefit of being ideologically pure, is not politically viable and poses the risk of throwing the nation into default and the economy into recession. What's more important, fixing the problem and taking what is, in the end a pretty good deal, or making Grover Norquist happy? As much as I hate seeing taxes increased, I can't see any rational political argument for taking the Norquistian position in these negotiations, at least not while the opposition party controls the Senate and the White House.
The most absurd part about this to me is that we aren't even really talking about tax increases here, we're talking about closing tax loopholes and ending subsidies to preferred industries disguised as tax deductions, credits, or changes in depreciation schedules. These tax subsidies distort the economy as assuredly as government subsidies to preferred industries do because they involve using the tax code to pick winners and losers, and usually the winners end up being the industries that have been most successful at influencing the tax committees in the House and Senate (coincidentally, I'm sure). Ending these subsidies should be at the top of the GOP list as much as cutting spending is, and doing so would not involve making a single change to tax rates for either individuals or corporations. And yes, thanks to the "no tax increases" ideology, the GOP has drawn a line in the sand over an issue that, in the end, is not even worth fighting over.
There's still a part of me that the adults in the room will come to their senses. After all, John Boehner said as long ago as last November, just after the election, that he would make clear to the incoming freshmen that they would have to act like adults when it came to the debt ceiling. So far, it seems like he hasn't succeeded in getting his message across.
In the current political environment, a 3-for-1 deal that ends up increasing the debt ceiling while also cutting up to $2,000,000,000,000 in spending over ten years, accompanied by a few hundred million dollars in revenue increases that come mostly from closing economically wasteful tax subsidies strikes me as a pretty good deal. Perfect? No, I would also like to see Congress deal with the long term entitlement problems, but there is no political consensus right now regarding entitlement reform. Anyone expecting perfection from government will be eternally disappointed, and anyone willing to play chicken with the economy over a tax pledge isn't governing responsibly.