Revisiting the JCPOA
A possible way forward?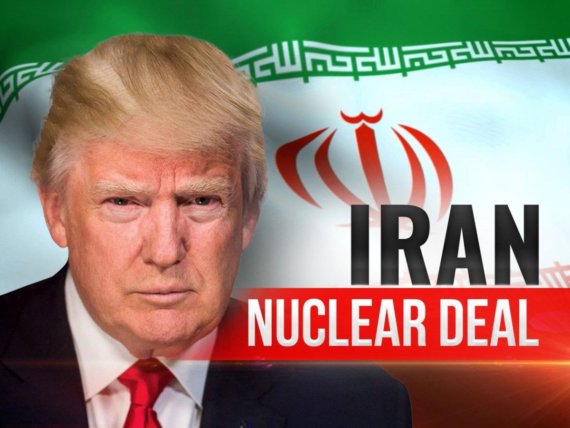 Evelyn Farkas, a former deputy assistant secretary of defense in the Obama administration, has a piece in WaPo that reminds us what the Joint Comprehensive Plan of Action (JCPOA) accomplished and suggests a possible way forward.
First, here is what the agreement did (and did not do):
When Iran, the United States, Britain, France, Germany, China, the European Union and Russia signed the JCPOA in 2015, none of the parties were under any illusions about what the deal would accomplish. Neither Obama nor his counterparts expected it to eliminate the range of threats posed by Iran's aggressive foreign policy, especially in the Middle East. As Obama stated that year, the deal "does not resolve all problems; it certainly doesn't resolve all our problems with Iran. It does not ensure a warming between our two countries. But it achieves one of our most critical security objectives."

The aim was to effectively manage Iran's nuclear threat, and that was achievement enough. The other dangers Tehran presented — its missile program (the means to deliver conventional and nuclear weapons), support for terrorist groups waging war with Israel and destabilizing the region, full-fledged assistance to the brutal regime of Syrian President Bashar al-Assad, and consistent meddling in the internal affairs of the Iraqi government — would be dealt with separately. And the agreement itself was temporary; implicit in the deal's 15-year term was the suggestion of future renegotiation.

In exchange for relief from sanctions imposed by the United States and our European allies, the Iranian government agreed to cut its stockpile of uranium suitable for weapons production, lower uranium enrichment levels, restrict enrichment to one facility rather than two, and grant the International Atomic Energy Agency regular access to its nuclear facilities to monitor and verify compliance with the agreement. Although the name JCPOA has the word "comprehensive" in it, it was — as most international agreements ultimately are — a compromise. Iran's nuclear program wasn't totally frozen, and all aspects of the deal expire by 2031.
I think various aspects of this needs emphasizing.
First, any agreement was going to be nothing more than a delaying tactic. If Iran, or any state, truly wants a nuclear weapon, it will eventually get one. The knowledge of how to build one is available, and so all it takes to acquire one is long-term dedication of resources.
Note: even military strikes, up to and including invasion, are ultimately only delaying tactics. And, it should be stressed, the more the US uses pressure tactics, and especially military action, to prevent states from acquiring nuclear weapons, the more states like Iran are motivated to acquire them.
The best deterrent against invasion is having a nuke.
Second, the JCPOA was never going to curtail all Iranian behavior that the US does not like. No agreement can or will. For Trump, the hawks in the administration, or talking head on TV to suggest otherwise is simply delusional.
So, where are we?
On Monday, a spokesman for Iran's Atomic Energy Organization threatened that within 10 days, Iran might breach the nuclear-enrichment restrictions imposed by the Joint Comprehensive Plan of Action (JCPOA), the 2015 nuclear deal between Iran and major world powers from which the Trump administration has withdrawn. In response, the United States announced the deployment of an additional 1,000 American troops to the Middle East. On Tuesday, Secretary of State Mike Pompeo said Trump "does not want war" but warned that U.S. troops would respond with force to Iranian aggression. At a campaign rally that night, Trump bragged about getting out of the "disastrous" nuclear deal and imposing "the toughest-ever sanctions" on Iran before saying he's "charting a path to stability and peace in the Middle East."
So, with the US' exit from the JCPOA, Iran is advancing towards breaching the JCPOA restrictions and military tensions in the region are higher than they have been in years.
Note, too, that sanctions are likely to accelerate Iran's resolve to have a nuclear capability and will increase the tensions in the region (after all, the sanctions are an attack on Iran by the US).
The JCPOA was designed to slow this down.
It extended Iran's "breakout" time — how long it would take to build a nuclear weapon — from a few months to a year or more. And it left room for the possibility that domestic and international events, including continued diplomacy, could slowly effect change in the Iranian government's nuclear, domestic and foreign policies so that they would no longer run counter to U.S. interests
Having thrown away that delay, and having undercut the chance for increased engagement, we find ourselves now watching the administration play a very dangerous game of brinksmanship.
And note that if Iran nuclearizes, Saudi Arabia will want to follow.
As I noted yesterday, I think Trump learned very flawed lessons from his interactions with North Korea. While North Korea is a nuclear power, and Iran isn't, Iran is a far more significant power in its region that NK is in its, and Iran is simply a more developed and capable state. Iran isn't interested in playing silly PR games with the US the way Kim is. The Gran Ayatollah isn't going to hold a joint press conference with Trump in Singapore nor is he going to write beautiful letters.
So, is there a way forward? Perhaps the NAFTA/USMCA process is a template: a renamed version of the old deal with a few minor tweaks.
The best option, then? An Iran nuclear deal. We either rejoin the old one — unlikely, given Trump's penchant for rejecting all things Obama — or sign a new one that looks a lot like the old one. If Trump could be persuaded to adopt this policy, a deal wouldn't be hard to imagine: a time frame that extends well beyond 15 years; stricter missile development and production bans; an insistence that Iran release American, allied and partner-nation prisoners (including freelance journalist Austin Tice, held in Iran-influenced Syria); and a measurable commitment to an international peace process to end Syria's civil war.
Really, given the fact that neither Trump nor his base really understand the original JCPOA one suspects that a renamed version of the exact same deal would placate them. (The problem is, such an outcome would not placate Bolton and Pompeo).
The easiest way to clean it up is to rush our diplomats to the scene with copies of the JCPOA and then have Trump, in a familiar hail of tweets, tout the promise of a "beautiful" (if not comprehensive) "new" (all of his own making, of course) Iran deal.
Indeed.
(Although, I won't hold my breath).
Really, when one considers this entire scenario, from the unilateral withdrawal from the agreement to the downing of a US drone this week, it is hard not to see a tragic series of self-inflicted wounds by the United States driving us closer and closer to a confrontation with Iran of our own making. And to add insult to this stupidity, the likelihood is that these choices have moved Iran closer, not farther, from acquiring a nuclear weapon.