Rick Perry Supporters Coordinating Anti-Mormon Message?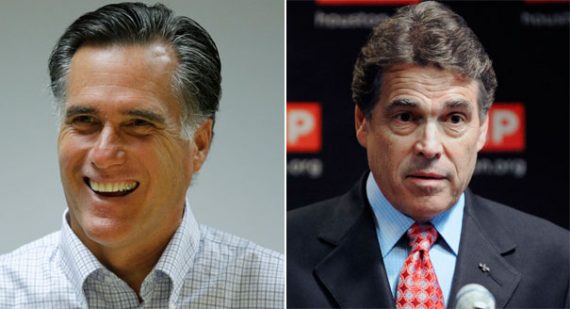 The Daily Beast's McKay Coppins has gotten his hands on some emails that seem to suggest that supporters of Rick Perry are coordinating with evangelical preachers on an anti-Mormom whispering campaign directed at Mitt Romney:
The Daily Beast has obtained a series of emails that show an influential evangelical activist with close ties to the Perry campaign stressing the political importance of "juxtaposing traditional Christianity to the false God of Mormonism," and calling for a "clarion call to Evangelical pastors and pews" that will be "the key to the primary" for Perry.

The activist in question is David Lane, a conservative Christian power broker who directed fundraising for Perry's August prayer rally and was reportedly among the leading voices in the evangelical community lobbying for the Texas governor to jump into the 2012 race. The email thread—which took place over the past two weeks and includes discussion of both campaign strategy and Christian theology—was between Lane and Dick Bott, who heads Bott Radio Network, a self-described "leader in the development of Christian talk radio."

(…)

Publicly, the Perry campaign has insisted that Jeffress was not speaking at their behest when he attacked Romney's religion, and Perry himself has said he does not personally believe that Mormonism is a cult. As recently as Friday, Perry attempted to dismiss the controversy, calling it a "sideshow" that voters were uninterested in, and reiterating, "We clearly said we didn't agree with that statement."

But in the emails, Lane—on whom Perry is reportedly relying to rally evangelical voters to his candidacy—struck a different tone.

"We owe Dr. Jeffress a big thank you," he wrote to Bott, adding that the media criticism that has called attention to the pastor's comments was "a stroke of luck."

Lane and Bott did not respond to multiple requests for comment by The Daily Beast.

The emails raise questions about whether Jeffress's anti-Mormon rhetoric was a deliberate strategic move by the campaign, or simply the prerogative of an independent pastor expressing a widely held view among evangelical Christians.
The Perry campaign refused to comment for the article, and Lane does not appear to be on the campaign's payroll. Nonetheless, it's fairly clear that the relationship between Lane and Perry is fairly close. Lane was among those evangelicals pushing for Perry to enter the race over the summer, for example. More importantly, back in 2008 Lane was behind the anti-Romney/pro-Huckabee campaign among evangelicals in Iowa that included a strong element of anti-Mormonism. Even if this isn't officially a Perry campaign strategy, the fact that someone so close to the campaign is involved in this could be as much of a problem for Perry among non-evangelical Republicans as it was for Huckabee in 2008.