Rick Perry's Views Supported By Republicans, Not So Much By Independents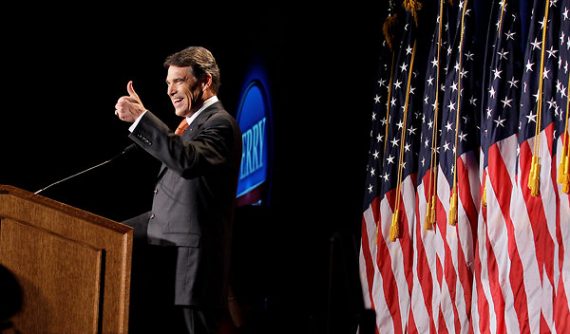 Rick Perry is the Republican frontrunner largely because he holds views that are widely supported within the party. Those same views could pose a real problem for him in the General Election, though:
In a hypothetical general election matchup, Perry trails President Barack Obama among the poll's entire sample, 49 percent to 40 percent, about twice the deficit for Romney. Perry also confronts negative reactions from Americans disinclined to vote for a candidate expressing the skepticism he has about the viability of Social Security, evolution science and whether humans contribute to climate change.

"Science is an integral part of our culture," said Danyelle Lowers, 27, a student at Kent State University in Kent, Ohio, who considers herself an independent voter. "To have such a general disregard for the sciences is rather terrifying."

(…)

The most publicized campaign issue focusing on Perry — his characterization of Social Security as a "Ponzi Scheme" — has Americans divided. Among all respondents, 46 percent said they agree with the remark, while 50 percent said they disagree.

Among Republicans, 65 percent agree with Perry's statements about Social Security, while 33 percent disagree. Independents are nearly equally split.

(…)

Forty-five percent of Americans say they'd be less inclined to support a candidate who says science isn't settled on whether human activity contributes to global warming, while 25 percent said it would make them more likely to back that candidate. Half said they would be turned off by a candidate who says evolution remains an unproven theory, with 20 percent saying they'd be more inclined to support someone who holds that view.
Interestingly, the poll also shows what could be slippage in the GOP horserace by Perry, perhaps due to the comments that have come out over the past two weeks of debating: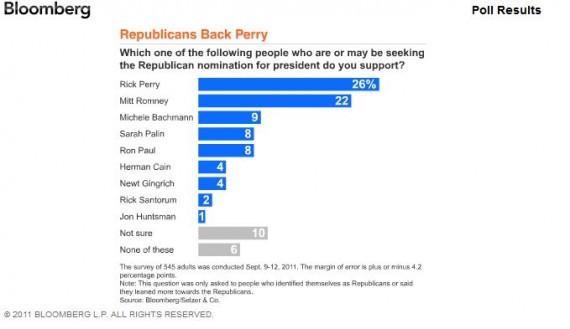 The results are similar in a new Gallup poll:
Texas Gov. and presidential candidate Rick Perry's comments on Social Security, which include calling it a "Ponzi scheme," appear to be a non-issue for most Republicans. However, they could cost him support with independents should he ultimately win the 2012 Republican presidential nomination. As many Republicans say they are more likely to vote for Perry for president because of his views on Social Security as say they are less likely — 19% each. Among independents, 12% are more likely to vote for him and 32% less likely.

Perry's statements on Social Security are more likely to harm his campaign indirectly by weakening his perceived viability than they are to turn off Republicans who disagree with his views. In contrast to the 19% of Republicans who say they would personally be less likely to support Perry over his Social Security views, 37% believe those views would hurt his chances of being elected president if he were the GOP nominee. Just 17% say they will help his chances.

Independents tilt even more strongly toward perceiving the issue hurts rather than helps Perry's electability, 40% vs. 11%.
The 2012 General Election is going to be a battle for the independent voters. As I noted yesterday, President Obama is having trouble with those voters in battleground states, thus giving the GOP an opening to take back many of of the states they lost in 2008. A Republican nominee like Perry, though. may just be what sends the independents back into Obama's fold.