Rick Santorum's Google Problem = Google's Rick Santorum Problem
Rick Santorum is upset that a Google search for his name produces a string of unflattering material. You should be, too.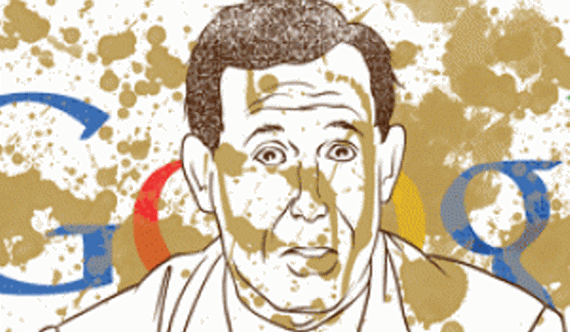 Rick Santorum is upset that a Google search for his name produces a string of unflattering — some might say libelous — material.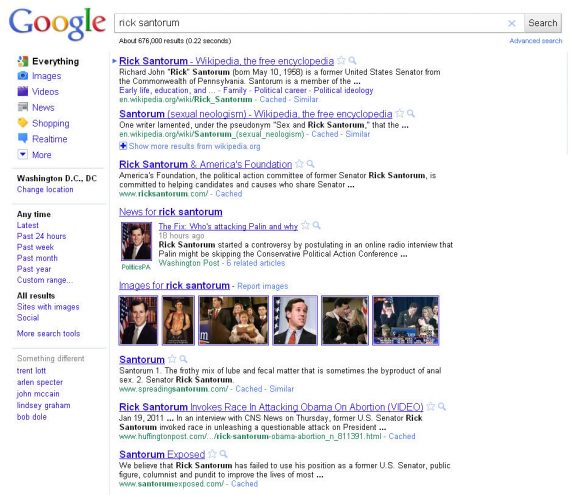 Rick Santorum has a Google problem.

The former Pennsylvania Senator might be well-known on Capitol Hill, but his name more regularly produces blank stares in places like Iowa, New Hampshire and South Carolina, if recent polling is any guide. The likely Republican presidential candidate knows he needs to expand his name identification.

Santorum can only hope voters don't turn to Google, the world's most popular Internet search engine, to learn more about him.

Try it for yourself: Enter "Rick Santorum" into Google. In a fraction of a second you'll have hundreds of thousands of results. But two of the top four cite a graphic definition for a sexual neologism. In this case, the neologism is a reference to anal sex.

This, of course, is no accident.

Santorum himself sounded slightly defeated when asked about it recently.  "It's one guy. You know who it is. The Internet allows for this type of vulgarity to circulate. It's unfortunate that we have someone who obviously has some issues. But he has an opportunity to speak," Santorum told Roll Call.

Santorum's Google problem began in 2003, when gay sex-advice columnist Dan Savage sought to mock Santorum's comments on homosexuality. Then the third-most-powerful Republican in the Senate, Santorum told the Associated Press that April that gay sex could "undermine the fabric of our society." The interview touched on a Supreme Court case related to sexual privacy, and Santorum compared homosexual acts to allowing for "man on child, man on dog" relationships. "And if the Supreme Court says that you have the right to consensual sex within your home, then you have the right to bigamy, you have the right to polygamy, you have the right to incest, you have the right to adultery. You have the right to anything. Does that undermine the fabric of our society? I would argue yes, it does," he said at the time.

Savage soon created the website spreadingsantorum.com, tied to a contest in which he asked readers to submit definitions for the term "santorum." It would be among the first "Google bombs" in the modern political era. Using extensive links to other sites, Savage soon ensured that the winning definition would be among the top search results. (The search yields even less flattering sites if users search for the Republican's last name alone.)

Those search results — not for the squeamish — have been the subject of viral Internet chatter for years. The nationally syndicated Savage inspired a coalition of gay activists and liberals from across the country to spread the term as widely as possible, creating a meme that helped now-Sen. Bob Casey (Pa.) unseat Santorum in 2006, and, ultimately, one that makes Santorum's presidential hopes laughable in some circles.
Now, my instinctive reaction is similar to Radley Balko's:  "I like that his defenders are appealing to civility. The guy thinks there should be laws preventing gay people from having sex in their own homes, and likens homosexuality to pedophilia and bestiality."
While I argued at the time that Santorum's views on homosexuality weren't all that unusual, I called his comments "very stupid" and noted that "consensual adult sodomy is different from most of the acts on the list, given that most of the others are generally done without consent of effected third parties."  Given that Santorum hasn't walked these statements back, he deserves to live with them.
On the other hand: Surely, some made-up definition concocted by a niche columnist of questionable character is not high among the most relevant pages on the Internet about Rick Santorum.
This is yet another instance of the failure of search engines. (In fairness to Google, Bing actually makes the "Google bomb" reference the first result and Yahoo the second, so its competitors aren't doing any better.)
The Rick Santorum Wikipedia page should in fact be ranked among the top results. Ditto, Rick Santorum & America's Foundation, which is hosted at ricksantorum.com.  I'm not sure they're the two most relevant results, frankly, but Wikipedia, IMDB, and a self-referencing domain will almost always be atop any person's rankings.
But, for example, if the bestiality comments Santorum made seven years ago are really among the most significant facts about him — and I believe they are — shouldn't the results include major media reports from that time?
And why is a January 2011 HuffPo blog post ranked so high? And also a reprint of the same blog post by ABC News?!
Or some site called "Santorum Exposed"?
Why are there blog posts about this story, dating back only 14 minutes?! And, if the suddenly viral story deserves to be among the very top results on Google, why not Mother Jones' more thorough treatment of it from last fall?
Like it or not, Google is where the average person is going to learn about candidates, causes, and issues. But too much of what shows up on the first page or two of the results — all that almost anybody will ever read — is garbage. Certainly, little of it is among the most useful information about Rick Santorum — or anybody or anything else.
via Taegan Goddard