Rise of the Megacommuter
About 8.1 percent of U.S. workers have commutes of 60 minutes or longer and nearly 600,000 have "megacommutes" of at least 90 minutes and 50 miles.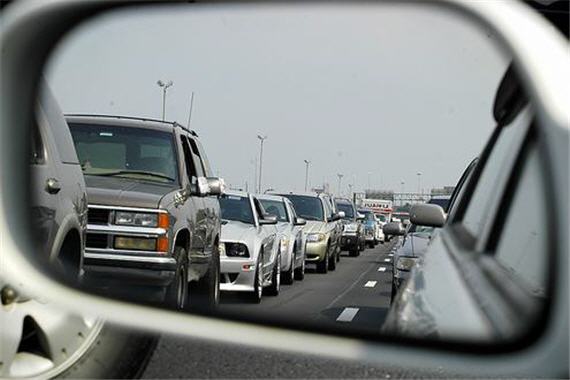 About 8.1 percent of U.S. workers have commutes of 60 minutes or longer and nearly  600,000 have "megacommutes" of at least 90 minutes and 50 miles.
Census Bureau ("Megacommuters: 600,000 in U.S. Travel 90 Minutes and 50 Miles to Work, and 10.8 Million Travel an Hour Each Way, Census Bureau Reports"):
About 8.1 percent of U.S. workers have commutes of 60 minutes or longer, 4.3 percent work from home, and nearly 600,000 full-time workers had "megacommutes" of at least 90 minutes and 50 miles. The average one-way daily commute for workers across the country is 25.5 minutes, and one in four commuters leave their county to work.

These figures come from the U.S. Census Bureau's annual American Community Survey, which provides local statistics on a variety of topics for even the smallest communities.

According to Out-of-State and Long Commutes: 2011, 23.0 percent of workers with long commutes (60 minutes or more) use public transit, compared with 5.3 percent for all workers. Only 61.1 percent of workers with long commutes drove to work alone, compared with 79.9 percent for all workers who worked outside the home.

"The average travel time for workers who commute by public transportation is higher than that of workers who use other modes. For some workers, using transit is a necessity, but others simply choose a longer travel time over sitting in traffic," said Brian McKenzie, a Census Bureau statistician and author of the brief.

Rail travel accounted for 11.8 percent of workers with long commutes, and other forms of public transportation accounted for 11.2 percent.

Workers who live in New York state show the highest rate of long commutes at 16.2 percent, followed by Maryland and New Jersey at 14.8 percent and 14.6 percent, respectively. The estimates for Maryland and New Jersey are not statistically different from each other. These states and several others with high rates of long commutes contain or are adjacent to large metropolitan areas.

Based on the 2006-2010 American Community Survey, 586,805 full-time workers are mega commuters — one in 122 of full-time workers. Mega commuters were more likely to be male, older, married, make a higher salary, and have a spouse who does not work. Of the total mega commutes, 75.4 percent were male and 24.6 percent women. Mega commuters were also more likely to depart for work before 6 a.m. Metro areas with large populations tend to attract large flows of mega commuters, according to Mega Commuting in the U.S.

Commuting Across County Lines

More than a fourth of all U.S. workers commute outside the county where they live, according to County-to-County Commuting Flows: 2006-2010, a report on commutes between counties. About 27.4 percent of all U.S. workers traveled outside the county where they live for work during a typical week, compared with 26.7 percent in 2000.

Small counties and county equivalents dominate the list of counties with the highest percentage of workers commuting outside the county where they live. Several of these counties are in Virginia or Georgia within close proximity to metro areas such as Washington, D.C., and Atlanta: including Manassas Park, Va. (91.2 percent), Echols County, Ga. (85.3 percent), Storey County, Ga. (84.6 percent), Camden County, N.C. (83.2 percent), Long County, Ga. (82.1 percent), Carroll County, Miss. (81.8 percent), and Falls Church, Va. (81.8 percent). Because of the margins of error, these percentages are not statistically different from several of the others.

Three counties in the New York City metropolitan area had the highest number of commuters leaving the county where they live for another county. They include workers living in Kings County (Brooklyn), Queens County (Queens) and Bronx County (The Bronx) traveling to New York County (Manhattan) for work.

Workers commuting from Los Angeles County to Orange County, and from Orange County to Los Angeles County in California represented the fourth and fifth largest flows of commuters across county lines, followed by three combinations in the Houston or Dallas metro areas in Texas.

Out-of-State Commutes

The Census Bureau also examined workers who commute across state lines.

In five states and the District of Columbia, one in 10 workers lived in a different state, according to the <Out-of-State and Long Commutes: 2011 brief. Among these are several small Eastern states, including Delaware (14.8 percent), Rhode Island (12.8 percent), New Hampshire (10.8 percent) and West Virginia (10.0 percent). North Dakota also showed a high rate of workers who live in a different state at 11.6 percent. The percentages for New Hampshire and North Dakota are not statistically different from each other.

Among all workers in the District of Columbia, 72.4 percent live in a different state. Workers from just two states, Maryland and Virginia, accounted for 70.4 percent who work in the District of Columbia.

"The District of Columbia is a job center for all of its adjoining counties in Maryland and Virginia," McKenzie said. "No other state's workforce exceeded 20.0 percent in its rate of out-of-state commuters."
That the DC area has long commutes is a subject of endless fascination for locals.
WaPo ("Washington has one of the highest levels of extreme commutes in the U.S."):
Even in a region where marathon commutes are commonplace, Angela Barber's trek to work is brutally long.

She rises in her Hagerstown, Md., home at 4:45 a.m. and heads out the door half an hour or so later. It usually takes her two hours to drive down Interstate 270 and Connecticut Avenue to her Dupont Circle job as a legal secretary at a nonprofit. In bad weather, the trip home has taken as long as five hours.

"I can't afford to leave this job, and I can't afford to move," said Barber, 46, who has been making the commute for nine years. "I have a good job, it's just 74 miles from home."

Barber is one of a growing number of "mega-commuters" whose daily trip to work spans more than 50 miles and 90 minutes, according to new census figures released Monday. About 600,000 Americans endure such an extreme commute, and more than a quarter of them live in the Washington area. Almost 4 percent of the region's workers are mega-commuters, up from 3.5 percent in 2000, according to census data. That proportion is rivaled by workers in New York City and surpassed, just barely, only by San Francisco.

One in five commuters in the region has a commute of one hour or longer each way. And the average commute is creeping up, too, from under 32 minutes in 2000 to 34 and a half minutes in 2011, when the information was collected.

The census figures reflect a sprawling region in which more than half of all residents work outside the county or city where they live. Sociologists and demographers say that is partly because the region's affluence is built on households that pull in two incomes, so living close to the office of one breadwinner is not the priority it once was. But it also is a byproduct of an economy still heavily reliant on the federal government, with many workplaces rooted in the District. Three out of four jobs in the District are held by people who live outside the city limits, according to census data.
It's impractical to simply move close to work for a host of reasons.
The DC area is unusual in that the metroplex is spread over a tiny federal District and the two adjoining states, Maryland and Virginia. It's not at all uncommon for one spouse to work in Maryland and the other in Virginia, much less for one to work in DC and the other in the suburbs. Even if both work in relatively close proximity to one another, there's a great likelihood that one will take a new job that suddenly requires a commute.
Further, housing is very expensive in the District and the very near suburbs. People who don't make a handsome salary and want or need more than a studio apartment in a bad neighborhood can't afford to live in DC proper, much less within easy reach of downtown. The bursting of the housing bubble has exacerbated that problem, with many of us in a position to lose a lot of money if we sell.
There's also the matter of public schools. DC's are among the worst in the country. Some of the best in the country are in the Maryland and Virginia suburbs.
Since moving to the area a little over a decade ago, I've lived in in the Loudoun County exurbs, initially within 10 minutes of my job and then 45 minutes away from my follow-on job in Falls Church. I got married and moved to Alexandria, which meant a 45 minute commute in the other direction to Falls Church. When we moved into my current house, it was 15 minutes from my wife's job and I worked from our home office downstairs. Now, I've got a 45 minute commute into downtown DC.
My office colleagues live all over. Most of the young singles live in the District, sacrificing living space for the social scene. Most of the senior staff live in the suburbs. At least a couple live in the far exurbs and endure megacommutes so that they can have a nice plot of land and live away from the hustle and bustle.