Robert Mueller To Testify Before Congress
Robert Mueller has agreed to testify before Congress in public. Testimony that is likely to be the big story of the summer.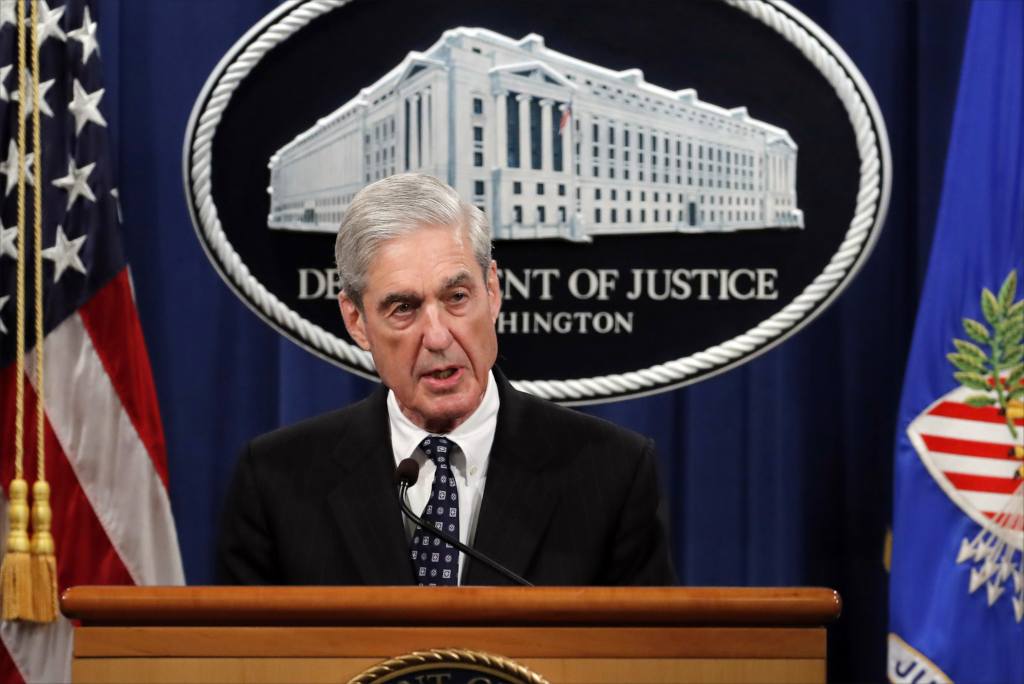 After several weeks of back and forth negotiations and obvious reluctance, Special Counsel Robert Mueller has agreed to appear before Congress in mid-July to testify publicly about his report and investigation into Russian interference in the 2016 election and allegations of collusion between the Trump campaign and person's linked to the Russian government:
WASHINGTON — Robert S. Mueller III, the former special counsel, has agreed to testify in public before Congress next month about his investigation into Russia's election interference and possible obstruction of justice by President Trump, House Democrats announced on Tuesday night.

Coming nearly three months after the release of Mr. Mueller's report, two back-to-back hearings on July 17 before the House Judiciary and Intelligence Committees promise to be among the most closely watched spectacles of Mr. Trump's presidency. They have the power to potentially reshape the political landscape around his re-election campaign and a possible impeachment inquiry by the Democrat-controlled House.

Mr. Mueller, a strait-laced former F.B.I. director who has spoken publicly only once about his work as special counsel, had resisted taking the witness stand. He knows he is certain to face questions from both sides of a pitched political fight. Many Democrats are eager to employ him to build a case against Mr. Trump, and Republicans are just as eager to vindicate the president. His 448-page written report, Mr. Mueller asserted, should speak for itself.

In the end, though, the two committees issued subpoenas compelling Mr. Mueller to speak, and he accepted.

The chairmen of the panels, Representatives Jerrold Nadler of New York and Adam B. Schiff of California, wrote in a letter to Mr. Mueller on Tuesday that they understood that he had reservations about appearing on Capitol Hill, but they were insistent he do so, anyway.

"The American public deserves to hear directly from you about your investigation and conclusions," the chairmen wrote. "We will work with you to address legitimate concerns about preserving the integrity of your work, but we expect that you will appear before our committees as scheduled."

The White House declined to comment on Tuesday night. However, Mr. Trump posted a familiar two-word refrain on Twitter amid news of the testimony: "Presidential Harassment!"

The president and his attorney general, William P. Barr, have said that they have no issue with Mr. Mueller testifying, but they could theoretically try to block him from appearing, as they have other former government officials.

The stakes could scarcely be higher for Mr. Trump, who is facing re-election next year, or for Congress, which is battling to weaken him. The executive and legislative branches have been locked in an ever escalating dispute over access to documents and witnesses related to Mr. Mueller's work, with the White House refusing to honor congressional subpoenas and court battles looming. That intransigence has prompted growing calls for an impeachment inquiry on Capitol Hill, but has also slowly lost the attention of the wider public.

The hearings will most likely be aired live and in full on network and cable television. With other potential witnesses off limits for now, Mr. Mueller possesses perhaps the singular authority to shift the dynamic in Washington and change the minds of Americans across the country who long since cast their lot with Mr. Trump or his critics.

"Americans have demanded to hear directly from the special counsel so they can understand what he and his team examined, uncovered, and determined about Russia's attack on our democracy, the Trump campaign's acceptance and use of that help, and President Trump and his associates' obstruction of the investigation into that attack," Mr. Nadler and Mr. Schiff said in a joint statement.

(…)

From the time he took over the F.B.I.'s investigation of Russia's election meddling and possible ties to the Trump campaign in May 2017, Mr. Mueller, 74, has been one of the most vexing figures in American public life. He conducted his work in absolute private, despite incessant attacks by Mr. Trump in public and from within the White House, and ultimately issued a lengthy report that raised as many questions as it answered.

In the report, Mr. Mueller detailed Russia's disinformation and hacking campaigns to sow chaos in the American political system, harm Hillary Clinton's 2016 presidential campaign and eventually bolster Mr. Trump. Though he detailed more than 100 contacts between Trump associates and various Russian figures and painted a picture of a campaign that welcomed the foreign assistance, the special counsel ultimately concluded that there was insufficient evidence to charge anyone with conspiring with the Russians to undermine the 2016 election.

Mr. Mueller's team also extensively investigated whether Mr. Trump's attempts to thwart its work amounted to obstruction of justice. The special counsel's report documented 10 such episodes — including orders by Mr. Trump to fire Mr. Mueller, to constrain his investigation and to alter records about what he had done.

Ultimately, the members of Mr. Mueller's team concluded that because Justice Department policy prohibits indicting a sitting president, they could not determine whether Mr. Trump's actions had been criminal. But they also clearly stated that they could not exonerate the president of wrongdoing, either, and that the Constitution provides another means of adjudicating possible presidential wrongdoing: Congress.

"If we had had confidence that the president clearly did not commit a crime, we would have said so," Mr. Mueller said during his lone public appearance in late May.

House Democrats have seized on those comments as a de facto referral to Congress to act, but they want to hear more from Mr. Mueller about why he made such an unusual prosecutorial decision around obstruction of justice and if he believes he had enough evidence to charge Mr. Trump if he was not president.

More from The Washington Post:
Former special counsel Robert S. Mueller III will testify to Congress in a public session next month about his investigation of Russia's interference in the 2016 presidential campaign and possible obstruction of justice by President Trump, a reluctant witness long sought by House Democrats.

The House Judiciary and Intelligence committees, in an announcement late Tuesday, said that "pursuant to a subpoena," Mueller has agreed to appear before both panels on July 17. Mueller, who oversaw the 22-month inquiry, is perhaps the one person lawmakers and the nation have been wanting to hear from the most.

"We are pleased that the American people will hear directly from Special Counsel Mueller. Our national security is being threatened and the American people deserve answers," House Speaker Nancy Pelosi (D-Calif.), who has pushed back against calls to impeach Trump, said in a statement.

Mueller will testify in back-to-back hearings before the House Judiciary Committee, led by Chairman Jerrold Nadler (D-N.Y.), and the House Intelligence Committee, led by Chairman Adam B. Schiff (D-Calif.).

The long-awaited testimony comes as nearly 80 House Democrats have called for opening impeachment proceedings against Trump, arguing that he has ignored the Constitution that he took an oath to defend while repeatedly refusing to cooperate with congressional investigations.

Impeachment proponents hope Mueller's testimony will increase public support for ousting the president. At the very least, his testimony is certain to provide the headline-grabbing, made-for-cable-television testimony that Democrats have been seeking since the 448-page redacted report was released April 18.

Still, some Democrats are already trying to temper expectations. Privately, some fear that Mueller's much anticipated testimony won't live up to the hype that has been built around him for months.

"I don't want to set unrealistic expectations," Schiff said in an interview after the announcement. "We want to hear what he has to say, and I think it's very important for the American people to hear from him as well. But there are a great many other witnesses that the American people need to hear from in addition to Bob Mueller."

Mueller spoke briefly in May, saying that he could neither clear nor accuse Trump of obstructing justice, leaving room for Congress to make that call and fueling impeachment demands among some Democrats. The remarks were his first public comments on the case since he concluded his investigation. Mueller said that if his office "had confidence that the president clearly did not commit a crime, we would have said so," and he noted that the Constitution "requires a process other than the criminal justice system to formally accuse a sitting president of wrongdoing."
Getting Mueller to testify is the end of a process that began not long after he submitted his report to Attorney General William Barr and Barr provided Congress with a redacted copy of the report that has also been released publicly. Initially, it was reported that Mueller was reluctant to testify publicly or in open session and the initial discussions involved him testifying behind closed doors, but as time has gone on it has become clear that only public testimony would be sufficient to deal with the questions that still exist with regard to the report and Mueller's investigation. In no small part, of course, one of the reasons for this is the fact that it quickly became clear that Attorney General Barr had seriously misrepresented several aspects of the report. This has been one of the many reasons why Barr has been held in contempt by the House Judiciary Committee.
The main question, of course, is what Mueller will be willing to testify about in detail. In his only public statement in the two years that he was acting as Special Counsel, Mueller said that he would not testify about anything outside the report itself and, indeed, it seemed clear that he hoped that Congress would simply accept the report itself as everything he had to say about the matter. Many people have chalked this up to Mueller's by-the-book personality and his obvious desire not to get caught up in the partisan whirlwind that has developed around the report and the ongoing question of whether or not to begin impeachment proceedings against the President.
Despite this understandable reluctance, though, it's been clear from the start that Mueller's public testimony is crucial to bringing attention to what the report was about and to rise above the efforts of Trump, Barr, the Administration, and the President's propagandists and supporters to distort the report and continue the undermining of the investigation that the President has been engaged in since the beginning. Additionally, there are rather obvious outstanding questions that go beyond the four corners of the report that only Mueller himself can answer.
Whatever Mueller might say, his testimony will no doubt be the must-watch news event of the summer in much the same way that the testimony of Oliver North because the Iran-Contra Committee was back in 1987. It's also likely to lead the President to erupt on Twitter, perhaps even during the hearings themselves which should make for some interesting side-by-side comparison. Republicans no doubt will take their marching orders from the President and seek to undermine Mueller and try to paint his investigation as partisan and tainted, but one suspects that they will fail as miserably as the President has in that respect.
In any event, mark your calendars. The big day is July 17th and, regardless of what happens, it's guaranteed to make for some riveting testimony.
Here's the letter from Chairmen Nadler and Schiff:
Letter to Mueller by on Scribd