Romney Campaign Tries To Change Subject, Goes On Offensive
The Romney campaign is trying to shift the narrative.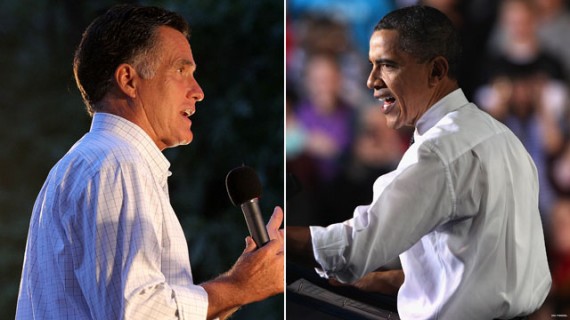 After a week or more of being battered by questions about Bain Capital and tax returns, the Romney campaign is out this morning with a two-pronged effort to change the narrative by going on the offensive against the President on two separate grounds. It started last night when the campaign leaked an ad that has apparently started running in states like Iowa that hits the Obama campaign for running a negative campaign:
The Romney campaign today expanded its line of attack against President Barack Obama for running negative advertisements.

A new 30-second TV commercial features TV footage of three political journalists/news analysts talking about the differences between Obama's current campaign and his inspirational message four years ago.

Romney aides said in a news release today: "It seems like a lifetime ago that candidate Obama was talking about hope and change. Today, after four years of broken promises, President Obama is left to simply run 'negative' and 'inaccurate' ads."
Here's the ad:
Romney continued this line of attack in an appearance on Fox & Friends this morning. The ad is receiving some positive reviews on the right, not surprisingly, but I've never been convinced that these types of ads really accomplish anything. After awhile, complaining about "negative" campaigning tends to be something that voters tune out. Rahm Emanuel actually put it quite well on ABC News This Week when he told the Romney camp to "stop whining." Politics ain't beanbag, and your opponent isn't going to play nicely. Yes, it's true that the Obama campaign is focusing on the Bain issue in part to distract attention from the economy, but the way to deal with that is not to act like a toddler who had their toy taken away at the playground, but to hit back on the economy, and keep hitting back. As I've said repeatedly over the past several days, if you spend your time talking about what your opponent is saying, you are losing the narrative. That includes ads like this that essentially boil down to nothing more than "Mommy that boy is being mean to me."  It's politics, it's tough. Deal with it, or don't play the game.
The Romney campaign's second line of attack is potentially more effective, and strikes back at the Obama campaign's weekend ad by including a bit of Presidential singing:
In an effort to label President Obama a typical politician, the Romney campaign released an online video going after the president's relationship with his donors.

The video shows reports of alleged cronyism between Obama and his top donors, as the president sings Al Green's "Let's Stay Together." On Saturday, the Obama campaign ran an ad of its own displaying Romney singing "America the Beautiful."

With a struggling economy, the Romney campaign is attempting to paint Obama as a candidate focused on the "donor class," rather than the middle class.

"While middle-class Americans are suffering in the Obama economy, President Obama's donors and supporters are 'doing fine,'" Romney spokeswoman Andrea Saul said in a statement. "The President has spent billions of taxpayer dollars on political payoffs, but failed to create the millions of jobs he promised. Americans deserve a president who is concerned with creating jobs for the middle class, not rewarding campaign donors. It's Chicago-style economics, and it's not working."

After being hounded for the last several works over Romney's time at Bain Capital, the campaign is trying to change the conversation and go on the offensive.

"President Obama, who ran on all this hope and change and talk about changing Washington in 2008, failed to change Washington," Romney senior advisor Kevin Madden said on MSNBC's Morning Joe. "[He] has totally obsessed with talking about the past, and actually ceded the argument of what we're going to do to fix our economy in the future."
Here's the ad:
This is actually fairly well-done ad, and based on the appearances by Romney surrogates on television today, it appears to be the major theme they will be trying to push as we go into the week. I'm not sure it will work, though. This is a theme that the GOP has used before, of course, since its at the heart of the whole criticism of the loan programs that the Obama Administration used to give money to companies like Solyndra, which happened to be part-owned by a major Obama bundler. There have been other examples, less well known than Solyndra, of the same pattern of Obama campaign cronies getting access to government programs, perhaps the most notable being Jeffrey Immelt's General Electric. Of course, the GOP is hardly innocent in the crony capitalism game itself so it's kind of hypocritical for them to be making this argument. As I said above, though, this is politics and complaining that life is unfair is rather pointless. Will this attack work? It's hard to say, but you can expect to see more of this from the Romney campaign as the week progresses.