Romney Campaign Vetters Examined "Several" Years Of Veep Pick Tax Returns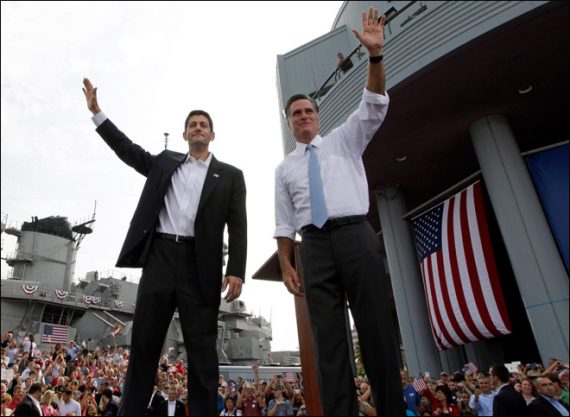 When Mitt Romney was vetted by John McCain's campaign for the Vice-Presidency in 2008, he reportedly provided 23 years of tax returns as part of the process. During it's own vetting process, the Romney campaign didn't ask its potential running mates for quite that many returns, but it seems pretty clear that they received more than what Romney himself has made public to date: 
DULLES, Va. — A top aide to Mitt Romney said that the campaign had obtained "several years" of income tax returns from potential running mates – suggesting that Representative Paul D. Ryan had produced tax returns for a greater number of years than Mr. Romney has in his run for the White House.

Mitt Romney has repeatedly refused to disclose tax returns for any years but 2010 and 2011, stirring criticism that he is shielding his finances from public view.

But on Saturday, the Romney adviser who oversaw the vice-presidential search, Beth Myers, said that she had requested "several years" of returns from Mr. Ryan. When pressed on precisely how many she had received, she declined to elaborate.

But her choice of words, however vague, was telling: she said "several," not two, or a couple. (Technically, several refers to more than two.)

President Obama's re-election campaign has hammered Mr. Romney for not releasing enough of his tax returns, attempting to portray him as a calculating businessman set on hiding his wealth and tax rate. Because Mr. Romney earned much of his money through something known as carried interest – a form of return on investments – when at Bain Capital, he paid a lower tax rate than he might have had he worked in a different profession.
I've been saying for weeks now that the VP pick would not put the tax return issue behind the Romney campaign, because the first question the press would ask is how many years of returns the campaign requested during the vetting process. Indeed, just moments ago, George Stephanopoulos asked Tim Pawlenty on This Week how many years of returns he had provided during the vetting process. An obviously uncomfortable T-Paw responded "several" and clearly didn't want to commit on how many years of returns it actually was. Expect this to come up the first time the press is able to ask Ryan questions.