Romney: I Was "Completely Wrong" When I Made The '47 Percent' Comments
Too little, too late?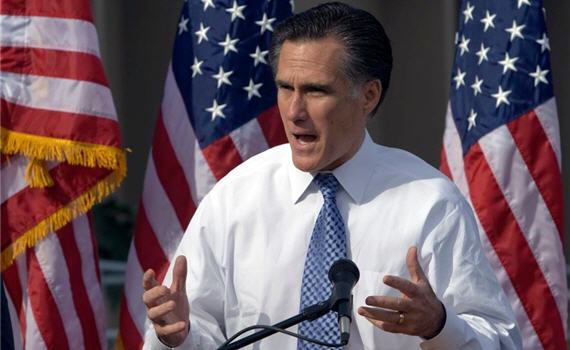 Just over two weeks after a video was released showing Mitt Romney talking to a group of high-powered donors in Florida and saying that he "didn't need to worry about" the 47 percent of the American public that was depending on government and would vote for the President anyway, the former Massachusetts Governor is apologizing for his remarks and saying that he was wrong to say them: 
Mitt Romney came full circle on his "47 percent" remarks Thursday night, calling them "just completely wrong" in an interview on Fox News.

When asked by host Sean Hannity what he would have said if President Barack Obama had brought up the controversial comments in the first presidential debate, the Republican nominee said that such stumbles happen while campaigning, and "in this case, I said something that's just completely wrong."

Echoing a line he had used previously to mitigate the remarks' fallout, Romney told Hannity that he cares about the "100 percent."

"I absolutely believe, however, that my life has shown that I care about 100 percent and that's been demonstrated throughout my life," Romney said. "And this whole campaign is about the 100 percent. When I become president it will be about helping the 100 percent."

Previously Romney had said his remarks, surreptitiously recorded during a private fundraiser in May, were not "elegantly stated." They included the comments that "47 percent" of  voters are dependent upon government and do not pay income tax.

Many commentators on the left and right expressed surprise that Obama didn't broach the subject during Wednesday night's debate. On The O'Reilly Factor Thursday, conservative commentator Charles Krauthammer called the omission "shocking."
Here's the video:
It seems rather obvious that this is a response that Romney and his advisers had prepared in advance of Wednesday night's debate in anticipation that the President would bring the comments up. Quite honestly, I think everyone figured that the President was going to bring the comments up. After all, his campaign has been hitting Romney over the head with his own words for the past two weeks in a series of ads that have run virtually non-stop in swing states like Ohio, Florida, and Virginia and Obama surrogates have been bringing it up at every opportunity. The fact that he didn't even though there were more than one occasions during the debate when he could have, was really rather surprising. Romney's response would have certainly an interesting moment, because it's no often that you hear a politician say they were wrong in a debate, much less someone like Mitt Romney who has frequently seemed loath to admit error even when it's rather obvious. Indeed, as Connor Simpson notes at The Atlantic, it was a long journey for Romney from his initial statement about the comments to what he said last night. Why he didn't get to this point sooner is something I don't really understand.
Daniel Larison isn't very impressed:
Romney shouldn't get much credit for acknowledging what most people already knew several weeks ago, but he should get a little. One of the ongoing flaws in the Romney campaign is not just the tendency to make important errors, but its stubborn refusal to own up to those errors. The campaign has continued defending Romney's blunders weeks or months later when a quick correction would have been far more effective in putting the issue to rest.

Of course, Romney is trying to make up for lost time and to repair damage that his 47% comments caused. The real question is: why did he wait until now? It would have been much easier to repudiate his comments from the video weeks ago and minimize the damage they have caused. Doing so now makes Romney seem as opportunistic as ever. It is only after the damage has been done and he realizes that the comments are dragging him down that he casts them aside.
I tend to agree for the most part. Ideally, Romney should have been saying something like this as soon as the videotape was released. The American people tend to be somewhat forgiving of politicians who admit they were wrong, after all. At the same time, I return to the fact that I'm fairly certain that this was a statement that the campaign had readied for what they anticipated would be  an inevitable hit on the remarks from the President during the debate. In those circumstances, with a huge national audience watching, I can perhaps see the logic in wanting to get the issue behind you while the maximum possible audience is watching does make some sense. Since Obama didn't bring the question up, though, the campaign likely decided to just get the statement out there while they were still riding the public relations high from the debate.
Given the fact that they've waited almost three weeks to say something like this, though, I'm not sure it's going to make up for any of the damage that the remarks have likely caused to Romney in states like Ohio. Moreover, the Obama campaign isn't exactly going to stop running their 47 percent ads regardless of what Romney says now. So, I tend to have my doubts that this is going to really have much of an impact on the race at all.