Romney Senior Adviser Ed Gillespie: Mitt "Retired Retroactively" From Bain
The Romney campaign went on television to address the Bain issue, but again they just seem to have muddied the water.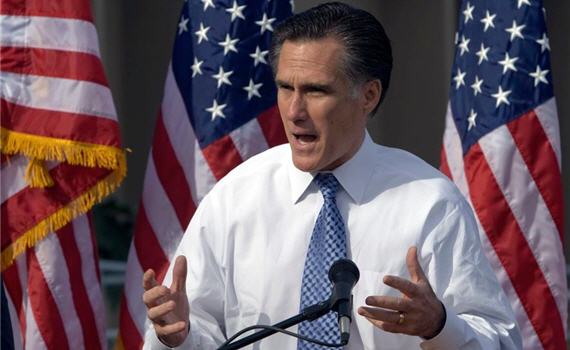 This morning, Ed Gillespie, the former Republican Party official who served as a Bush Administration adviser and has been a Senior Adviser to Mitt Romney since 2012, put a new spin on the Romney campaign's explanation for their candidate's relationship with Bain Capital and its related entities from 1999 through 2002:
Senior Mitt Romney campaign adviser Ed Gillespie blasted President Obama's attacks on the GOP candidate, saying Romney had been honest about his tenure at the private equity giant Bain Capital.

"We now know this president will say or do anything to keep the highest office in the land, even if it demeans the highest office in the land," Gillespie said, during an interview Sunday on CNN's "State of the Union."

(…)

Gillespie on Sunday sought to clarify the matter, saying that Romney initially thought he would be leaving Bain on a temporary basis, but the challenges of the Olympics led him to "retire retroactively."

"There may have been a thought at the time that it could be part time, but it was not part time," Gillespie said.

"He took a leave of absence and in fact he ended up not going back at all, and retired retroactively to 1999 as a result," he added. "He left a life he loved to go to Salt Lake City and help a country he loves more, and somehow Chicago… is trying to make it something sinister."
Gillespie also appeared on Meet The Press and pretty much said the same thing:
For the most part, this may actually be the best explanation that anyone affiliated with the Romney campaign has given for what happened during that three year period that Romney was principally involved in saving the Salt Lake City Olympics from a bribery and management scandal that was threatening to cause the International Olympic Committee to reassign the 2002 Winter Olympics to another host city. But, what's with this retired retroactively  nonsense? What does that even mean? I'm presuming that what it might mean as that, for the severance agreement that was eventually negotiated between Romney and his Bain partners, the parties agreed that it would be assumed for the purposes of the agreement that Romney had actually retired in February 1999 when he left for Salt Lake City. There are legal reasons why that would make sense in terms of valuing Romney's shares in the company and other such matters, but that hardly matters when you're trying to deal with an issue like this in the middle of a political campaign where the important thing to do is to give the explanation that is both correct and the easiest to understand.
It strikes me that Gillespie most certainly did not do that today. "Retired retoractively?" Really, Ed? Why couldn't you just say, why can't the campaign just say, that Romney was originally on a leave of absence from Bain but that, after a time, it became clear that he would have to devote far too much time to the Olympics to be able to resume an active role in the company any time soon? If that means they have to admit to some involvement in Bain activities during that period, then that's what it means. It strikes me that this would be better than continually dissembling like this, which just makes it look like you have something to hide.
The other problem, of course, is that Romney's account of what was happening with his role at Bain during these years has, well, evolved:
Only a week before the election for Massachusetts governor in 2002, Democratic candidate Shannon O'Brien launched a television ad in which a laid-off steelworker accused Mitt Romney, O'Brien's Republican opponent, of firing laborers at a Kansas City steel mill, leaving them without health insurance and destroying their families.

Eight years earlier, Senator Edward M. Kennedy deployed a similar attack — with devastating effectiveness — in a campaign against Romney, the wealthy founder of private equity firm Bain Capital.

But this time, Romney had a strong rebuttal, one that would become a bedrock of his political career for the next decade: He said he was not responsible for the struggles of the worker and his colleagues because he had left Bain Capital in February 1999, two years before the Bain-owned steel mill went bankrupt.

(…)

But until his run for governor — and even before that campaign was underway in earnest, when he needed to prove sustained connections to Massachusetts in order to ward off a ballot challenge — Romney had characterized his departure from Bain Capital more as a "leave of absence" in which he would be a "part-timer," and not as an absolute separation from the thriving business he built and solely owned.

It was not until 2002 that Romney finalized a severance agreement with Bain, a 10-year deal with undisclosed terms that was retroactive to 1999.
The reason for Romney's change in emphasis from "leave of absence" to stating that he had left Bain completely in 1999 is, of course, quite obvious.  It was the easiest way to rebut the attempts of his political opponents to try to tie him to Bain investments after 1999 that went sour. It may well be the case that Romney never really had much input in those investment decisions, and given the accounts of the 112-hour weeks he was putting in out in Salt Lake City it's hard to see how he really could have, but obviously his campaign, both when he ran for Governor and now, thinks that any admitting to any association with Bain during this period would be detrimental. The problem is that the "leave of absence" explanation, which is essentially the one that Gillespie returned to today, is the one that makes the most sense given the documentary evidence we have so, like it or not, that's what Romney has to accept. The campaign's problem now, though, is that they've so mishandled this matter that they've created the impression that they have something to hide, and that has the potential to cement an image of the candidate in the mind of the public that would be far from beneficial.
Joe Gandelman puts it quite well:
If this was the case why wasn't this offered days ago by the Romney camp? Why didn't Romney hammer this home when a slew of network interviews on Friday?

The fact it's being offered now suggests two things:
a)Political malpracticee on the part of team Romney.
b)It's spin — the kind of explanation a defense attorney comes up with to defend a client.

Republican partisans will accept this and say the matter is settled. Democratic partisans will say its a lie.

But the question truly is: if this is the case, why wasn't this hammered home days ago? I hate to use the trite awful phrase, but I will:

The timing of this explanation and the fact it was not put in this manner days ago doesn't pass the smell test.

Rush and Sean will now say it's all settled. But I don't think it'll stop media curiosity on Romney and the Bain issue and it's enough of a loose end that it will not halt any planned Obama ads on the issue.
It won't stop the media questions at all, not will it stop the Obama campaign. Indeed, Gillespie's "retired retroactively" line is already being ridiculed on Twitter. You can expect this to be a topic of discussion on cable news yet again tomorrow, and likely for the better part of the week unless the Romney campaign gets its act together.