Romney's Supporters Want Him To Go For Obama's Jugular
Just as we saw in 2008, the conservative base doesn't want to hear their nominee saying that the President is a basically decent man.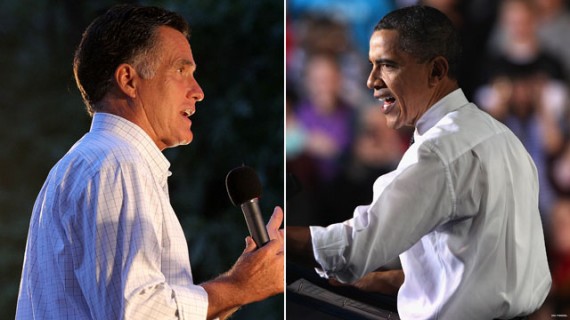 McKay Coppins followed Mitt Romney on his tour of Ohio this week and noticed at least one respect in which the candidate is out of step with his more diehard supporters:
TOLEDO, Ohio — Mitt Romney covered a lot of territory Wednesday — rhetorically and geographically — as he crisscrossed Ohio delivering stump speeches that emphasized, alternately, trade, debt, energy, and job creation. But there's one thing he said at every campaign stop.

"Look, I know the president cares about America and the people of this country," he told the roughly 3,500 supporters gathered in a convention center here. "He just doesn't know how to help them. I do. I'll get this country going again."

(…)

Many of the partisans who filled the rallies didn't like hearing their nominee assert that Obama "cares about America."

"Actually, when he came out and said Obama cared for Americans, I stood back here and said, 'No he doesn't!'" said Dan Berger, a welder from Oregon, Ohio. "Obama's for changing America, he's bringing America down, he's not pushing America forward. So I disagree with Mitt on that one."

Berger's wife, Pamela, an outspoken conservative who periodically shouted, "Oh, hell yeah!" throughout the rally, shared her husband's unease with Romney's conciliatory words.

"I think Obama cares about certain America, like his constituency in the unions… he cares about his crony capitalist buddies, he cares about Warren Buffett," she said. "As along as they go along with the line, they're going to be taken care of. There are certain Americans he does care about. But I don't think he can look at the average, hard-working struggling American and say Obama cares about them. No."
As the article goes on to note, there have been times when Romney has taken a more aggressive tone toward the President by saying that he wants to turn America into Europe, that he's pursuing a "radical" agenda that would "fundamentally transform" America, and by alleging that he has gone around the world apologizing for America even though that's a patently untrue charge. Even then, though, one got the impression that Romney's supporters wanted him to get even more aggressive against the President, and perhaps even stroll into the memes that the more radical elements of the right have been pushing about the President for the past four years or more. Ever since the "47 percent" video came out there, it's been apparent that Romney has gone back to referring to the President as a man who meant well put was "in over his head." I can only assume that the main reason this has happened is because the campaign has tested this issue in polling and possibly even focus groups and they've discovered that, among the independent voters that Romney needs to win over if he's going to have a chance in a state like Ohio, the aggressive tone doesn't work at all because that isn't how most Americans view the President.
This balance between trying to please the base and running a campaign that can speak to independents isn't new at all. John McCain faced the same problem during his campaign when he was being exhorted by outside groups, and his own running mate, to attack then Senator Obama more aggressively by adopting the memes being pushed by people like Rush Limbaugh and Sean Hannity. The entire controversy came to a head at a rally in Minnesota in mid-October:
Fearing the raw and at times angry emotions of his supporters may damage his campaign, John McCain on Friday urged them to tone down their increasingly personal denunciations of Barack Obama, including one woman who said she had heard that the Democrat was "an Arab."

Each time he tried to cool the crowd, he was rewarded with a round of boos.

"I have to tell you. Sen. Obama is a decent person and a person you don't have to be scared of as president of the United States," McCain told a supporter at a town hall meeting in Minnesota who said he was "scared" of the prospect of an Obama presidency and of who the Democrat would appoint to the Supreme Court.

"Come on, John!" one audience member yelled out as the Republican crowd expressed dismay at their nominee. Others yelled "liar," and "terrorist," referring to Obama.

McCain passed his wireless microphone to one woman who said, "I can't trust Obama. I have read about him and he's not, he's not uh — he's an Arab. He's not — " before McCain retook the microphone and replied:

"No, ma'am. He's a decent family man [and] citizen that I just happen to have disagreements with on fundamental issues and that's what this campaign's all about. He's not [an Arab]."
Here's the video of that exchange, and you can just see the look on McCain's face when he realizes the monster that has been unleashed:
McCain also reportedly personally squashed efforts by some who wanted to use the Jeremiah Wright issue in the campaign in the closing weeks as some kind of last desperate attempt to take down Obama. The fact that McCain lost, though, was taken as proof in some quarters that this strategy was a failure and that it was a mistake to forgo attacking the President on things like Wright and his alleged ties to people like Bill Ayers. Those people are now an even bigger part of the Republican base than they were in 2008, and that's probably why we have seen Romney be more aggressive in his attacks on President Obama at times.  At the same time, though, there are certain lines that the Romney campaign isn't crossing in those attacks, and that's likely frustrating those on the right who think that all Romney needs to do is bring up the issue of the President's past and  the American people will see the light and vote him out of office.
There's little reason, however, to believe that such a strategy would work, however. As has been noted many times in the past, leaving issues of job approval aside, the President generally benefits from the fact that the American public likes the guy. Demonizing him the way that the hard right wants to do isn't going to work quite simply because it's inconsistent with everything that a large segment, indeed a majority I would assert, of the American people believe that they've learned by observing this President over the past four years. If anything, taking such a tack is more likely to blow back and hurt Republicans than it is to hurt the President. In fact, we already have evidence that this is exactly what would happen:
As she was campaigning across the country in 2008, much of Sarah Palin's message involved attacking the President in a manner that clearly resonated very well with those on the right who believed the worst about Obama. Jeremiah Wright, Bill Ayers, and Obama's ties to "radicals" in Chicago were mentioned in pretty much every one of her stump speeches. Watching the polls, though, you could see that it was having absolutely no negative impact on the Obama/Biden ticket, while it did seem to have a negative impact most specifically of public perception of Sarah Palin. The attacks also arguably had an influence on independent voters in Virginia, North Carolina, and Indiana, states that had been reliably Republican but went Democratic for the first time in decades. If the attacks didn't work four years ago when the public still knew very little about Barack Obama, why would anyone think that it would work now after the President has been a near daily presence in the news for going on five years?
If he continues slipping in the polls, the calls for Romney to get more aggressive against the President are going to become louder and his insistence that the President is a generally decent man who just got the job wrong are going get booed even more loudly than they were in Ohio this week. If he listens to them, though, he's likely to do himself more harm then good.