Roy Moore: America Was Great Back When We Still Had Slavery
Roy Moore wishes he was back in the days of cotton when families were close and African-Americans were enslaved.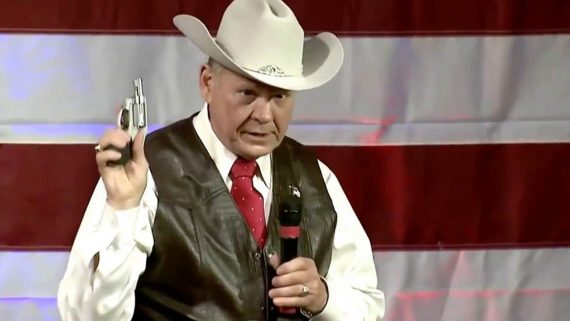 Roy Moore wants to return to the `60's, and by that he means the 1860's:
Roy Moore, the Alabama Senate candidate under fire for alleged sexual misconduct with teenage girls when he was in his 30s, apparently believes America was a better place at a time when slavery was still legal.

At a campaign event earlier this year, an audience member asked Moore for his opinion on when the last time America was "great." Moore responded: "I think it was great at the time when families were united—even though we had slavery—they cared for one another…Our families were strong, our country had a direction." The individual who asked the question was among the few African-Americans in attendance at the rally, according to the Los Angeles Times. In stating this, Moore seemingly implied he'd be able to overlook the enslavement of other human beings as long as families are "united," an interesting perspective from a man accused of repeatedly preying on young girls.

Moore's remarks were featured in an article from the Times in September, but resurfaced Thursday in a viral tweet from Eric Columbus, a former Obama administration official. "Can't make this up—Roy Moore said in September that the last time America was great was when we had slavery," Columbus tweeted.

Moore's comments at the rally bring to mind President Donald Trump's slogan, "Make America Great Again," which many have interpreted as a rallying cry to incite white nationalists. Trump has controversially endorsed Moore, despite widespread condemnation and the damning allegations the Senate candidate faces. Trump reportedly said "Go get 'em, Roy!" during a recent phone call with the candidate.
Here's Columbus's Tweet:
Can't make this up — Roy Moore said in September that the last time America was great was when we had slavery. (h/t @reckonalabama)https://t.co/NMF4BCQ6ZS pic.twitter.com/XbpPtdifuS

— Eric Columbus (@EricColumbus) December 7, 2017
And here's the relevant section of the September Los Angeles Times article:
In response to a question from one of the only African Americans in the audience — who asked when Moore thought America was last "great" — Moore acknowledged the nation's history of racial divisions, but said: "I think it was great at the time when families were united — even though we had slavery — they cared for one another…. Our families were strong, our country had a direction."

At the same event, Moore referred to Native Americans and Asian Americans as "reds and yellows," and earlier this year he suggested the Sept. 11 terrorist attacks were divine punishment.
It's also hardly the first controversial comment that Moore has made both during the course of the campaign and over the course of the past decade or so.
For example, like many on the right, Moore has shown what can only be described as extreme bigotry toward Muslim-Americans and Islams generally. He was quoted in the past making the claim that there are towns in the United States that are under the control of "Sharia Law," a claim that is demonstrably untrue. He has compared the Koran to Hitler's Mein Kampf and argued that Muslim-Americans should not be permitted to hold a seat in Congress, a position he said he continued to hold as recently as October. Moore has particularly directed those comments toward Keith Ellison, a Congressman from Minnesota who was the first Muslim-American to hold a seat a Congress. In a 2006 Op-Ed on the subject written for the far-right website World Net Daily, Moore said "In 1943, we would never have allowed a member of Congress to take their oath on 'Mein Kampf,' or someone in the 1950s to swear allegiance to the 'Communist Manifesto.' Congress has the authority and should act to prohibit Ellison from taking the congressional oath today!"
Not unexpectedly, Moore has also directed his vile commentary toward LGBT Americans over the years and used his authority has a Judge to act to deny these people the rights they are entitled to under American law. In 2005, Moore suggested that homosexuality should be illegal, ironically and most likely unconsciously mimicking the law of the Muslim nations that Moore cites as examples of the kind of America the left wants to create. He has also at times blamed the September 11th attacks on America's tolerance for homosexuality, although it's worth noting that he has also at times blamed those attacks on atheists and as recently this year blamed the attacks on the nation "turning away from God." Finally, and most seriously, Moore was removed from the bench due to the fact that he was actively attempting to interfere with the enforcement of the Supreme Court's decision making same-sex marriage legal nationwide and instructing Probate Judges in the state that they were not to issue same-sex couples marriage licenses because the Supreme Court's ruling didn't apply to Alabama.  This occurred roughly a decade after Moore was removed from the bench due to his refusal to comply with a Federal Court's decision ordering the removal of a Ten Commandments monument from the grounds of the Alabama Supreme Court building.
Moore has also followed the example of many of his fellow "conservatives" in openly praising Russian President Vladimir Putin. The most recent example of that occurred during an August interview with The Guardian during which he suggested that he and Putin may have a lot in common:
In an interview with the Guardian's Anywhere But Washington series, Moore also said that Ronald Reagan's famous declaration about the Soviet Union being "the focus of evil in the modern world" might today be applied to the US.

"You could say that about America, couldn't you?" he said. "We promote a lot of bad things." Asked for an example, he replied: "Same-sex marriage."

When it was pointed out to Moore that his arguments on gay rights and morality were the same as those of the Russian leader, he replied: "Well, maybe Putin is right." He added: "Maybe he's more akin to me than I know."
It's worth noting that nearly all of these comments were made prior to the September runoff election between Moore and Senator Luther Strange, an election that Moore ended up winning by more nine percentage points. Additionally notwithstanding all of these comments, Moore's history of defiance of the law and behavior that arguably should have made him eligible for disbarment or other disciplinary action by the Alabama State Bar, and the completely credible allegations of nine women that he either pursued relationships with them or sexually assaulted them when they were teenagers, Moore is in the lead in the race with Democratic nominee and stands poised to win on Tuesday. In the most recent poll of the race from an Alabama television station, Moore is leading Jones by seven points while the most recent poll from Gravis has Jones up by four points. All of this leaves Moore at 48.0% and Jones at 45.7% in the RealClearPolitics average, giving Moore an advantage of 2.3 points heading into the final weekend of the campaign. While this is far narrower than one might expect for a race in Alabama, and there remains a chance that Jones could pull out a win depending on turnout, the odds are that Moore will end up winning this race. When that happens, the voters of Alabama, and Republicans in the Senate and nationwide will have a lot to answer for.