John McCain Is Taking On Donald Trump Without Regret
John McCain has been standing out from his fellow Republicans largely by unleashing on President Trump, and it is unlikely to end anytime soon.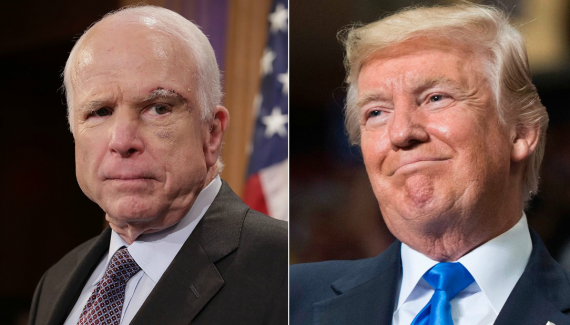 While most of the Republican Party continues to remain silent in the face of the near-daily outrages from President Trump, John McCain is apparently feeling liberated enough to speak out:
WASHINGTON — Senator John McCain, the sometimes cantankerous, often charming and eternally irrepressible Republican from Arizona, has never minced words. But in the twilight of a long and storied career, as he fights a virulent form of brain cancer, the 81-year-old senator has found a new voice.

In twin speeches — one in July, where he issued a call to bipartisanship in the Senate, and another in Philadelphia this past week, where he railed against "half-baked, spurious nationalism" — Mr. McCain has taken on both his colleagues and President Trump. In the process, his friends and fellow senators say, he has carved out a new role for himself on Capitol Hill: elder statesman and truth-teller.

"Even if John were not ill, with his experience and age, there is a part of you that I think begins to focus on your legacy," said former Vice President Joseph R. Biden Jr., a close friend of Mr. McCain's. But with cancer, Mr. Biden said, "he's in the fight of his life, and he knows it."

Having won re-election last year, Mr. McCain was already free to speak his mind. Were he to run again in 2022, he would be 86, and friends say that his 2016 campaign was almost certainly his last.

But colleagues see a shift since his diagnosis.

"Do I hear in his voice a little bit more expression of grander ideals? I do," said Senator Bob Corker, Republican of Tennessee. "With all that's happened to him, and the knowledge of where he is, I sense a little bit more of that."

In Philadelphia, the National Constitution Center awarded Mr. McCain its Liberty Medal, honoring his lifetime of public service. The senator's acceptance speech was a treatise on his expansive view of America's role in the world — a role that, he fears, is being diminished by Mr. Trump's leadership.

"The international order we helped build from the ashes of world war, and that we defend to this day, has liberated more people from tyranny and poverty than ever before in history," Mr. McCain said.

He went on to deplore as "unpatriotic" those who would "abandon the ideals we have advanced around the globe," in favor of "some half-baked, spurious nationalism cooked up by people who would rather find scapegoats than solve problems."

The speech grew out of a book Mr. McCain is writing with Mark Salter, his longtime speechwriter and co-author. It was not aimed directly at Mr. Trump, Mr. Salter said, but at the philosophy of Stephen K. Bannon, Mr. Trump's former chief strategist, and his hard-charging right-wing website, Breitbart News.

"In my view, and McCain's too, these guys at Breitbart are crackpots," Mr. Salter said.

Another element of the speech — Mr. McCain's gratitude for a life well lived — was equally important to the senator, Mr. Salter added, but it got lost in the media frenzy around the address.

Mr. Biden said he took the speech as a pointed message, if not to Mr. Trump, then to the nation. "I think he was delivering a message to the country, to his colleagues and to any of the opinion makers that would listen, and that is, 'Look, this is serious stuff, our role in the world is not guaranteed, democracy is not guaranteed, we know how to do this and, damn it, we'd better focus and know what's at stake.'"

The president, though, took it personally.

"People have to be careful, because at some point, I fight back," Mr. Trump said in a radio interview with WMAL in Washington. "I'm being nice. I'm being very, very nice. But at some point, I fight back, and it won't be pretty."

To which Mr. McCain, a former Navy captain who was tortured during more than five years as a prisoner in Vietnam, shot back: "I have faced tougher adversaries."

Mr. Biden found the tit-for-tat laughable. "The idea that Trump is going to intimidate John McCain? Give me a break," he said.

Mr. McCain, who was the Republican nominee for president in 2008, has never been a fan of Mr. Trump, who once derisively referred to the senator's time as a prisoner of war by saying, "I like people who weren't captured." During the 2016 presidential campaign, Mr. McCain at first grudgingly supported Mr. Trump, and then revoked his endorsement after the release of an "Access Hollywood" tape in which Mr. Trump boasted that he had sexually assaulted women.

Now, "there's not a relationship" between the two men, said John Weaver, a Republican strategist who is close to Mr. McCain. "It's not like they had one that got soured, or they had one that has not improved. There is not one."

In a brief hallway conversation in a Capitol corridor this past week, Mr. McCain put it this way: "I'm doing what I think is right for the country. I don't work for Donald Trump, and I don't work for his administration."
Here's the video of McCain's speech in Philadelphia referenced above:
McCain has long had a history of being outspoken and a 'maverick' against the general trends in his own political party, of course. It's a reputation that he earned well before he ran for President for the first time in 2000, but which received significant national attention during his campaign that year for the Republican nomination. In particular, it played a large role in his somewhat surprising victory over eventual nominee George W. Bush in the New Hampshire primary, a win that set the tone for what turned into a somewhat bitter campaign between the two men that turned nasty, at least at the surrogate level, on more than one occasion. McCain continued to play that role when he returned to the Senate and then again when he ran for President in 2008, especially when he stood up against the bigotry that some of his own supporters were displaying toward Barack Obama during the General Election that year. While there was much about McCain during that election to criticize, including his selection of a running mate and his somewhat bizarre "suspending my campaign" response to the September 2008 financial crisis, but that moment alone was a good demonstration that, in the end, McCain maintained the sense of decency and honor that he had become known for in the beginning.
More recently, of course, McCain has been in the news for other reasons and his diagnosis of a particularly virulent form of brain cancer seems to have had an impact on him that is having an interesting impact in Washington. Over the summer, of course, he became one of the most prominent opponents of the efforts by Republicans to ram a bill to 'repeal and replace' the Affordable Care Act through the Senate, including a dramatic late night return to the Senate shortly after his diagnosis during which he cast the deciding vote that killed the bill on the floor with a memorable thumbs-down that needed no explanation. He's also been among the most outspoken critics of the Trump Administration of Capitol Hill, as his speech in Philadelphia demonstrates quite aptly, with some suggesting that McCain's realization of his mortality and the fact that, regardless of the outcome of his battle against cancer, he's unlikely to seek re-election in 2022. As a result, he feels far more liberated in speaking out than any of his fellow Republicans on Capitol Hill.
Much like the criticism that was obliquely aimed at Trump by former Presidents George W. Bush and Barack Obama in their speeches late last week, McCain is absolutely right on the substance of his criticisms of the times we live in and the manner in which the current President is seeking to even further divide the nation. While McCain followed the example of the two former Presidents in not naming Trump by name, there's no mistaking who and what he was referring to in the address. Indeed, his reference to "half-baked, spurious nationalism cooked up by people who would rather find scapegoats than solve problems" is a perfect description not only of Trump himself, but also many of his most prominent supporters, including former chief strategist Steve Bannon, who has become even more outspoken than he was before upon his return to his former position at Breitbart News. Additionally, like the two former Presidents, McCain pushed back against Trump's advocacy of protectionism and a foreign policy that seems adrift and content with relinquishing much of the influence that the United States has had around the globe since the end of World War Two. Notwithstanding that there are several aspects of McCain's own policy position that are worthy of criticism, his critiques of Trumpism both in this speech and in other public comments has been particularly spot-on. If only his fellow Republicans displayed the same amount of courage.