Obama Blasts Trump's 'Politics Of Division'
President Obama spoke out yesterday against his successor and the America he has created.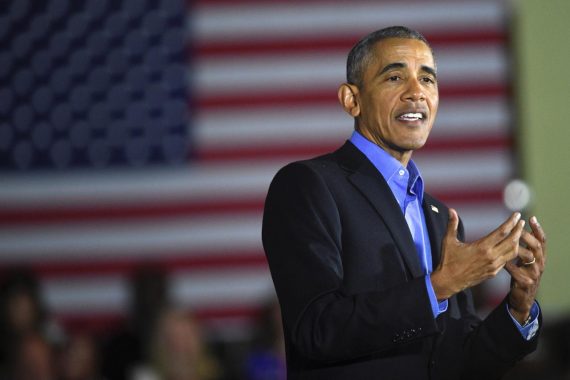 Echoing words spoken earlier in the day by his predecessor, albeit in the far more partisan atmosphere of a campaign rally before a friendly audience, former President Obama spoke out about recent political developments during a campaign rally in Virginia for Gubernatorial candidate:
RICHMOND, Va. — "It is time."

Ralph Northam, the Democratic candidate for governor, finished his own speech, said those words, and the crowd of more than 7,000 erupted. Then U2's "City of Blinding Lights" from all the way back in the 2008 campaign started playing, and Barack Obama made his return to the campaign trail here Thursday night.

Fresh from New Jersey after making an appearance for the Democratic gubernatorial candidate there, Phil Murphy, his own former ambassador to Germany, Obama uncorked. He argued that this year's elections are an existential moment that should — if Democrats do what he's kept telling them to do, without much success — vote — be the start of reasserting an American politics and society that turns away from what's embodied by President Donald Trump.

"We need you to take this seriously. Our democracy is at stake," Obama said. "Elections matter. Voting matters. You can't take anything for granted. You can't sit this one out. It's up to you. And if you believe in that better vision not just of our politics, but of our common life, of our democracy, of who we are; if you want that reflected in our government, if you want our kids to see our government and feel good about it, and feel like they're represented and if you want those values that you are teaching your children reinforced … then you've got to go out there."

As former President George W. Bush did earlier Thursday in a surprisingly forward speech in New York, Obama kept to not mentioning Trump's name, but left no question who he was talking about.

"Folks don't feel good right now about what they see. Maybe they don't feel as if our public life reflects our best," Obama said. "Instead of our politics reflecting our values, we've got politics infecting our communities. Instead of looking for ways to work together and get things done in a practical way, we've got folks who are deliberately trying to make folks angry, to demonize people who have different ideas, to get the base all riled up because it provides a short-term tactical advantage."

He returned to some of the Obama classics: kicking off with "Are you fired up? Are you ready to go?" and working his way through to "Don't boo. Vote!" Then, to criticize ads by Northam's opponent, Ed Gillespie, as misleading, he used a phrase that's only a favorite to him, calling it "the okey doke."

He returned to some of the Obama classics: kicking off with "Are you fired up? Are you ready to go?" and working his way through to "Don't boo. Vote!" Then, to criticize ads by Northam's opponent, Ed Gillespie, as misleading, he used a phrase that's only a favorite to him, calling it "the okey doke."

(…)

In New Jersey, Obama railed against "the politics of fear," complaining that there are people engaging in a sadly archaic form of politics that he said is "folks looking 50 years back."

"This is the 21st century, not the 19th," the former president said.

In Virginia, there was a more recent kind of nostalgia going on.

"Can you believe that a year ago this time, we had someone in the White House who knew how to be president?" Richmond Mayor Levar Stoney said, warming up the crowd before Northam and Obama appeared.
Obama is, of course, absolutely correct in decrying the politics of our time and what we've seen becoming the mainstream of political thought inside one of America's major political parties. The truth of the matter, though, is that it existed long before Donald Trump became President. Its roots go back at least to the 90s when the conservatism that Ronald Reagan, William F. Buckley Jr., and Barry Goldwater began to die off in the wake of the end of the Cold War. In its wake what we saw arise was some perverted fusion of conservatism and populism stirred up by fanatics on talk radio who pushed the right-wing of American politics into fever swamps of conspiracy theories about the Clinton Administration that covered everything from allegations that the President and/or First Lady were somehow responsible for the suicide of Presidential aide Vince Foster to allegations that President Clinton was involved in cocaine smuggling while he was Governor of Arkansas. While there were certainly some questionable dealings surrounding the Clintons to say the very least, the paranoia that people like Rush Limbaugh and others helped create on the right resulted in post Cold War conservatism turning into something that was decidedly not conservative.
Things became much worse once Obama became President. What was once known as Clinton Derangement Syndrome quickly became Obama Derangement Syndrome. The difference in Obama's case, of course, was the fact that there was often a direct appeal to racism in the attacks on the President that were obvious to anyone viewing them objectively. This was especially true, of course, of the whole birther movement and the idea that the President was not legitimate. Most of us can also probably remember the memes that got spread around by email and other means that made clear appeals to racism. The one that comes to mind most immediately for me was one that started circulating before the 2008 election that showed a White House after Obama had moved in, complete with such stereotypical images as fried chicken, watermelon, and Michelle Obama dressed like Aunt Jemima. It was hard to miss what the people distributing such memes were trying to say, and disturbing when you would receive such items from people you thought you knew. It certainly wasn't the case that all of the people who opposed the President were racist but the fact that such attitudes were allowed to exist without being condemned is what made it possible for the perverted populism known as Trumpism to take hold inside the Republican Party, and what made Donald Trump's victory possible.
As with Bush earlier in the day, Obama didn't mention Trump by name, but then there really wasn't any need to because in both speeches it was obvious who the two former Presidents were referring to and the events that they were referring to. Both during his campaign and since becoming President, Donald Trump has consistently appealed to the worst aspects of American politics in a manner once perfected by demagogues such as Father Charles Coughlin, the Dixiecrats who rose up in response to the Civil Rights Movement, and George Wallace, who until Ross Perot was the most successful third-party candidate for President since Theodore Roosevelt in 1912. The difference between those men and Trump, though, is that none of them managed to rally a major political party behind them and actually get elected President of the United States. This fact alone far more dangerous than any of those other demagogues, and the divisions that he is actively exploiting far more serious.
As with Bush, it's good to see the former President speaking out against it. In both cases, though, I have to wonder if in the end all they are really doing is preaching to the choir. In Bush's case, its to those on the right and within the Republican Party who realize, even silently, what the man leading their party and the nation and who are genuinely concerned about it. These 'Never Trumpers,' though, have already been convinced even if they have chosen to line up behind the President out of expediency for the time being. In Obama's case, he's speaking to people who already deeply oppose the sitting President. Neither one is likely to convince the base of the Republican Party that remains devoted to Trump and others who are also still hardcore Trump supporters to change their mind, and it's unclear what electoral impact either one of them is going have.  As long as that's the case, Trump and his Administration will continue going along as it has been for the past nine months, and the nation will continue to pay the price for that. At some point, someone is going to have to step in and clean up this mess, and it's not going to be easy.