Roy Moore Supporters Tried To Bribe The Attorney For One Of His Accusers
Supporters of Roy Moore tried to bribe the attorney for a woman accusing the former Senate candidate of sexual assault when she was just fourteen years old into repudiating his client.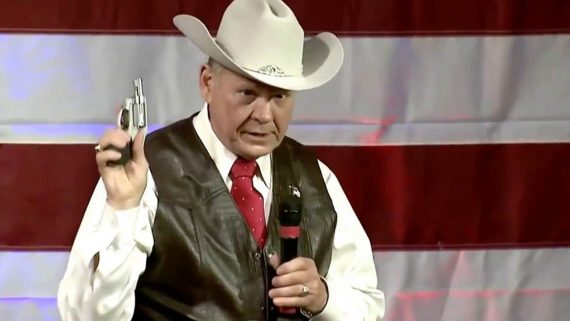 An attorney representing one of the women who accused former Alabama Supreme Court Chief Justice Roy Moore of sexually assaulting them in the late 1970s says that individuals associated with Moore approached him prior to the December 12th Special Election and attempted to bribe him to break ranks with his client:
BIRMINGHAM — Days after a woman accused U.S. Senate candidate Roy Moore of sexual impropriety, two Moore supporters approached her attorney with an unusual request.

They asked lawyer Eddie Sexton to drop the woman as a client and say publicly that he did not believe her. The damaging statement would be given to Breitbart News, then run by former White House strategist Stephen K. Bannon.

In exchange, Sexton said in recent interviews, the men offered to pay him $10,000 and promised to introduce him to Bannon and others in the nation's capital. Parts of Sexton's account are supported by recorded phone conversations, text messages and people in whom he confided at the time.

The effort to undermine Leigh Corfman's allegations — beginning on Nov. 13, a month before the election — shows how far some of Moore's most fervent supporters were willing to go to salvage an Alabama campaign that many hoped would propel a nationwide populist movement and solidify Bannon's image as a political kingmaker.

In the phone conversations and texts, copies of which were obtained by The Washington Post, one of the men spoke of ties to Moore and Bannon while urging Sexton to help "cloud" the allegations, which included other women's claims that Moore pursued them when they were teenagers and he was in his 30s.

"What they're saying, all they want to do is cloud something," Gary Lantrip, who attended at least one private fundraising event for Moore, said during a phone call recorded by Sexton. "They said if they cloud, like, two of them, then that's all they need."

Lantrip also made references to money — at one point speaking haltingly about the "the ten [pause] dollars," a shorthand for the $10,000 offer, Sexton said.

"We got some chance to do something, make some quick little-bitty for you … and then, on down the line, we can go to D.C.," Lantrip said during the recorded call.

Sexton was initially reluctant to talk publicly about the alleged offer, because the men — Lantrip and Bert Davi, business partners in a small construction firm — are his clients in an unrelated court case, a dispute over a real estate venture. Sexton decided to speak publicly after repeated requests over months from Post reporters, who contacted him after obtaining one of the recordings.

Sexton vouched for the authenticity and accuracy of the recordings and messages.

In a statement, Moore said Thursday that Lantrip and Davi had attended rallies but that the campaign was not involved in any effort to pay Sexton. "I nor anyone else in the campaign offered anyone money to say something untrue, nor did I or anyone else authorize someone else to do such a thing," he wrote.

A spokesman added that although Lantrip and Davi had met Moore, "they did not have any special access to Judge Moore, nor were they ever commissioned with any special tasks by the campaign team."

A spokeswoman said Bannon, who worked in the White House until August, could not be reached for comment.

In separate interviews on Monday, Lantrip, 55, and Davi, 50, acknowledged seeking the statement and arranging a meeting between Sexton and two Breitbart reporters but denied doing anything improper.

During a 20-minute interview at a construction site in Birmingham, Davi parried questions about money, saying his partner would know details of what was offered to Sexton. "That was between Eddie and Gary," Davi said. Asked where the money would have come from, he said, "Probably Gary."

Davi said he has known Bannon for years but declined to say how they met or describe the nature of their relationship. He added that Bannon never knew about any offer to pay Sexton.

"Our effort was really to let the truth come out," Davi said.

At one point, Davi suggested it was Sexton who raised the idea of payment, saying the lawyer indicated that if he were to issue a statement about Corfman, he "wouldn't do it for free." Sexton denied that.

Davi ended the interview but said he would talk later that day. He was not available at the scheduled time, however, and refused to talk to a reporter as he left the site.

Approached outside his home that afternoon, Lantrip declined to comment on whether Sexton was offered money or about his own references to money during the recorded call. He acknowledged telling Sexton, however, that if he made the statement he would get legal work from Bannon as part of a Breitbart expansion in Alabama.

"I'll protect what I did, because I know I didn't do nothing," Lantrip said shortly before ending the interview.

In a statement, Breitbart said its reporters, Matt Boyle and Aaron Klein, attended the meeting after being told Sexton wanted to say publicly that he had decided to stop representing Corfman.

"At no time did Boyle or Klein hear any mention of money being offered or other promises made to Mr. Sexton in return for ending his representation of Ms. Corfman," the outlet said. "The reporters did not participate in crafting any statement for Mr. Sexton."

Two people interviewed by The Post said Sexton told them about the alleged offer around the time it was made, including a lawyer he was consulting for advice. They provided time-stamped texts and private Facebook messages that show their discussions with Sexton as he considered how to handle the situation.

Also, Sexton said he reported the incident to a federal prosecutor in Alabama. Assistant U.S. Attorney Robert Posey told Sexton in a Dec. 5 email that the events Sexton had described by phone did not appear to constitute a federal crime.
Corfman, of course, was among four women who were the focus of a piece published in early November of last year regarding accusations of sexual impropriety by Moore during the time that he served as an Assistant District Attorney in Etowah County. Alabama. Corfman's accusations stood out in the original report both because she said that her contact with Moore occurred when she was just fourteen years old and because she said that Moore had taken her to his home and sexually assaulted her after getting her to take off her clothing other than underwear. Later in the month, Corfman appeared on television and told her story of the assault that she had talked to the Post reporters about. The other three women in this original report were alleging that Moore had approached them for dates when they were sixteen and seventeen years old and he was a young ADA in his thirties. Several days after that initial report in the Post, another woman stepped forward to claim that Moore had assaulted her in his car when she was sixteen years old. This woman presented what appeared to be documentary proof of what at least was a relationship between her and Moore in the form of a yearbook inscription signed by Moore in 1979. Several days after that report, four more women came forward accusing Moore of improper advances toward them when they were teenagers in the 1970s, including one woman who stated that Moore had once come to her High School and had the Principal summon her out of class so that Moore could talk to her. There were also additional claims against Moore, including a report that he was banned from a local mall due to the fact that he was consistently approaching young women there. Finally, and perhaps consistent with this new report, The Washington Post reported that supporters of Moore had attempted to dupe its reporters with a woman claiming to have had an experience with Moore similar to that contained in the earlier reports. Rather than run with the report, though, the reporters figured out that it was an effort by notorious conservative "activist" James O'Keefe and exposed the operation.
To be clear, there is no allegation in this report that the Moore campaign or anyone affiliated with it had anything to do with the people behind this attempt to bribe Corfman's attorney into repudiating his client and no proof of any such connection. It's also worth noting that while there were two reporters from Breitbart in attendance at the meeting where this discussion of a bribe took place, it does not appear that they were actually in the room when the money was offered. That being said, it's worth noting that both of these reporters, Matt Boyle and Aaron Klein, spent weeks on the ground in Alabama essentially acting as propaganda machines for the Moore campaign. Given that, the fact that they were at this meeting at all speaks volumes about the extent to which Breitbart, which was still under the guidance of Steve Bannon at the time, sought to influence the outcome of the election in Alabama rather than act as dispassionate and objective reporters of news.
The question that comes to mind in connection with this report, of course, is whether or not there is a potential for criminal liability based on the alleged activity. While I am not sufficiently familiar with Alabama law to be able to answer that question definitively, it does appear that the actions of these two Moore supporters could potentially be seen as violating two provisions of Alabama's criminal code. The first provision can be found in Section 120 of Title 13A, Chapter 11 of the Alabama Code, which states:
(a) A person commits the crime of commercial bribery if he:

(1) Confers, or agrees or offers to confer, any benefit upon any employee or agent without the consent of the latter's employer or principal, with intent to improperly influence his conduct in relation to his employer's or principal's affairs;  or

(2) Confers, or agrees or offers to confer, any benefit upon any fiduciary without the consent of the latter's beneficiary, with intent to improperly influence him to act or conduct himself contrary to his fiduciary obligation.
(b) Commercial bribery is a Class A misdemeanor.
Under Alabama law, a Class A Misdemeanor is punishable by up to a year in jail and a fine up to $6,000.
There could also be a potential violation of Section 121 of the same part of the Code:
(a) A person commits the crime of bribing a witness if he offers, confers or agrees to confer any thing of value upon a witness or a person he believes will be called as a witness in any official proceeding with intent to:

(1) Corruptly influence the testimony of that person;

(2) Induce that person to avoid legal process summoning him to testify; or

(3) Induce that person to absent himself from an official proceeding to which he has been legally summoned.

(b) This section does not apply to the payment of additional compensation to an expert witness over and above the amount otherwise prescribed by law to be paid a witness.

(c) Bribing a witness is a Class C felony.
A Class C felony is punishable by jail time ranging from one year to ten years and a fine up to $15,000.
Realistically speaking, it's unlikely that what is alleged here would qualify as an attempt to bribe a witness since it's unlikely, though not impossible, that Corfman's attorney could be called to testify in court. If charges were to be brought, it would seem more likely that they would be brought under the commercial bribery statute on the theory that the relationship between the attorney and Corfman was a principle-agent relationship and that attempting to bribe the attorney into falsely repudiating his client constituted "improperly influence" the relationship between the attorney and his client. Whether such charges can or will be brought, though, is something I'll leave to those with more expertise than I have on matters of Alabama law.
In any case, this report is a rather pathetic coda to Moore's failed campaign for the Senate, and a fitting example of the kind of unethical behavior that the people supporting him were willing to engage in.