Sarah Palin Launches Subscription Based Online TV Channel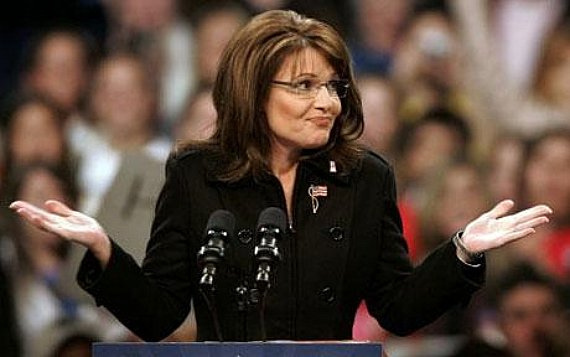 Sarah Palin is launching her own online channel:
Sarah Palin says she's fed up with traditional news media outlets. So she's starting her own online channel.

In a Sunday video, the former Republican vice presidential nominee announced the Sarah Palin Channel, a subscription-based Web site that she says will offer news, video chats with her and behind-the-scenes glimpses of speeches and political events she attends.

The venture marks Palin's latest broadside against news outlets she has long accused of unfair coverage, including of her 2008 campaign. It's also an attempt to make her voice heard ahead of the midterm elections. She has hit the campaign trail his year on behalf of Republican congressional hopefuls.

In a separate post on Facebook, Palin directly takes on The Washington Post, arguing it has "fallen like a lead balloon" since the days of writing about the Watergate scandal.

"Whereas you once doggedly covered the 18.5 minute gap in Nixon's White House communications, you've virtually ignored the Obama Administration's 1.2 million minutes of deleted communications by just one of the agencies under Obama's executive branch," she writes.

Palin says her new Web site is a response to mainstream media outlets she has routinely accused of dodging important issues and slanting coverage.

A subscription will cost $9.95 a month or $99.95 a year.

In her two-minute announcement video, Palin repeatedly criticizes the media. She also vows to talk about ideas that "Washington doesn't want you to hear" about.
Palin isn't the first conservative to take this route, of course. Glenn Beck started the trend with his Blaze network that started in the wake of his departure from Fox News Channel several years ago, and while the network apparently doesn't release any verifiable subscription statistics it is apparently successful enough to keep going. Beck's network, of course, involves far more than just Beck's show, and includes content from others that have joined the network in recent years. There is no indication at this point that Palin's online gig will have a similar arrangement. Whether it does or not, though, Palin herself will most likely find enough people willing to pay $100 a year for, well, whatever it is she's actually end up doing, although apparently it will involve some kind of hunting show similar to Sarah Palin's Alaska, as well as political commentary. At the very least, though, this would seem to indicate that Palin has no plans of even pretending to tease the possibility of a Presidential run in 2016. There's a lot more money, and a lot less work, in pushing this kind of nonsense if people are willing to pay for it.
Conor Freidersdorf reviews the content on the website and comes away with this observation:
What's so striking is Palin's ability to take content much like what she said as a vice-presidential candidate, then again as a handsomely paid contributor to a gigantic media corporation, and successfully package it as what "the powers that be" don't want you to hear. There are, I'm quite sure, things that "the powers that be," however defined, really don't want us to hear. I strongly suspect that "let's drill for more oil and gas," whether one agrees or disagrees with the sentiment, is one that's not at all threatening to one single member of America's governing elite.

"Bold" this ain't.

There is much more content on the Sarah Palin Channel: e.g., a blog run by Bristol Palin; "The Case of Obama's Impeachment," which is labeled as "best of" content, but is just a link to her Fox News op-ed; and "An American Icon," where Palin speaks enthusiastically, and seemingly off-the-cuff, about meeting Billy Graham: "He's got this envelopment of God's favor around him that's kept him out of the politics of it all, that'll kind of warp you and set you up for some failure," she says.

The production value is poor, the Palin syntax in some of the monologues suggest that lots of content isn't even scripted, and the same cultural perspective can be found on Fox, or GBTV, or talk radio. All of which is to say that the site offers just one thing you can't get (in comparable quantity) elsewhere: Sarah Palin herself. If the channel succeeds it will be on the strength of her ability to sustain a fan base.
Well, as a great American has been credited with saying, albeit apparently erroneously, there's a sucker born every minute. So I'm sure Sarah will succeed.
Anyway, here's the video: