Schwarzenegger: Obama Will Win in 2012
Arnold Schwarzenegger predicts President Obama's re-election. Historically, that's the safe bet.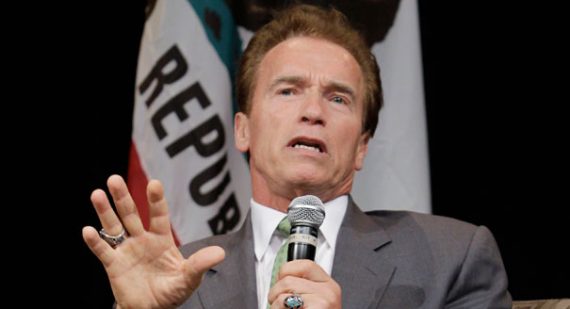 Politico passes along a Spiegel interview with outgoing California Governor Arnold Schwarzenegger in which he predicts President Obama's re-election.
California Governor Arnold Schwarzenegger says he is certain that President Barack Obama will get re-elected in two years — even if his own party, the conservative Republicans, turn out to be the victors in midterm Congressional elections in November.

"Obama can watch this casually, knowing that afterwards he will be in a much better position," he said.

The Republicans have adopted Obama's health care reforms as their main campaign issue and they would like to roll those changes back after the election. But Schwarzenegger is defending the president against criticism from within the Republican Party. "The conservatives had many years in Washington to push through their reforms," the governor said. "But what ever happened to the Republican health care reform?"

"I assume that Obama will get a second term in office," Schwarzenegger told SPIEGEL. Schwarzenegger apparently doesn't believe the Republicans will succeed in finding a challenger capable of securing a victory against Obama. If Obama's Democrats lose their current majority in the House of Representatives — a development expected by many — Schwarzenegger says it could actually provide a boost to the US president's prospects for re-election.
Predicting a president's re-election is hardly going out on a limb.   A second term is the default position.   Excluding cases where a president vacated his office prematurely owing to death or resignation and leaving an unelected successor, we've never had consecutive one-term presidents.
George Washington, Thomas Jefferson, James Madison, James Monroe, Andrew Jackson, Abraham Lincoln, Ulysses Grant, Grover Cleveland*, William McKinley, Theodore Roosevelt, Woodrow Wilson, Calvin Coolidge, Franklin Roosevelt (4 terms), Harry Truman, Lyndon Johnson, Richard Nixon, Ronald Reagan, Bill Clinton, and George W. Bush all won elections as sitting presidents or, in the case of Cleveland, a second non-consecutive term.   Another six died in office before getting a chance to run again.
The relative handful of elected-on-their-own presidents who failed to win a second term all either died or faced highly unusual political circumstances.
John Adams, the first, was facing his own vice president, Thomas Jefferson, whom he'd narrowly defeated the first time around.
John Quincy Adams, the second not to be re-elected, lost to Andrew Jackson, the plurality winner the previous go-round.
Martin Van Buren inherited an economic crisis and suffered a second during his term.
William Henry Harrison died a month after taking office and his successor, John Tyler, was not elected in his own right.
James Polk promised at the outset to serve only one term and didn't run for re-election.   He died three months after his term ended.
Zachary Taylor died sixteen months in and his successor, Millard Fillmore, was not elected in his own right.
Franklin Pierce was not re-nominated by his party, a victim of the divisions which led to the Civil War.
James Buchanan was not re-nominated by his party, a victim of the divisions which led to the Civil War.
Rutherford Hayes won a controversial multi-party election through a compromise that ended Reconstruction.  He didn't seek a second term.
James Garfield died his first year in office and his successor, Chester Arthur, was not elected in his own right.
Grover Cleveland was elected to two non-consecutive terms.
Benjamin Harrison narrowly beat Grover Cleveland (actually losing to him in the popular vote and carrying New York and Indiana through fraud) and then narrowly lost to Grover Cleveland.  He didn't even campaign for re-election, as his wife was dying from tuberculosis, succumbing two weeks before the election.
William Howard Taft lost a three-way contest in which his predecessor, Theodore Roosevelt, decided to seek a third term.
Warren G. Harding died in office.
Herbert Hoover presided over the beginnings of the Great Depression.
John F. Kennedy died in office.
Gerald Ford, elected to neither the vice presidency nor the presidency, barely lost his bid for election in his own right despite having pardoned Nixon.
Jimmy Carter was, well, Jimmy Carter.
George H.W. Bush went from 90 percent approval ratings to a loss in a bizarre three-way race during a recession.
Lyndon Johnson, who took over after Kennedy's assassination, was elected in his own right, so I count him on the plus side.  He was eligible to run for another term but declined to do so because he was incredibly unpopular, mostly owing to the Vietnam War, and would have had a tough time getting the Democratic nomination, much less re-elected.
Regardless, looking at the list above, Barack Obama should win a second term unless:
He dies in office. Let's hope he doesn't.
The economy remains a disaster. Let's hope it doesn't, for our sake.   He's got about 18 months for it to turn around, though, in time for it to sink in.
There's a significant third party challenger that hurts him more than his opponent. That seems quite unlikely. (Just for kicks, I'll nominate Al Gore.)  Indeed, the opposite seems more likely.
He decides not to seek re-election. Incredibly unlikely, absent a double dip so steep that he's in danger of not being re-nominated.
He's presiding over a highly unpopular war. Possible.   But he does seem to be looking for the door in Afghanistan.
Absent a true calamity, the biggest obstacle to Obama's re-election is the economy.   If unemployment remains near the double digit level into the summer of 2012, there's a strong shot for a Republican to beat him.    Even then, though, it's not a slam dunk.   Schwarzenegger is right:   The GOP has to find a plausible candidate.    If they come up with a Sarah Palin-Christine O'Donnell ticket, they won't win even if unemployment's at 15%.   Nor will they win if, say, Mitt Romney is the nominee and there's a serious Tea Party candidate out there to split the vote.
UPDATE:  In the comments, Dave Schuler emphasizes Schwarzenegger's point about GOP wins in the midterms being a boon to Obama:  "A Republican majority in the Congress to run against is probably the best thing that could have happened to the president." I tend to agree.
I've said all along that the best outcome for the Republicans would be to fall just short of retaking both Houses, leaving Democrats technically in charge but impotent.   The worst outcome would be narrow wins in both Houses, which leaves Republicans responsible but largely powerless in the face of the veto.
Additionally, Republican wins would reinforce two ideas that I believe disastrous for the party come 2012.  First, that simply running against Obama rather than for something is sufficient.  Second, that the Tea Party represents some sort of majority position.
A previous version of this post had William McKinley on the list on one-termers who died in office.  In fact, as a commenter pointed out, McKinley died six months into his second term.