Scott Walker Leads In Wisconsin Recall Poll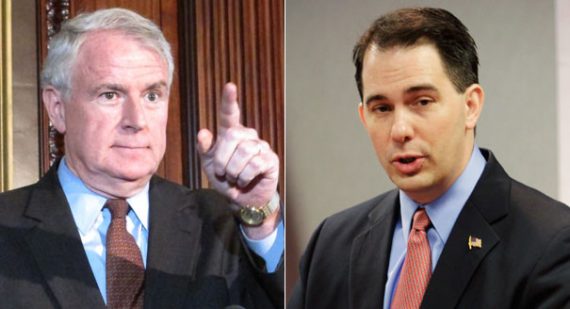 A new poll of the Wisconsin recall race shows Scott Walker and his Lt. Governor leading their Democratic opponents:
A new Marquette Law School Poll shows that with three weeks to go until the recall election Governor Scott Walker has taken a six-percentage point lead over Milwaukee Mayor Tom Barrett, 50-44 percent, among likely voters. Just three percent say they are undecided. In the previous poll, taken April 26-29, Walker held a one-percentage point lead among likely voters, 48-47. Lt. Governor Rebecca Kleefisch holds a 47 to 41-percentage point lead over Professional Fire Fighters of Wisconsin president Mahlon Mitchell in that recall election, with 10 percent undecided.

(…)

Republicans are more likely to say they are "absolutely certain" to vote on June 5, at 91 percent, than are Democrats and independents, both at 83 percent. In other areas of participation, Republicans also have an advantage. Sixty-two percent of Republicans say that they have tried to persuade someone to vote for or against a candidate, compared to 54 percent among Democrats and 48 percent among independents. Democrats, however, are more likely to have been contacted by a campaign, 83 percent, to 78 percent for Republicans and 76 percent among independents. These rates are for all registered voters in the sample, not just likely voters.

Marquette Law School Poll Director Charles Franklin noted, "While both parties show unusual levels of involvement in the campaign, Republicans appear to hold an advantage in likely turnout, although Democrats are more likely to have been contacted by a campaign. In a close election with so few undecided voters, enthusiasm, turnout and campaign contact with voters may make the difference."
There have been signs in the past that the enthusiasm surrounding the recall effort has been dying off, and this poll would seem to suggest that Wisconsin voters are having second thoughts about changing horses in midstream, and that Wisconsin Republicans are highly motivated to protect their Governor. With only a few weeks left to go until the vote, we may be near the point where Walker can breath easy.
Marquette also asked about the November election and got some interesting results:
Looking ahead to the November election, President Barack Obama is tied with former Massachusetts Governor Mitt Romney, 46 percent to 46 percent, among likely voters. In April Obama led Romney by 49 to 45 percent, also among likely voters.
I am still skeptical about the idea that Wisconsin is going to be a swing state in November, but if it is then that would be very good news for Mitt Romney.