Signs Of A Big Romney Win In Florida
Mitt Romney seems headed for a big, and important, victory tomorrow in Florida.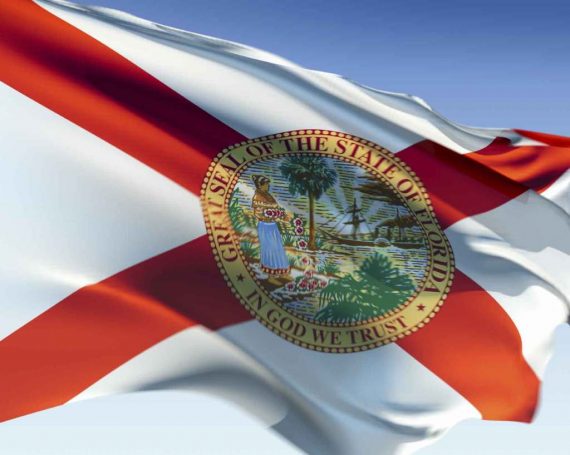 If what are for the most part the final polls in Florida are any indication, then Mitt Romney appears to be headed for a massive victory in Florida tomorrow that could end up overshadowing Newt Gingrich's impressive victory in South Carolina only nine days. Already, Gingrich's campaign appears to be attempting to downplay the expected results tomorrow and Gingrich has said that he intends to stay in the race until the convention. Mitt Romney jabbed Gingrich a bit over that remark during a press gaggle on his campaign plane today, nothing that that is what someone who's losing usually ends up saying. Clearly, the race will not end tomorrow regardless of how decisive the victory might be, but Romney will be heading into a phase of the race where he's got the advantage with the biggest victory of the cycle yet under his belt.
In the new Quinnipiac poll, for example, Romney has a 14 point lead and a lead among virtually all demographic groups:
Former Massachusetts Gov. Mitt Romney has a 43 – 29 percent lead over former House Speaker Newt Gingrich among Republican likely voters in Florida, the nation's first big-state presidential primary, according to Quinnipiac University poll released today. Only 7 percent are undecided, but 24 percent say they might change their mind by tomorrow's election

This compares to a 38 – 29 percent Romney lead in a January 27 survey by the independent Quinnipiac (KWIN-uh-pe-ack) University.

In today's survey, self-described conservatives go to Romney 40 – 31 percent. He gets 38 percent of white evangelical Christians to Gingrich's 33 percent and wins 40 percent of Tea Party members to Gingrich's 35 percent.

Texas U.S. Rep. Ron Paul and former Pennsylvania Sen. Rick Santorum each have 11 percent of likely primary voters today.

Romney gets a 64 – 25 percent favorability rating from likely primary voters, compared to 61 – 28 percent Friday. Gingrich has 51 – 42 percent favorability, compared to 50 – 28 percent Friday. Santorum is at 58 – 16 percent favorable, with a negative 35 – 45 percent for Paul.
SurveyUSA, meanwhile, has Romney up by by 15 points:
Mitt Romney is poised for a decisive win in Tuesday's 01/31/12 Florida Presidential Primary, according to a SurveyUSA poll conducted for WFLA-TV in Tampa. The victory will give Romney 50 additional delegates, and bring his total to 69, on the march to the 1,144 delegates needed to be nominated by the Republican Party. Because Florida is one of the few "winner take all" states in 2012, the size of Romney's victory is not as important as in a proportionally allocated state, but SurveyUSA's final numbers show Romney 15 points atop Gingrich, 41% to 26%.

Romney is ahead in every region of the state. Gingrich draws to within single digits among Evangelicals, pro-life voters, Tea Party voters, and younger voters, but Romney overwhelms with a 25-point advantage among the affluent, a 20-point advantage among the college educated, a 20-point advantage among women, and a 19-point advantage among voters age 50+. There is effectively no difference between those who have already voted and those who have not yet voted, so a late Gingrich surge is not anticipated.
There are two new polls out there that have the race slightly closer —- Public Policy Polling and Insider Advantage — but these polls showing a 15+ point Romney lead are repeated in a new Suffolk University Poll [PDF] that shows Romney up twenty points, as well as the polls released yesterday by Rasmusssen and NBC/Marist. Which leaves what is essentially the final RCP chart (not including the last night of PPP's polling and whatever else is released later tonight) for the race: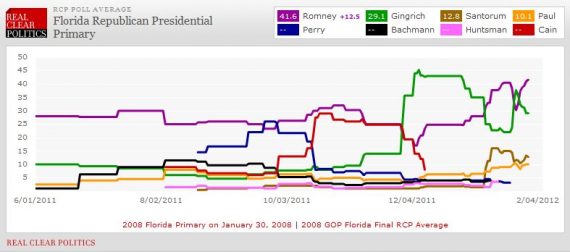 The importance of a big Florida win for Romney should not be underestimated.  For the second time in a month, his campaign would have shown the GOP how vulnerable Newt Gingrich is to a negative campaign. The past week has drastically weakened the argument among Gingrich supporters that their candidate could "out debate" President Obama. Additionally, a Florida win would make Romney the only one of the remaining candidates to decisively win two of the four January contests, and nearly win a third. It would, as I noted above, essentially erase whatever damage his campaign suffered as a result of that bad week in South Carolina and the loss there. He would win the biggest primary contest until Super Tuesday. And, perhaps most importantly for Romney considering the perception that he has had a hard time getting his fellow Republicans to accept him as their candidate, he would do all this in a primary where only registered Republicans are allowed to vote.  If that's not all an argument for Romney's inevitability, I don't know what is.