Single-Seat Districts are a Huge Problem
Politicians controlling lines control voters (instead of voters controlling politicians).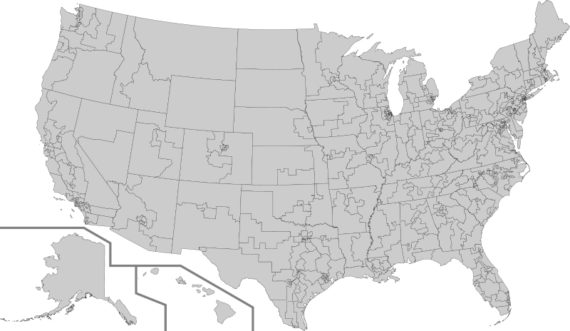 In reading James Joyner's post this morning, Unilateral Disarmament on Gerrymandering, I had two thoughts that I started to share are as a comment, but as it oft the case, that was too constraining a space. The first issue is about the sad state of our democracy that we are faced with the conundrum that doing what is arguably the moral thing is not the politically smart option. The second is a chance for me to inveigh (yet again) against the core problem for legislative elections in the US: single-seat districts.
On the first point, I would note that James raises a salient question that has come up before: what should be the Democrats' response to Republican attempts to gerrymander inflated majorities for themselves in the states they control? The Realpolitik response is, quite clearly, Democrats should gerrymander the states they control. It is, after all, one of a few ways to try and combat the advantage the GOP is willing to press for itself in states like Wisconsin.
To be clear, I am not saying that Democrats have not engaged in gerrymandering. They have, and they will. But it is also true that Democrats in many states have actively attempted to install commissions that take the power away from legislatures in the hope of creating less partisan outcomes. This is the "unilateral disarmament" noted in James' post.
But, as James' post well documents, of late the Democrats have sought to enhance nonpartisan (as far as that is even possible) solutions to redistricting while Republicans have sought whatever advantages they can, democratic competition be damned. As Kevin Drum put it in a similar post: Cook Report says Democrats have slit their own throats.
No state controlled by Republicans has ever created a truly nonpartisan redistricting commission. In nearly every red state, the legislature controls district maps and gerrymanders them as ruthlessly as they can. There are a couple of blue states that also do this, but not many. The end result is that blue states tend to draw maps fairly while red states draw maps that heavily favor Republicans.

On the bright side, liberals can all feel good about themselves for being so dedicated to fair voting. On the down side, we're probably going to lose the next election because of this. Hooray for us.
I will note, I am not sure that there is such a thing as a "truly nonpartisan redistricting commission" but will say that certainly, commissions outside of legislatures tend to be fairer than when legislators themselves draw the maps–but as per the theme of the post, single-seat districts simply cannot be drawn in a way that this truly neutral.
The truly maddening thing about all of this is that what Republicans are doing is actively subverting the fabric of representative democracy, while Democrats, in the main, are trying to promote representative outcomes (in limited fashion, I will readily allow), but the end result is less representative national elections (and rewards to the party trying to subvert democracy). The problem is, making the system even less democratic by gerrymandering in blue states at the same level as red states simply means a further institutionalization of less actual democracy.
We are on a very troublesome road in this regard. And while politics ain't bean bag, if it really does boil down to both sides doing their dead-level best to press whatever advantages they can to subvert the will of the voters, then we are simply going to cease to be a democracy.
The second issue, which is about districting options themselves. I feel I would be remiss in noting that James' understandable preference of "draw[ing] district lines that are based as much as possible on natural communities " is largely a fantasy (not to be too blunt). A core part of our democratic problem is that residential patterns make such districts a bit of a unicorn. And, really, the reality is single-seat districts can't be drawn in a truly fair fashion. Any conceivable set of maps will be based in some way.
Now, to be clear and not to be overly contrarian, I would prefer this as well as opposed to our current process. As such, I think that the Democrats in congress (well in the Senate) are missing the mark by failing to pass a uniform process for drawing these lines. But, it is also true that creating a uniform system would be, at best, a bandaid on a gaping wound. If Democrats really understood the perils that our democracy faces, they would have put forward an actual reform agenda. Instead, they act like things are far more healthy in our system than they actually are.
Indeed, I think a lot of people hold to the hope that there is some kind of "neutral" process to draw lines, but this is simply not the case. If the goal of representation is to represent what voters want out of government, we need a new system.
Along those lines, I would refer anyone interested in this point to a FiveThirtyEight piece by David Wasserman from 2018: Hating Gerrymandering Is Easy. Fixing It Is Harder (part of their Gerrymandering Project that James wrote about at the time). The bottom line lesson from that exercise is that whatever set of lines one chooses, there are consequences that help one party of the other. There is simply no such thing as a set of districts that are all competitive or that actually do a really good job of reflecting actual voter preference. Moreover, most maps benefit Republicans because Democrats are highly concentrated in urban areas.
The very fact that different maps produce different outcomes with the exact same voters should be enough to make people ask themselves if the core problem isn't single-seat districts themselves, regardless of the districting methodology (see, for example, my post: Backwards: When Politicians Choose Their Voters). Put simply: if the goal of representative democracy is that the legislature (and broader government) reflects the will and preferences of the voters, then the system needs to be designed to capture those preferences. If the exact same voters produce different outcomes based on lines on the map, then the lines are dictating outcomes instead of voter preferences doing so.
If we want representative outcomes from our elections, we need proportional representation.
If we want elections to actually be reflections of the public weighing policy options and choosing legislatures based on those options, we need proportional representation.
PR could mean multi-seat districts and one of several ways to allocate seats or it could mean MMP (mixed-member proportional representation) wherein part of the legislature is elected in single-seat districts, but the overall allocation of seats is dictated by a national vote (see a simple primer here).
We (and I mean the inclusive "we" whether it is neighbors chatting or the national media reporting) talk like every election is a contest in which policy ideas and political philosophies are put forth to the public and then choices are made by that public in a system that weighs public preferences on those ideas and philosophies.
Just think about this the next time you read or hear a reporter or analysis talking about the pending mid-terms.
But this characterization is not true.
The allocation of seats in the Senate alone makes such a sentiment untrue. As I recall, the last time a Republican majority in the Senate actually represented a majority of the population was in the mid-1990s. And before someone tells me the obvious fact that that is just the way it works under the constitution, let me both agree that that is a true statement, but then note how democratically deficient a truth that it is.
We are going to hear (and, quite honestly, are hearing now) about how the 2022 elections are going to be a referendum on the Biden administration, but how much of the outcome of that election is really about national preferences? It certainly won't be in the Senate. And in the House, if the Repubicalsn ride both their rural advantage coupled with the gerrymandering noted above to a majority, is that really a reflection of anything other than their structural advantage?
It seems impossible to me to see it as some reflection of national preferences.
And, to be clear, I am not arguing that the public necessarily likes Build Back Better, or whatever. But I am saying that we have no real institutional mechanism for our elections to be used as a real reflection of public sentiment. Nonetheless, the media will act as if we do.
Plus, it should never be forgotten the degree to which our rules manufacture the two-party duopoly. The combination of primaries to nominate plus single-seat districts substantially curtails any incentive to form a third party of consequence. Our parties flatly do not provide adequate representation of the public and this is largely a structural outcome.
Our elections are far more about residential patterns and a combination of arbitrary and purposeful imaginary lines than they are about deep policy preferences (or even shallow ones!).
If we value the idea that government is supposed to be a workable reflection of public preferences, we need to fully admit the deficiencies of the current system, and single-seat districts are at the heart of it (but are no means the entire story).
Note for the record, I am aware of the obstacles that exist in addressing these problems, but that is not a good reason not to correctly diagnose the problem. Moreover, I am of the opinion that even among people who are sympathetic to my overall point still kind of believe that there is some bandaid (like nonpartisan redistricting commissions) that will save us, and I think it is important to keep pointing out that this is not the case.