Solid Jobs Growth For February, But Shadows Remain Hovering Over The Economy
February's Jobs Report was relatively positive, but there are still shadows hovering over the economy as we head further into the year.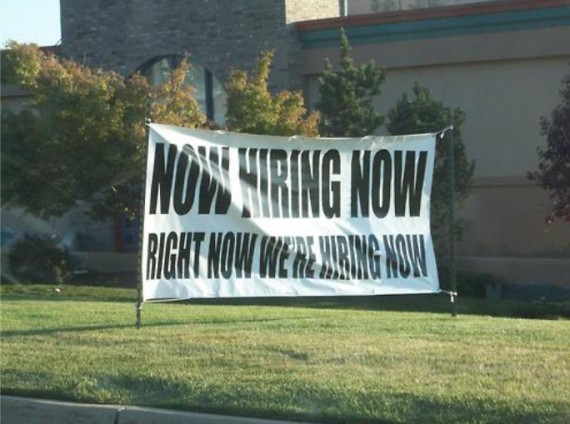 After a lackluster jobs report for January and news that the economy had grown at a meager one percent in the final quarter of 2015, February's jobs report was much anticipated by economic analysts and by political analysts alike. As it turns out, the jobs market was far stronger in the second month of the year, suggesting that January may well have been an anomaly:
Total nonfarm payroll employment increased by 242,000 in February, and the unemployment rate was unchanged at 4.9 percent, the U.S. Bureau of Labor Statistics reported today. Employment gains occurred in health care and social assistance, retail trade, food services and drinking places, and private educational services. Job losses continued in mining.

Household Survey Data

In February, the unemployment rate held at 4.9 percent, and the number of unemployed persons, at 7.8 million, was unchanged. Over the year, the unemployment rate and the number of unemployed persons were down by 0.6 percentage point and 831,000, respectively. (See table A-1.)

Among the major worker groups, the unemployment rates for adult men (4.5 percent), adult women (4.5 percent), teenagers (15.6 percent), Whites (4.3 percent), Blacks (8.8 percent), Asians (3.8 percent), and Hispanics (5.4 percent) showed little or no change in February. (See tables A-1, A-2, and A-3.)

The number of long-term unemployed (those jobless for 27 weeks or more) was essentially unchanged at 2.2 million in February and has shown little movement since June. In February, these individuals accounted for 27.7 percent of the unemployed. (See table A-12.)

(…)

Total nonfarm payroll employment increased by 242,000 in February. Job growth occurred in health care and social assistance, retail trade, food services and drinking places, and private educational services. Mining employment continued to decline. (See table B-1.)

Health care and social assistance added 57,000 jobs in February. Health care employment increased by 38,000 over the month, with job gains in ambulatory health care services (+24,000) and hospitals (+11,000). Over the past 12 months, hospitals have added 181,000 jobs. In February, employment rose by 19,000 in social assistance, mostly in individual and family services (+14,000).

Retail trade continued to add jobs in February (+55,000). Employment rose in food and beverage stores (+15,000) and other general merchandise stores (+13,000). Retail trade has added 339,000 jobs over the past 12 months.

Food services and drinking places added 40,000 jobs in February. Over the year, employment in the industry has grown by 359,000.

Employment in private educational services rose by 28,000 in February, after edging down by 20,000 in the prior month.

Construction employment continued to trend up in February (+19,000), with a gain of 14,000 in residential specialty trade contractors. Employment in construction was up by 253,000 over the past 12 months, with residential specialty trade contractors accounting for about half of the increase.

Employment in mining continued to decline in February (-19,000), with job losses in support activities for mining (-16,000) and coal mining (-2,000). Since a recent peak in September 2014, mining has shed 171,000 jobs, with more than three-fourths of the loss in support activities for mining.

Employment in other major industries, including manufacturing, wholesale trade, transportation and warehousing, financial activities, professional and business services, and government, showed little change over the month.
Additionally, the jobs growth number for December was revised upward from +262,000 to +271,000, and January jobs growth was revised from
+151,000 to +172,000, for a net upward revision of 30,000 for the two months. With these revisions, jobs growth for the past three months has averaged 228,000 per month, a respectable number but barely enough to be considered ideal and still short of the ideal replacement figure of 250,000 per month needed to make up for changes in the population. Labor force participation increased slightly to 59.8%, while the labor force participation rate stands at 62.9%. While these are still near historic lows for both figures, they have also both increased .5% since September. Additionally, the long-term unemployment rate now stands at 9.7%, far below where it was at the height of the jobs recession that continued well after the Great Recession itself had supposedly ended in the summer of 2009.
While hiring was strong in February, wage growth was mostly stagnant. Both for the economy as a whole and in several important job sectors, the average workweek declined slightly, while average hourly wages decline by three cents per hour, although it's worth noting that this decline comes off of an increase of twelve cents per hour in January, as well as the news that average hourly earnings have increased by 2.2% over the past year. The fact that wages and work hours are stagnant suggests that employers are not finding it necessary to extend the existing payroll beyond where it is right now, a decision that could be influenced as much by increased productivity as anything else, but also due to the fact that they don't feel the need to expand hiring very much beyond where it is right now. This could bode ill for hiring in the coming months, but for the moment most analysts are celebrating these stronger numbers.
The New York Times report on today's numbers highlights what it calls the "brisk" hiring":
The government reported on Friday that employers added 242,000 workers in February, a hefty increase that highlights the labor market's steady gains at a time when voters around the country are homing in on their choices to lead each major party into the presidential election.

Four years ago, at this point in the last presidential election cycle, the jobless rate was at 8.3 percent and the economic recovery was in a relatively early stage. Then worries centered on rising gas prices, deep consumer debt and government layoffs.

Now, the recovery is in its seventh year, the unemployment rate has dropped sharply to 4.9 percent and the private sector has chalked up 72 months of uninterrupted job gains, the longest streak on record. Oil prices may still be causing ulcers, but this time it is producers who are feeling the pain because the prices have plunged so low.

Wages fell by 0.1 percent in February, a disappointing showing after the 0.5 percent increase in January, resulting in a 2.2 percent bump in the yearly rise.

The Labor Department also revised its figures for December and January, adding 30,000 more jobs collectively for the two months.

Despite the improved economic picture, there is still plenty of distress and anger that has helped fuel the success of the Republican front-runner, Donald J. Trump, and rallied many Democrats behind the underdog Bernie Sanders's attacks on inequality and Wall Street cronyism.

Part of the reason is the unevenness of the recovery, with fortunes diverging depending on where you live, how high your education and skill level and what industry you work in.

"We are seeing job growth across a range of industries, but we're also seeing a polarization in the labor market," said Tara Sinclair, chief economist for the job site Indeed.

Robust demand for hospitality and service workers has been helping keep total job growth count up despite weaknesses in manufacturing, transportation and energy, sectors that also tend to be dominated by white blue-collar men, who have suffered the most from deep shifts in the American economy.

The economy is also diverging geographically, a divide that can be seen in the five states that are holding their primaries on Saturday. While Nebraska's jobless rate in December (the most recent available) was 3 percent, among the lowest in the country, Louisiana's, at 5.8 percent, and Kentucky's, at 5.7 percent, were among the highest.

Many of Louisiana's woes, like those of other oil and mineral-rich states — including Alaska, North Dakota, Oklahoma, Wyoming and New Mexico — can be largely attributed to the vertigo-inducing drop in oil prices. They were among the handful of states that registered job losses in 2015 or ended the year with a higher unemployment rate than they began with.

A scattershot survey of businesses and experts across the country collected by the 12 Federal Reserve banks underscored the wide variation across different regions and sectors. The report, known as the Beige Book and released on Wednesday, noted that "wage growth varied considerably, from flat to strong." Economic activity declined in St. Louis, remained flat in New York and Dallas and grew moderately in Richmond, Va., and San Francisco.

Moreover, even as unemployment among those active in the job market has fallen, the overall share of Americans in the labor force has been dragging along at historically low levels. While a growing number of retiring baby boomers is partly responsible, the problem continues to afflict people in their prime working years as well.

"That has been the shadow hanging over all the other labor force statistics," said Patrick O'Keefe, director of economic policy at CohnReznick, an accounting, tax and advisory firm. "Underutilization of a potentially significant share of our labor force is a significant explanation for why the overall recovery has been sluggish."
Those shadows hanging over the economy are important for two reasons. First of all, there's the Federal Reserve's ongoing policy to continue modestly raising interest rates throughout the year. So far, the Fed has not put another increase in place since initially doing so in December, and instead has delayed the decision at each of the monthly meetings it has held in 2016. A strong jobs report such as this, however, could provide the impetus for another rate increase notwithstanding the fact that the economy still shows signs of sluggishness hear at home and that the international economy has been significantly volatile in the opening months of the year. In addition to Federal Reserve policy, there's also the political implications of the state of the economy to consider. As I've noted before, positive news such as this would seem to inure to the benefit of incumbents and incumbent political parties, while indications of sluggishness will likely be cited by Republicans as evidence of the need for a concentration on policies that will increase economic growth beyond the 2.0% to 2.5% average annual growth that we have seen during this recovery. As many Republican candidates have noted, this is relatively low growth for an economic recovery, especially coming off of the deep recession that the economy suffered beginning in late 2007. Ideally, we should be able to generate growth close to 3.5%, or even 4.0% or above, but that's proven to largely be a chimera for the better part of the 21st Century so far. Whether there are any policy changes that can change that is, of course, another question entirely.