Sometimes History Doesn't Repeat Itself
Ambassador Karlov is mostly likely not a modern day Archduke Franz Ferdinand.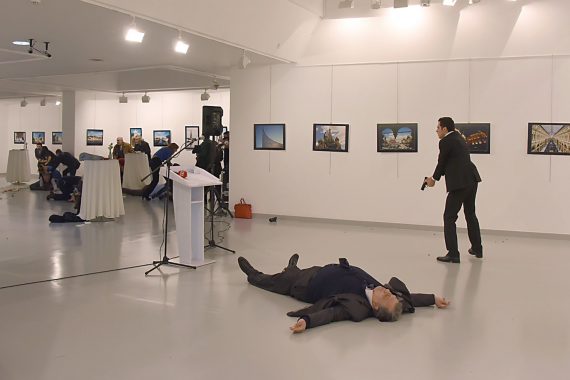 In the immediate wake of yesterday's assassination of Russia's Ambassador to Turkey, there was an immediate effort, mostly by people on social media, to analogize what happened to the June 1914 assassination of the Heir to the Throne of Austria-Hungary by a Serbian nationalist, an event which of course sent Europe down the final course that led to World War One. As I've discussed before in connection with the centennial of the beginning of that conflict, it was in many ways one of the most important turning points in world history. It led to a war which devastated Europe, a war that can be directly tied to the Russian Revolution, the post-war devastation of Europe that led to the rise of Nazism, and World War Two. The outcome of World War One also played, and continues to play, a large role in the most violent part of the world today, the Middle East. To listen to some of these statements, yesterday's assassination was the prelude to a new world war.
As Nicole Hemmer writes in The Washington Post, though, analogy is a bad method for determining foreign policy and, sometimes, history doesn't repeat itself:
No sooner had the news broken that Andrey Karlov, the Russian ambassador to Turkey, had been assassinated than the comparisons to 1914 began to flow. Google searches for "Franz Ferdinand" briefly spiked. Bill Kristol tweeted that the headlines had "an alarming 1914-ish feel," and Owen Jones of the Guardian caught "a whiff of 1914 that is too pungent to be ignored." That year, Bosnian nationalist Gavrilo Princip assassinated Ferdinand, heir to the Austro-Hungarian throne, setting in motion events that would result in World War I, a globe-consuming fight that left 17 million dead and Europe in ruins.

(…)

Let's take that World War I analogy. In 1914, Europe was a tinderbox in search of a spark. A system of alliances that had kept peace, more or less, for a half-century had failed to adapt to the new realities of expanded empires, modern warfare and decaying monarchies. What had once granted stability now almost assured chaos. The empires involved were too insecure to allow the moment of Ferdinand's assassination to pass. And when the dominoes fell, they fell with unimaginable consequences.

There are echoes with today, to be sure. Both Turkey and Russia are led by authoritarians anxious to show their power. Turkey is a member of NATO, an alliance system erected to counter Russian aggression. Add to that the instability in Europe and the United States, as well as the palpable fear that instability has created, and surely 2016 is 1914 redux.

But here is the problem with such analogies: They latch onto similarities, flattening the particulars of each historical moment. Which is why historical analogy is so dangerous in times like this. Russia is not itching for war with NATO. When it comes to testing NATO, Russia prefers to nudge the edges of the alliance, not strike at the heart of it. Witness Vladimir Putin's actions toward Ukraine. The annexation of Crimea is alarming, but Putin was unwilling to risk war by grabbing the rest of Ukraine, which he believes to be properly part of Russia. And in Syria, where Russia has been supporting the Assad regime, Putin was slow to enter the fight, preferring to offer political and munitions support for the first several years of the war rather than direct involvement. Why would he pick a fight with Turkey, a valuable U.S. ally and NATO member? If he does declare war on Turkey, he will not be acting predictably but in a manner entirely out of line with his recent actions.

The other issue with historical analogy is that it ignores, well, history. Before World War I, an alliance system had never resulted in such catastrophic outcomes. The very fact of the war — the knowledge every actor in the drama now carries — changes the calculation every player makes. In 1914, no one knew something like the Great War, with its destructive, devastating results, could happen. Now, everyone does.
It's easy to understand, I guess, why people would make simplistic analogies after an event as shocking as the assassination of Ambassador Karlov, but even just a moment of introspection would make it clear that that the idea that this event was somehow the prelude to World War Three was no small degree of ill-informed panic. First of all, the suggestion seemed to be that Russia would respond to the assassination by attacking Turkey, but this would seem like a bizarre response to what actually happened yesterday. If nothing else, it is clear that the assassin of Ambassador Karlov was not acting in the name of the Turkish Government or Turkish people when he committed this murder. He was either acting on his own based on his reaction to the situation in Aleppo, or he was acting on the instructions or inspiration of a terror organization such as ISIS or al Qaeda. If Russia was going to respond in any way to the Karlov's murder, it seems likely that it would involve using it as justification to enhance its involvement in Syria under the guise of retaliating against ISIS even though most of what Russia has done in that country has been aimed at propping up the regime of Bashar Assad. Second, as Hemmer notes attacking Turkey in some way would risk a direct confrontation with NATO and, for all his bluster Vladimir Putin doesn't come across as someone stupid enough to initiate that kind of potential conflict, especially since there's no assurance that it would result in a confrontation that would be at all beneficial to Russia in general or Putin specifically. Say what you will about him, but Vladimir Putin is not a stupid man.
None of this is today, of course, that the assassination of Ambassador Karlov will be without consequence, or that we don't live in a dangerous world with a number of potential problems that could lead to a 'powder keg' moment that sets off a catastrophic course of events. It would be a denial of reality to think such things, which is why it's important that the United States and other nations proceed cautiously in everything they do around the world. At the same time, though, not every piece of bad news is a prelude to disaster,