Southern Whites Still Not Sold On Romney?
Mitt Romney still has problems with Southern whites that could pose problems for him in states like Virginia and North Carolina.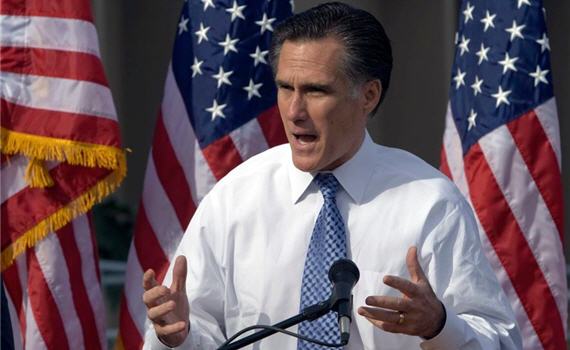 In many on the right will, no doubt, consider an attack on Mitt Romney's Mormon faith, Reuters is out with a piece that argues that southern white still harbor doubts about Mitt Romney because of his wealth and his religion:
Sheryl Harris, a voluble 52-year-old with a Virginia drawl, voted twice for George W. Bush. Raised Baptist, she is convinced — despite all evidence to the contrary — that President Barack Obama, a practicing Christian, is Muslim.

So in this year's presidential election, will she support Mitt Romney? Not a chance.

"Romney's going to help the upper class," said Harris, who earns $28,000 a year as activities director of a Lynchburg senior center. "He doesn't know everyday people, except maybe the person who cleans his house."

She'll vote for Obama, she said: "At least he wasn't brought up filthy rich."

White lower- and middle-income voters such as Harris are wild cards in this vituperative presidential campaign. With only a sliver of the electorate in play nationwide, they could be a deciding factor in two southern swing states, Virginia and North Carolina.

Reuters/Ipsos polling data compiled over the past several months shows that, across the Bible Belt, 38 percent of these voters said they would be less likely to vote for a candidate who is "very wealthy" than one who isn't. This is well above the 20 percent who said they would be less likely to vote for an African-American.

(…)

Focusing on 11 states from Virginia and North Carolina to Texas and Oklahoma, the Reuters/Ipsos polling project canvassed 8,690 people in households with incomes under $55,000 a year — just above the U.S. median.

Non-Hispanic whites in this bracket have skewed Republican for more than three decades, and they prefer the GOP nominee to Obama by 46 percent to 29 percent. However, as Romney launches a post-convention ad blitz, those numbers could signal trouble for his campaign. Strategists in both parties figure that to offset the president's expected landslide among an expanding electorate of blacks and Hispanics — Obama won 80 percent of minority votes in 2008 — Romney must garner more than 60 percent of the white vote overall.

(…)

According to Reuters/Ipsos polling data, however, 35 percent of voters overall, and the same proportion of lower- and middle-income white Bible Belt voters, say they would be less likely to vote for a candidate who is Mormon.

Many evangelicals who would normally vote Republican say they view Mormonism as a cult.

Several of those interviewed in Lynchburg were devotees of the TV series "Big Love" and "Sister Wives," about polygamous Mormon families. They were unaware that the Mormon Church long ago renounced polygamy.

"Mormons don't believe like we believe," said Dianna McCullough, a retired factory worker, as she tossed salad in a Tree of Life Ministries soup kitchen. "Like the wives — Romney's probably got more than one."
It's hard to tell how much something like this is actually going to hurt Romney in the end. After all,  we all know that he's not going to lose states like South Carolina, Georgia, Alabama, Mississippi, and Louisiana regardless of whatever misgivings some segments of the population may have about his faith and wealth. So, if some small segment of the white Southern vote stays home in those states, it's not really going to matter in the end.
Where it could be a problem, though, is in states like Virginia and North Carolina where Romney is running neck and neck with the President for a prize worth, in total, 28 Electoral Votes, nearly as much as Florida itself. As I've noted several times recently, it's hard imagine a scenario where Mitt Romeny wins the election while losing Virginia, and North Carolina's 15 Electoral Votes would be a tremendous loss to Romney as well. So, if there's enough doubt on the part of these voters in both states, then Romney could be in serious trouble.
Now, I doubt that many of these voters that Reuters describes are going to be voting for Barack Obama. It's certainly possible, but as noted above we're talking about a group of people who think, despite the evidence, that the President is a Muslim. It's more likely that they'd stay home on Election Day, but in Virginia at least there is another option. Also appearing on the Virginia ballot on Election Day will be Virgil Goode, a former five-term Congressman from Virginia's 5th District who started out has a Democratic, switched to the GOP, and is now the Presidential nominee of the ultra-conservative Constitution Party. According to some recent polls, Goode draws a statistically significant amount of support from  Romney in the Old Dominion. More importantly, Goode's old district covered the area that Reuters concentrated on in its article and the people they talked to are the kind of people that kept him in office, to the point where he lost his seat in 2008 by one of the smallest margins in modern Virginia history. Given that the race in Virginia seems headed for a photo finish, even as little as 1-2% of the vote for Goode could end up throwing the state to Obama. Goode is also on the ballot in North Carolina, although in that case he qualified as a write-in candidate.
Just last week, The New York Times discussed the impact that Goode could have on Romney in Virginia:
Republicans, must figure out how to handle their new presidential competitor. Mr. Goode, a former congressman, may not win many votes, but in a close election they may have outsize significance. "I look at it today as unimportant, but in November it could be very important, " said Kyle Kondik, a political analyst at the University of Virginia's Center for Politics. "In a close race, almost anything could matter."

But Mr. Kondik said he would be "shocked" if Mr. Goode captured 5 percent of the state's votes. If either major party candidate builds even a slim lead, Mr. Goode's place on the ballot will become meaningless.

Mr. Goode could have the greatest impact in the Congressional district he represented for 12 years. His district ran south from Charlottesville to the North Carolina border, including conservative havens near Lynchburg and Roanoke.

A former Democrat, turned independent, turned Republican, Mr. Goode was swept out of the House in 2008 by a Democrat, Tom Perriello, who then lost to a Republican, Robert Hurt, two years later.

Mr. Goode is running as a conservative populist who favors balancing the budget far faster than Mr. Romney does. He would halt all immigration — including green card applications — until national unemployment reaches 5 percent.

Mr. Goode said he would try to stretch his shoestring campaign beyond Virginia. His name will appear on ballots in about 25 states, and on write-in ballots elsewhere.
Goode's old Congressional District, along with those parts of Virginia that border it to the South and Southwest, are ripe territory for this kind of conservative populism and they also happen to be parts of the state that are considered reliably Republican, meaning that Romney should win them and garner large percentages of the popular vote that would ordinarily help offset Obama's advantages in other parts of the state. If that doesn't happen, then it could make victory in Virginia far less probable than it already is, and that would be a huge, huge problem for team Romney.