Stacey Abrams Apparently Still Thinking Of Running For President For Some Reason
Stacey Abrams, best known for losing the race for Governor of Georgia in 2018, is still apparently thinking of getting in the race. Her chances seem slim at best.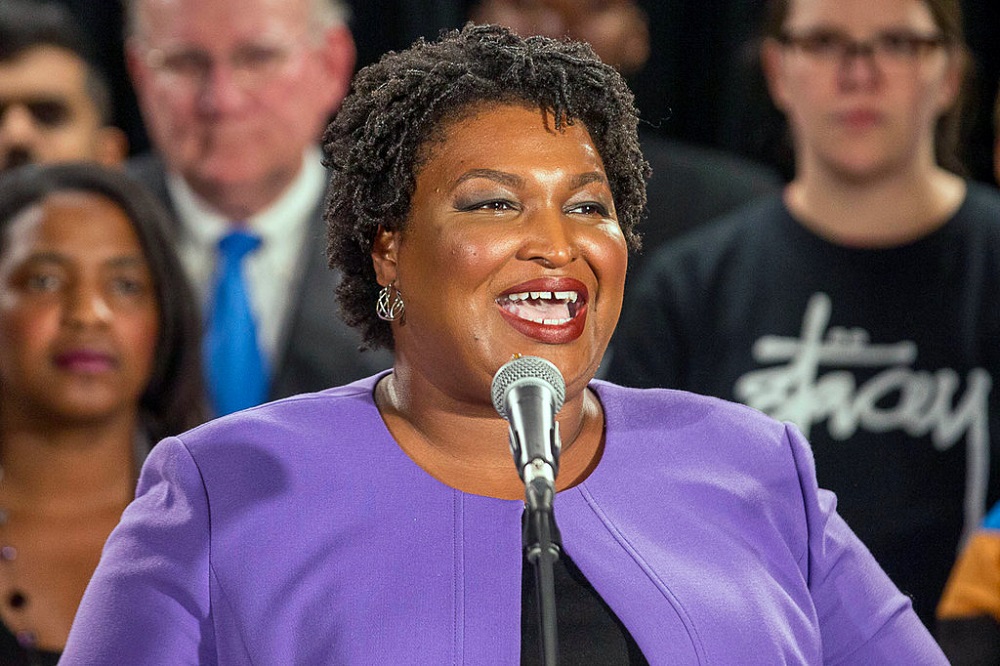 Stacey Abrams. whose most recent political achievement was a losing campaign for Governor of Georgia, is apparently considering running for President:
Former Georgia gubernatorial candidate Stacey Abrams (D) said Thursday that she has not ruled out entering the crowded Democratic primary field, though she said she has not made a decision yet.

In an excerpt from an interview with the podcast "Pod Save America" released Thursday afternoon, the Georgia Democrat answered with the affirmative "yes" when pressed on whether she was considering a run for the White House.

"It has been reported that you are still considering joining the ever-growing Democratic presidential field. Is that true?" host Dan Pfeiffer asked in the clip.

"Yes," Abrams responded, without elaborating.

The comments come weeks after Abrams hinted that she would make a decision on entering the presidential race before September. She recently ruled out a run for Senate following her narrow election defeat to Gov. Brian Kemp (R) last November.

"I will not be a candidate for the United States Senate," Abrams said in a video message. "The fights to be waged require a deep commitment to the job, and I do not see the U.S. Senate as the best role for me in this battle for our nation's future."

She previously told MSNBC that she was "truly" thinking about a run for president, while also leaving other options open. Since her election defeat, she has focused on voter registration efforts in her home state
Prior to running for Governor, Abrams had served as a member of the Georgia House of Representatives representing a district that includes parts of the City of Atlanta and surrounding DeKalb County, a position she had held since being elected in 2006. During that time period, she rose in the ranks of the Democratic Caucus to become Minority Leader starting in 2011, serving in that position until she stepped down in 2017 to run for Governor. Prior to that, she had served as a Deputy City Attorney for the City of Atlanta. As an undergraduate, she attended and graduated from Spellman College, one of the top historically African-American colleges in the country. Later, she obtained graduate degrees from the University of Texas at Austin, where she earned a Masters of Public Affairs, and Yale University, where she went to law school. After obtaining her J.D., Abrams worked for a top Atlanta law firm before going into public service.
She entered the race for Governor as something of an underdog but nonetheless managed to beat her primary opponent by nearly 300,000 votes. After what turned out to be a highly competitive General Election during which accusations of voter suppression were thrown about, Abrams lost the race to former Secretary of State Brian Kemp by less than 50,000 votes. Notwithstanding her loss, Abrams became something of a star in the Democratic Party. Many Democrats had hoped she would take on freshman Senator David Perdue in 2020, but as noted she announced in April that she would not run for Perdue's seat. There has also been speculation about her being a Vice-Presidential running mate, but Abrams herself has been saying for some time that she was considering running for President.
Objectively speaking, I agree with James Joyner that Abrams really doesn't seem qualified to serve as President at this time. Serving in a state legislature, even in a leadership position, is hardly sufficient preparation for being President. As James Joyner noted last month, though, that hardly seems to matter anymore given the results of some recent Presidential elections. Additionally, Abrams would not be the only losing candidate in the race for the Democratic nomination given the fact that Beto O'Rourke, who lost to Ted Cruz last November, is in the race already. That being said, there's a case to be made that it may already be too late for someone in Abrams' position to get in the race. Notwithstanding the media attention she received last fall, Abrams remains a relatively unknown person in her own party and among voters. That means its likely she'll begin the race near the bottom of an already crowded field. How she differentiates herself in that situation is unclear.