State of the Union Post Mortem
The speech did exactly what it was supposed to do: kick off Obama's re-election campaign while disguised as a call for unity.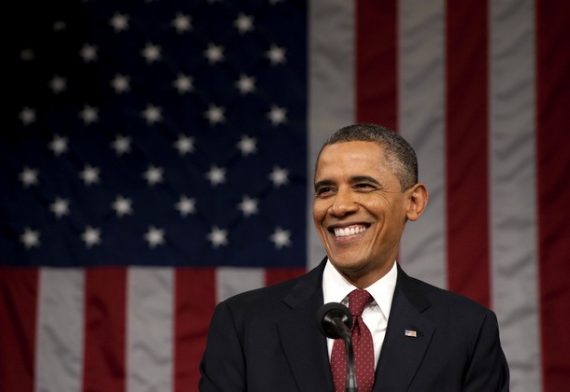 Like most Americans, I listened to President Obama's State of the Union address last night with a glass of Scotch while enjoying and adding to the snarky comments about the speech on Twitter. Even paying half attention, it was obviously a well-crafted speech that did exactly what it was supposed to do: kick off Obama's re-election campaign while disguised as a call for unity.
He opened and closed his speech with a tribute to America's military–and taking credit for ending the war in Iraq (even though he simply followed his predecessor's timeline), breaking the momentum of the Taliban (for which there is little evidence), and killing Osama bin Laden (which indeed happened).
These achievements are a testament to the courage, selflessness, and teamwork of America's Armed Forces. At a time when too many of our institutions have let us down, they exceed all expectations. They're not consumed with personal ambition. They don't obsess over their differences. They focus on the mission at hand. They work together.

Imagine what we could accomplish if we followed their example.
Like John Kennedy's famous line, "Ask not what your country can do for you – ask what you can do for your country," this is simultaneously uplifting and outrageous. It's beautiful speechcraft and political theater; who could dare not applaud this and be seen as not supporting the troops? But, damn it, we're free citizens and, unlike our uniformed military, don't take our orders from the president. Likewise, our elected representatives are there precisely to fight for the interests of their constituents, not to focus on some "mission" handed down from a commander-in-chief.
The notion that we all share a common purpose was a central element, if not the unifying theme, of the speech.
At the end of World War II, when another generation of heroes returned home from combat, they built the strongest economy and middle class the world has ever known. My grandfather, a veteran of Patton's Army, got the chance to go to college on the GI Bill. My grandmother, who worked on a bomber assembly line, was part of a workforce that turned out the best products on Earth.

The two of them shared the optimism of a Nation that had triumphed over a depression and fascism. They understood they were part of something larger; that they were contributing to a story of success that every American had a chance to share – the basic American promise that if you worked hard, you could do well enough to raise a family, own a home, send your kids to college, and put a little away for retirement.

The defining issue of our time is how to keep that promise alive. No challenge is more urgent. No debate is more important. We can either settle for a country where a shrinking number of people do really well, while a growing number of Americans barely get by. Or we can restore an economy where everyone gets a fair shot, everyone does their fair share, and everyone plays by the same set of rules. What's at stake are not Democratic values or Republican values, but American values. We have to reclaim them.
Again, this is wonderful speechcraft. It takes a page from the Republican playbook, recalling a better time through a sepia colored lens. But the fact of the matter is that far more Americans go to college, own a home, and save for retirement now than in 1946. It's also worth noting that the grandfather Obama is referring to was white; black Americans were mostly denied those rights back then. Indeed, from the standpoint of racial minorities, women, gays, and many other groups we're far closer to everyone getting a fair shot and playing by the same rules now than we were 26 years ago, much less 66. For that matter, even in the depths of the greatest economic calamity since the Great Depression, a far smaller percentage of Americans are living in real poverty than they were when WWII ended.
That license aside, he's hitting the right notes there. The economic crisis is still ongoing and even many not directly impacted fear that their children won't have the opportunities that they've had. College is getting radically more expensive while becoming less of a guarantor of a good living than it was. And the bailouts and skewing of the tax code to benefit the investor class have outraged people across the political spectrum, as demonstrated by the Tea Party and Occupy movements.
On the day I took office, our auto industry was on the verge of collapse. Some even said we should let it die. With a million jobs at stake, I refused to let that happen. In exchange for help, we demanded responsibility. We got workers and automakers to settle their differences. We got the industry to retool and restructure. Today, General Motors is back on top as the world's number one automaker. Chrysler has grown faster in the U.S. than any major car company. Ford is investing billions in U.S. plants and factories. And together, the entire industry added nearly 160,000 jobs.

We bet on American workers. We bet on American ingenuity. And tonight, the American auto industry is back.
This is a strong stump line, especially since many on the other side–myself included–opposed the auto bailouts. Now, I'd argue that companies ought to be profitable once rescued from all their bad debt. And that would have happened had GM and Chrysler gone through bankruptcy, too. But Obama will get credit, in the Rust Belt at least, for the results.
I got a chuckle out of this, though:
Two years ago, I set a goal of doubling U.S. exports over five years. With the bipartisan trade agreements I signed into law, we are on track to meet that goal – ahead of schedule. Soon, there will be millions of new customers for American goods in Panama, Colombia, and South Korea. Soon, there will be new cars on the streets of Seoul imported from Detroit, and Toledo, and Chicago.
My joking response via Twitter, "Soon, Detroit's economy will be so depressed that we can export cars to the 3rd World!"
His education proposals, too, struck me as amusing.
We also know that when students aren't allowed to walk away from their education, more of them walk the stage to get their diploma. So tonight, I call on every State to require that all students stay in high school until they graduate or turn eighteen.
Or, as I summarized it, "A law requiring belligerent, stupid 17-year-olds to stay in school and ruin it for everybody." My guess is that the policy, if enacted, would have little impact on educating the segment of the population that would otherwise drop out. And I fear it will both lead to real distraction from the students motivated to be there and lead to yet more lowering of standards to ensure people "graduate."
This was a mixed bag:
We can't just keep subsidizing skyrocketing tuition; we'll run out of money. States also need to do their part, by making higher education a higher priority in their budgets. And colleges and universities have to do their part by working to keep costs down. Recently, I spoke with a group of college presidents who've done just that. Some schools re-design courses to help students finish more quickly. Some use better technology. The point is, it's possible. So let me put colleges and universities on notice: If you can't stop tuition from going up, the funding you get from taxpayers will go down.
As I observed last night, "Um, the reason tuition is going up is that the funding they're getting from taxpayers has already been going down. For 20 years." But the president is right that there are ways for universities to help bring down costs–and he's correctly identified two of them.
His immigration remarks have some interesting sleight-of-hand:
I believe as strongly as ever that we should take on illegal immigration. That's why my Administration has put more boots on the border than ever before. That's why there are fewer illegal crossings than when I took office.

The opponents of action are out of excuses. We should be working on comprehensive immigration reform right now. But if election-year politics keeps Congress from acting on a comprehensive plan, let's at least agree to stop expelling responsible young people who want to staff our labs, start new businesses, and defend this country. Send me a law that gives them the chance to earn their citizenship. I will sign it right away.
Here, he's subtly intermixing the issues of illegal immigration and our visa policy for foreign job seekers. There's strong, bipartisan agreement on fast-tracking citizenship for those who serve in the military. Indeed, we already do it. Many of us also support making it easier for foreign students to remain here after graduation and for highly skilled outsiders to bring their talents to America.
The opposition is to rewarding people for breaking our laws. As a practical matter, it's unavoidable. As a matter of decency, it's the right way to go with children who grew up here but whose parents entered the country illegally. It's a hard sell, though.
This section was a bit of a head-scratcher:
During the Great Depression, America built the Hoover Dam and the Golden Gate Bridge. After World War II, we connected our States with a system of highways. Democratic and Republican administrations invested in great projects that benefited everybody, from the workers who built them to the businesses that still use them today.

In the next few weeks, I will sign an Executive Order clearing away the red tape that slows down too many construction projects. But you need to fund these projects. Take the money we're no longer spending at war, use half of it to pay down our debt, and use the rest to do some nation-building right here at home.

There's never been a better time to build, especially since the construction industry was one of the hardest-hit when the housing bubble burst.
Didn't we do this three years ago?
Of course, construction workers weren't the only ones hurt. So were millions of innocent Americans who've seen their home values decline. And while Government can't fix the problem on its own, responsible homeowners shouldn't have to sit and wait for the housing market to hit bottom to get some relief.

That's why I'm sending this Congress a plan that gives every responsible homeowner the chance to save about $3,000 a year on their mortgage, by refinancing at historically low interest rates. No more red tape. No more runaround from the banks. A small fee on the largest financial institutions will ensure that it won't add to the deficit, and will give banks that were rescued by taxpayers a chance to repay a deficit of trust.
I have no idea what the mechanics of this are. What about those whose homes are worth less than they were when we bought them? Or less than we owe? They're the ones most in need of help.
This was also rather amusing:
I've ordered every federal agency to eliminate rules that don't make sense.
Many on Twitter made TSA-related quips. But, seriously, how many regulations were eliminated by this ambitious but rather vague order? Presumably, some regulator thought all of the rules made sense.
This juxtaposition made my head hurt:
Right now, our most immediate priority is stopping a tax hike on 160 million working Americans while the recovery is still fragile. People cannot afford losing $40 out of each paycheck this year. There are plenty of ways to get this done. So let's agree right here, right now: No side issues. No drama. Pass the payroll tax cut without delay.

When it comes to the deficit, we've already agreed to more than $2 trillion in cuts and savings. But we need to do more, and that means making choices. Right now, we're poised to spend nearly $1 trillion more on what was supposed to be a temporary tax break for the wealthiest 2 percent of Americans. Right now, because of loopholes and shelters in the tax code, a quarter of all millionaires pay lower tax rates than millions of middle-class households. Right now, Warren Buffett pays a lower tax rate than his secretary.

Do we want to keep these tax cuts for the wealthiest Americans? Or do we want to keep our investments in everything else – like education and medical research; a strong military and care for our veterans? Because if we're serious about paying down our debt, we can't do both.
Now, there's a case to be made for raising taxes on high earners, another for changing the carried interest rule, and another for relief from the payroll tax. And even an argument for why one is more stimulative than the other. Indeed, I lean towards all of them. But, as delivered, the president is basically arguing that our highest priority is stimulative tax cuts–and the way to pay for it is to raise taxes.
The precise meaning of the "Buffett rule" has been debated for some time. Obama finally articulated it last night:
Tax reform should follow the Buffett rule: If you make more than $1 million a year, you should not pay less than 30 percent in taxes. And my Republican friend Tom Coburn is right: Washington should stop subsidizing millionaires. In fact, if you're earning a million dollars a year, you shouldn't get special tax subsidies or deductions. On the other hand, if you make under $250,000 a year, like 98 percent of American families, your taxes shouldn't go up.
Actually, I'd say that paying nearly a third of one's income to the federal government is onerous, indeed, considering that there are still state and local income taxes and sales taxes. And what are "special tax subsidies or deductions"? Is this an argument for cutting loopholes and eliminating rent seeking? Or for taking away the deductions given to everyone else–writeoffs for children, child care, mortgage interest, and so forth–as a penalty for crossing a certain earnings threshold? The latter strikes me as draconian.
A good line here, although actually not driven home very well:
The greatest blow to confidence in our economy last year didn't come from events beyond our control. It came from a debate in Washington over whether the United States would pay its bills or not. Who benefited from that fiasco?
Obama may have been counting on Americans to fill in the blanks here. Or he's just setting up a campaign theme. But this wasn't a "debate" but rather a reckless parliamentary gambit by the Republicans.
The speech closes with a return to the citizens as loyal soldiers theme:
One of my proudest possessions is the flag that the SEAL Team took with them on the mission to get bin Laden. On it are each of their names. Some may be Democrats. Some may be Republicans. But that doesn't matter. Just like it didn't matter that day in the Situation Room, when I sat next to Bob Gates – a man who was George Bush's defense secretary; and Hillary Clinton, a woman who ran against me for president.

All that mattered that day was the mission. No one thought about politics. No one thought about themselves. One of the young men involved in the raid later told me that he didn't deserve credit for the mission. It only succeeded, he said, because every single member of that unit did their job – the pilot who landed the helicopter that spun out of control; the translator who kept others from entering the compound; the troops who separated the women and children from the fight; the SEALs who charged up the stairs. More than that, the mission only succeeded because every member of that unit trusted each other – because you can't charge up those stairs, into darkness and danger, unless you know that there's someone behind you, watching your back.

So it is with America. Each time I look at that flag, I'm reminded that our destiny is stitched together like those fifty stars and those thirteen stripes. No one built this country on their own. This Nation is great because we built it together. This Nation is great because we worked as a team. This Nation is great because we get each other's backs. And if we hold fast to that truth, in this moment of trial, there is no challenge too great; no mission too hard. As long as we're joined in common purpose, as long as we maintain our common resolve, our journey moves forward, our future is hopeful, and the state of our Union will always be strong.
If only our national debate were over something so simple as whether to kill a terrorist who attacked the country.
Photo credit: Reuters