Stewart Rally Bigger Than Beck Rally?
215,000 people attended the "Rally to Restore Sanity and/or Fear" compared to 87,000 for "Restoring Honor." Even if you believe the numbers, they don't tell us much.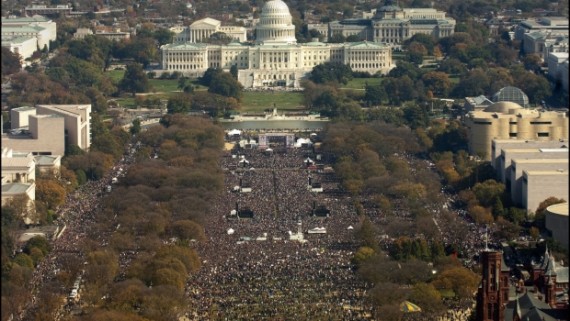 An estimated 215,000 people attended the Jon Stewart-Stephen Colbert "Rally to Restore Sanity and/or Fear" yesterday, compared to an estimated 87,000 for Glenn Beck's August "Restoring Honor" rally, according to a service commissioned by CBS News.
An estimated 215,000 people attended a rally organized by Comedy Central talk show hosts Jon Stewart and Stephen Colbert Saturday in Washington, according to a crowd estimate commissioned by CBS News.

The company AirPhotosLive.com based the attendance at the "Rally to Restore Sanity and/or Fear" on aerial pictures it took over the rally, which took place on the Mall in Washington. It has a margin of error of plus or minus 10 percent.

CBS News also commissioned AirPhotosLive.com to do a crowd estimate of Glenn Beck's "Restoring Honor" rally in August. That rally was estimated to have attracted 87,000 people. Amid criticism from conservatives that the estimate was low, CBS News detailed the methodology behind it here.

TBD reported that because of the high turnout many would-be rally attendees retreated to bars to watch the event.
Crowd size estimates are invariably controversial, so much so that Congress ordered the National Park Service to stop doing them after the Million Man March turned out to have, well, substantially less than a million men marching.   Naturally, supporters of the cause in question always think the crowds were much, much bigger than estimated and detractors always think the estimates are inflated.
Frankly, I don't much care.  While I'm more sympathetic to Becks' politics, I'm more drawn to Stewart's style of politics.    And, while I didn't attend either rally — crowds, traffic jams, and such  just aren't my bag — I at least gave cursory thought to attending yesterday's.
Regardless, the numbers don't tell us anything useful about the popularity of political movements.    There were some rather important differences:
Motivation to Attend:
As Charli Carpenter notes, those who came yesterday "clearly didn't come all for the same reason or all with the same politics."  She aptly calls it "the big luau on the National Mall."
Yes, those attending the Beck rally — and the Tea Party more generally — are a broad cross-section with only loose agreement on an issue cluster.  But they were drawn by a broad opposition to what the Obama administration and the Democratic majority in Congress are doing.  It was, more or less, a purely political rally.
The Stewart-Colbert rally, by contrast, was a lark.  Yes, the attendees were disproportionately Democrats and Progressives.  But there were doubtless a goodly number of people like myself, people who don't really agree with Stewart's politics but enjoy his show and prefer a more civil discourse about public policy.
Furthermore, while the Beck rally was all about political speeches — with the big draws being Beck and Sarah Palin — yesterday's event was as much a free concert as a political rally.   Stewart and Colbert were the big draws, of course, but the lure of big name entertainers was there, too.
Geographical Diversity and Logistics:
People came from all over the country for both events.  But I guarantee you that a far, far greater chunk of yesterday's crowd was from the New York-Washington DC corridor.   It's a hell of a lot easier to get to DC from Manhattan than from Little Rock or Memphis or Bozeman.  That's especially true when you've got Arianna Huffington and Oprah Winfrey providing free transportation.
Timing:
The Beck rally was in late August, which makes coming to DC and standing for hours in a large throng of people particularly uninviting.   The average daytime high is 86 degrees and it's frequently much hotter.  By contrast, it's a pleasant 68 degrees in October.  And, of course, if you're going to be driving a couple hours or hopping on a train or a HuffBus rather than flying from across the country, you can wait until you have a better idea about the weather.    It was a great day to be outside in DC yesterday.
Diffusion:
The Beck rally was one of dozens of big Tea Party events that have taken place over a span of nearly two years.  It was the biggest, most heavily promoted, and most celebrity-laden.   But it wasn't, as was the Stewart-Colbert rally, a singular event.   So, yesterday's had the advantage of pent up demand.
More Useful Ways to Gauge Public Attitudes:
I'd like to believe that more Americans share Stewart's sentiment that "we live now in hard times, not end times. And we can have animus and not be enemies" than in the overwrought rhetoric of the Glenn Becks of this world.   Indeed, I do believe that.
But the bottom line is that attendance at one rally in Washington versus another really doesn't tell us much about the views of 310 million Americans.   Most of us just aren't rally people and even those who would like to show up tend to have other obligations or are otherwise unable to disrupt their lives to attend.    We have a plethora of public opinion polling available to gauge public attitudes, many of which have been asking the same questions for years, if not decades.
And, of course, we have elections.   Next Tuesday will give us a better idea of what the national mood is than either yesterday or August 28th.