Super Tuesday Forecast
If the current polls are right, the race will be all but over in five days.
FiveThirtyEight's Nathaniel Rakich looks ahead to the huge swath of votes up for grabs next Tuesday.
South Carolina has yet to vote, but there's an even bigger prize lurking right around the corner. On March 3 — Super Tuesday — roughly one-third of Democrats nationwide will weigh in on the 2020 presidential race as 15 states and territories1 cast their ballots. We last checked in on who led polls of Super Tuesday states back in December; suffice it to say that things have changed. According to our primary forecast,2 Sen. Bernie Sanders is now favored to win a majority of Super Tuesday contests. But many of these races are still relatively wide open.
As Steven Taylor explained after both Iowa and New Hampshire, "win" is a concept with no meaning in the Democratic nominating process. While there can be a huge impact on the narrative of the campaign based on media and candidate declaration of wins, all that matters in the end is the amassing of pledged delegates.
Still, the forecast is interesting in this regard: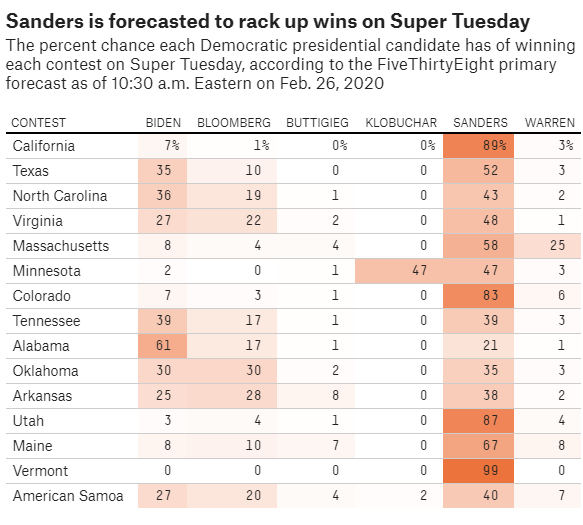 That Sanders is favored to beat Warren in her "home" state of Massachusetts and is tied with Klobuchar in her home state of Minnesota is rather stunning. And it would be amusing, indeed, if Klobuchar failed to carry her home state after staking her entire candidacy on her proven ability to win in the Midwest.
Rakich has a long analysis of the state-by-state odds and what it could mean for the candidates. But you can see the numbers for yourself.
But, again, it's delegates that ultimately matter most.
But Super Tuesday isn't only about wins. For the first time this year, a substantial number of pledged delegates will be at stake — 1,357 of them. And because Democrats allocate delegates in proportion with each candidate's share of the vote, non-Sanders candidates can rack up plenty of delegates with strong second- or third-place showings. Here is the average number of delegates our forecast thinks each candidate will net from Super Tuesday.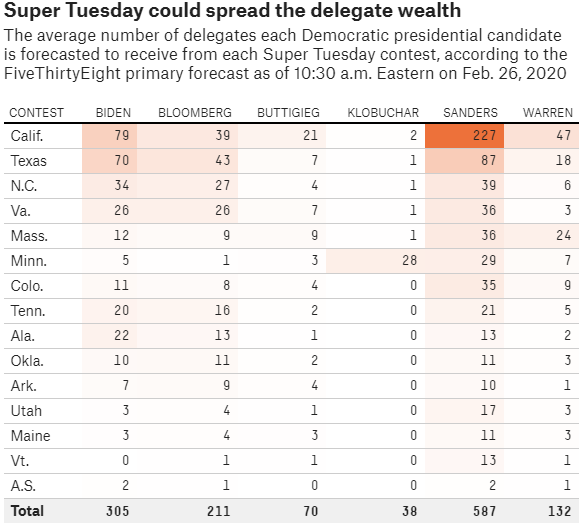 But Rakich is quick to caveat:
But these numbers could, and likely will, change. There is still just under a week before Super Tuesday — plenty of time for the race to shift, as we had a debate on Tuesday night and South Carolina votes on Saturday. And even small fluctuations in vote share can greatly affect the number of delegates each of these candidates gets. That's because, in order to be eligible for any delegates from a state or district, a candidate must get at least 15 percent of the vote there, and many non-Sanders candidates are hovering right around 15 percent in many states. California is the perfect example. On average, we're currently forecasting Biden to win 17 percent of the vote there statewide, Warren to win 14 percent of the vote, Bloomberg to win 13 percent of the vote and Buttigieg to win 10 percent of the vote. And because California is worth so many delegates, who gets 15 percent is really important! If those numbers turn out to be exactly right, only Biden and Sanders (whom we are forecasting to get 34 percent of the vote) would get a share of California's 144 statewide delegates.3 However, even a minor deviation from our forecast (which would not be surprising at all) would be enough to scramble the picture, which is why, in the average FiveThirtyEight model run, Warren, Bloomberg and Buttigieg still get a fair number of delegates.4 That average is drawn from simulations where they get far more delegates, as well as ones where they get barely any.

Basically, anyone who is consistently topping 15 percent on Super Tuesday should get enough delegates out of the day to keep them in the race — even if they win few (or zero) states outright. How good the night truly is for Sanders actually probably rests more on the performance of the other candidates. If several collect hundreds of delegates, it could set us on a collision course for a contested convention. But on the other hand, if the non-Sanders vote is diffused among enough other candidates, it is also possible that Sanders is the only candidate who consistently clears 15 percent everywhere. In that case, Sanders could grab the lion's share of Super Tuesday delegates — thus putting himself in a dominating position to claim the nomination.
The debate had already taken place when the calculations were done but its impact, if any, certainly hasn't been factored in.
And, yes, South Carolina will be crucial for Joe Biden—he'll either get a big momentum shift from a solid "win" there or be toast if he comes in second place or lower. Indeed, I would think he would drop out before Tuesday if that happens.
Four years ago today, I was torn between John Kasich and Marco Rubio. I strongly preferred the former but thought the latter had a better chance of emerging as the non-Trump option. Ultimately, I voted to signal my support for the best candidate rather than vote strategically.
I'm in a similar situation today, although with a less stark choice. I'm ultimately fine with any of the non-Sanders choices but have reservations about all of them. I'd prefer Biden or Buttigieg, followed by Bloomberg, Warren, and Klobuchar. But Buttigieg looks to have no shot at all at the nomination. That means I'll likely vote for Biden if he wins South Carolina and Bloomberg otherwise.