Tea Party Favorite Allen West Breaks With GOP Over Health Care Strategy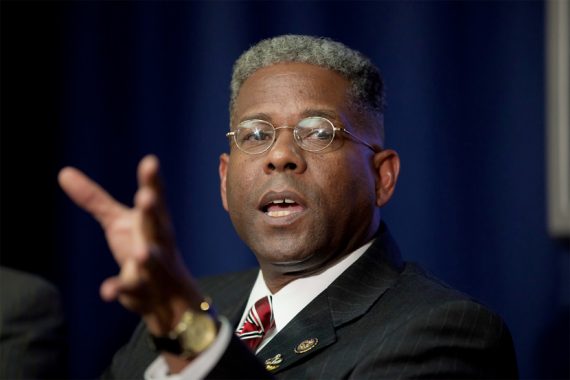 Not everyone in the Tea Party Caucus is agreeing with the House GOP's strategy of trying to attack the Affordable Care Act piece by piece:
A Tea Party favorite in the House is turning against the Republican leadership's strategy on healthcare.

Rep. Allen West (R-Fla.), who has emerged as an outspoken conservative voice among GOP freshmen, cast a surprising vote last week against a bill to scrap part of the 2010 healthcare overhaul. The legislation would repeal $100 million in funding for the construction of school-based health centers. West was one of just four Republicans to vote against the measure, which passed 235-191.

West spokeswoman Angela Sachitano said in an email that the congressman "believes there are bigger funding issues to be focusing on right now including the numerous developments in the Middle East, concerning Pakistan and whether there is a link to [Osama bin Laden] and the recent unity agreement with the [Palestinian Authority] and Fatah and Hamas."

He also questioned the House's continued efforts to dismantle the healthcare law on a piecemeal basis, she said.

"He voted to repeal Obamacare, and it was dead on arrival in the Senate," Sachitano said. "He questions what the goal is of chipping away like this if it's almost certain that the Senate is not going to take it up."

A day earlier, West voted in favor of a GOP bill to strip funds from the state-based insurance exchanges created by the 2010 healthcare law. Sachitano would not say why West supported that bill but not the second measure targeting school health centers.
Perhaps this has something to do with it:
West's district in south Florida includes two applicants for federally-funded school-based health centers: North Broward Health District and the Palm Beach County Health Department. Neither entity returned calls on Friday.

Sachitano said there was "no specific local issue" for his opposition to the bill.
Of course, West's email is correct in itself. It's kind of pointless for the House to keep passing bills that it knows the Senate isn't going to take up.