Ten Years After McCain-Feingold, More Money In Politics Than Ever
The 10th anniversary of McCain-Feingold teaches a lesson we should already have learned.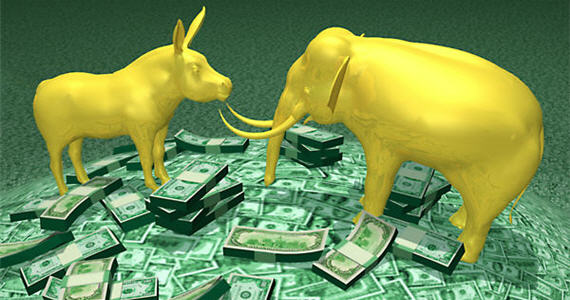 Ten years after McCain-Feingold became law, there's more money in politics than ever before:
A decade after Sens. John McCain and Russ Feingold spearheaded sweeping legislation to reform the campaign-finance system, a series of judicial and legislative setbacks have derailed any hopes its original sponsors had of curbing the influence and amount of money spent on politics.

Instead, the incredible explosion of money in federal elections demonstrates that McCain-Feingold was a speed bump, at best, on the way to a dramatic growth curve that suggests next year's contests will cost nearly $3.5 billion.

All told, candidates running for a seat in the House of Representatives spent more than $923 million in 2012, while candidates running for Senate seats dished out $587 million, according to new data compiled for the new edition of Vital Statistics on Congress, a joint publication of the American Enterprise Institute and the Brookings Institution. That's more than eight times the amount House and Senate candidates spent in 1980. Senate candidates spent twice what they did a decade ago, in 2002.

(…)

Candidates running in each of the five most expensive races last cycle spent a combined total of more than $10 million, according to data compiled by the Center for Responsive Politics. Two of those House seats, held by Democrats Patrick Murphy of Florida and Elizabeth Esty of Connecticut, are likely to be battlegrounds again next year. House Speaker John Boehner, R-Ohio, qualifies as a top spender; his campaign spent a total of $21 million last year, though all but a tiny fraction went to help other Republican candidates. An independent candidate spent $7.5 million of his own money in an effort to oust Democratic Rep. Henry Waxman in a strongly Democratic California district, while Rep. Michele Bachmann's decision to retire will actually help Minnesota Republicans keep her seat.

A key element of the McCain-Feingold reforms that was aimed at reducing the amount of money in politics, a ban on unregulated so-called soft money, hasn't slowed either party. In 2002, the last cycle in which parties could raise and spend soft money, the three largest Democratic committees raised a total of $576 million, while their Republican counterparts pulled in $657 million. In the 2012 cycle, limited only to hard-money contributions, Democratic committees raised $631 million and Republican committees pulled in $697 million.
The charts tell the tale. Here's one that shows candidate spending:
And here's one that shows the explosive growth in outside spending: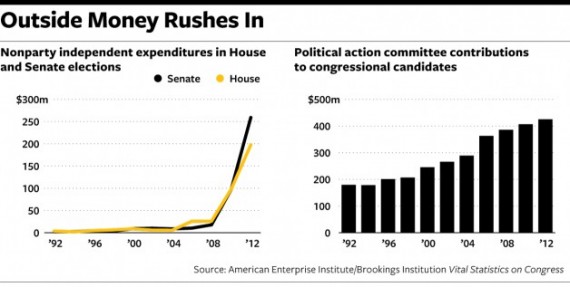 What these numbers reveal is the dirty little secrets of "campaign finance reform." One of those secrets is that the laws themselves end up planting the seeds of their own utter uselessness by guaranteeing that money will still find a way to influence politics. For every barrier that any campaign finance law has ever created, politicians, donors, and those who seek to gain influence have found perfectly legal ways in which to get around the new rules. This is how we've ended up with everything from PACs to SuperPACs to 527's to 501(c)(4)'s. Each on of these came about thanks largely to efforts to restrict the influence of money in other areas. When the initial campaign finance laws adopted in the wake of Watergate restricted the amount that individual donors could donate to specific campaigns, Political Action Committees came about that allowed people of common interests to join together to make larger donations. When other regulations sought to require full disclosure of donors, existing laws were used to create groups that weren't required to disclose their donors. When McCain-Feingold sought to restrict the amount political parties could spend so-called "soft money" on campaigns, we saw the rise in outside expenditures reflected in the charge above. If there is future campaign finance reform, the exact same thing will happen.
The other dirty little secret of campaign finance reform over the years is the fact that, whether by intention or not, it has largely operated as an incumbent protection system. By restricting how much campaigns can raise, and from what sources, these laws make it harder for challengers, who typically have lower name recognition and fewer significant political connections, from mounting serious bids against incumbents, especially long-term incumbents. This is why you'll generally find that most campaign finance laws are supported by bipartisan majorities. The people voting for these laws know that they'll likely be able to operate within the limits of the new law while anyone trying to challenge them is going to find it much harder to run a successful campaign against an entrenched incumbent. This, I would submit, is a feature of the system not a bug.
The response of some, no doubt, will be to repeat that tired old phrase that we must "get the money out of politics!" As good as that might sounds, such an attitude strikes me as both impossible to achieve and undesirable if it were achievable. As I noted above, money will always find a way to work its way into politics. If it can't happen in a legal, above-board manner, then it will happen behind the scenes in secret, something I would suggest is far more detrimental to the public interest than what we have today. More importantly, though, as the Supreme Court has recognized several times since it first started hearing cases involving campaign finance laws that, at its base, donating money to a political candidate is as much an act of political speech as handing out campaign literature would be. There are, the Court has said, many good reasons to allow at least some reasonable regulation of political donations, but banning them outright would be as wrong as banning someone's ability to speak out positively in favor of Candidate X in a public forum. Eliminating that right would be both a bad idea and Unconstitutional.
The lesson from all of this seems clear. Campaign finance "reform" that purports to work by restricting the ability of people to donate to candidates and causes they support is, in the end, doomed to fail and will likely lead to unintended consequences that create more problems than they solve. Instead of going down that route, we ought to be considering reforms that life the limits on contributions while increasing both the frequency and extent of disclosure. That's a reform that might actually accomplish something by making it easier for the American people see who is attempting to curry favor with the people purporting to represent them.