Wisconsin Unlikely To Go Republican In 2016
Republican hopes that Wisconsin might go Republican this year seem to be slipping away.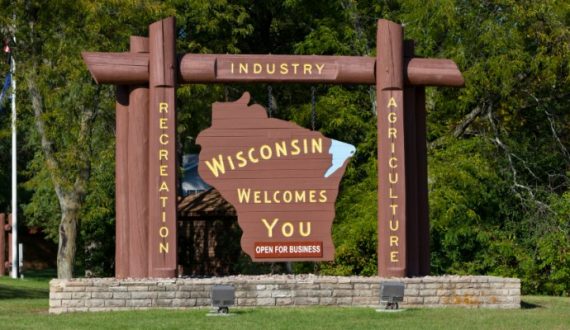 Wisconsin has not gone for a Republican in a Presidential election since Ronald Reagan defeated Walter Mondale in thirty-two years ago, and if the latest Marquette University Law School poll is any indication, it's not going to happen this year either:
MILWAUKEE – A new Marquette Law School Poll finds Democratic candidate Hillary Clinton with support from 46 percent of Wisconsin registered voters and Republican candidate Donald Trump with support from 36 percent in a head-to-head presidential matchup. Sixteen percent say they will vote for neither candidate, will not vote, or don't know how they will vote.

In the most recent Marquette Law School Poll, in July, Clinton had 43 percent support and Trump 37 percent, with 18 percent saying they would vote for neither, would not vote or didn't know.

Among likely voters, i.e., those who say they are certain they will vote in November, Clinton is supported by 52 percent and Trump by 37 percent in the new poll, with 10 percent saying they will support neither candidate. In July, likely voters gave Clinton 45 percent support, Trump 41 percent and 14 percent said they would vote for neither.

In a four-way matchup including Clinton, Trump, Libertarian candidate Gary Johnson and Green Party candidate Jill Stein, Clinton is supported by 42 percent of registered voters, with Trump at 33 percent, Johnson at 10 and Stein at 4. A total of 11 percent in that matchup say they will vote for none of the candidates, won't vote or don't know how they will vote. Among likely voters, Clinton receives 47 percent, Trump 34, Johnson 9 and Stein 3. In July's four-candidate question among registered voters, Clinton received 40 percent, Trump 33, Johnson 10 and Stein 4. Among likely voters in that poll, Clinton received 43 percent, Trump 37, Johnson 8 and Stein 2 percent.
Not unlike Pennsylvania, Wisconsin is a state that seemingly comes up every four years as one of those states that some Republicans seem to think they can make a breakthrough in where those before them have failed miserably. Most recently, the electoral success of Governor Scott Walker, who handily won three statewide elections in three years, and Paul Ryan has led many Republicans to believe that this traditionally blue state would finally go for a Republican. This year, that argument has gotten renewed attention given the fact that the Trump campaign's seemingly narrow path to Electoral College victory depends upon winning states in the industrial Midwest since he is seemingly becoming less competitive by the day in states such as Virginia, Colorado, and Nevada. This Marquette poll, though, which is both among the most widely respected in the Badger State and the first to be conducted since the two party conventions, suggests quite strongly that Republicans would do best to keep their hopes to a minimum when it comes to winning this state. Compared to the last Marquette poll conducted in early July, Clinton's numbers in a head to head match-up have increased from 45% to 52% while Trump's have dropped from 41% to 37%. In a four-way race that includes Gary Johnson and Jill Stein, Clinton's numbers increased from 43% to 47%, Trump's dropped from 41% to 37% to 34%, Johnson saw his numbers increase from 8% to 9%, and Stein saw hers increase from 2% to 3%. In looking at these numbers, it's worth remembering that Trump lost the Badger State by nearly 150,000 votes back in April, so there obviously isn't a lot of love for Trump there. Additionally, the fact that he has, at best, tepid support from Wisconsin politicians such as Walker and Ryan is no doubt impacting Republican enthusiasm for Trump's candidacy.
The RealClearPolitics average for a head to head match-up gives Clinton a 9. 4 point lead, and a 9.0 point lead in a four-way race. In the Pollster average, Clinton has an 11.2 point lead, and Nate Silver currently gives Clinton a roughly 86.5% chance of winning the Badger State in November. Unless the numbers change here significantly, Trump's plan for a Midwestern path to victory seem doomed.
Things also aren't looking good for Republicans in the battle to hold on to the Senate seat that Ron Johnson won in 2010:
In a head-to-head matchup for Wisconsin's U.S. Senate race, among registered voters, Democratic candidate Russ Feingold is supported by 49 percent while Republican incumbent Ron Johnson receives 43 percent. In July, Feingold had 48 percent support and Johnson 41 percent.

Among likely voters in November's election, Feingold has the support of 53 percent while Johnson is supported by 42 percent. Among likely voters in July, Feingold was supported by 49 percent and Johnson by 44 percent.

When Libertarian candidate Phil Anderson is included in the Senate contest, among registered voters, Feingold receives 47 percent, Johnson 38 percent and Anderson 7 percent. Among likely voters, it is Feingold 50 percent, Johnson 39 percent and Anderson 7 percent.

For registered voters in the July poll, Feingold received 45 percent, Johnson 38 percent and Anderson 8 percent. Among likely voters, Feingold received 46 percent, Johnson 40 percent and Anderson 7 percent.
The numbers here aren't entirely surprising given the fact that Feingold remained a popular figure in Wisconsin politics notwithstanding his loss to Johnson in 2010 to the extent that he was recruited, unsuccessfully, to challenge Scott Walker for Governor in both the recall election in 2012 and Walker's run for re-election in 2014. Feingold declined both times and seemed to suggest that his time on the electoral stage was over, but the truth seems to be that he was more interested in mounting a bid to get his Senate seat back. All signs seem to indicate that he will succeed. To date, there hasn't been a major poll in the state that hasn't shown him leading Johnson, usually by a significant margin and he presently has an 11.3 point lead in the RealClearPolitics average and an 8.8 point lead in the Pollster average. Absent a significant change, this would appear to be a seat that the GOP is likely to lose in November.