Tennessee Sacrifices Property Rights On The Altar Of 'Gun Rights'
Legislators in Tennessee have taken the "gun rights" argument further than it was ever intended to go.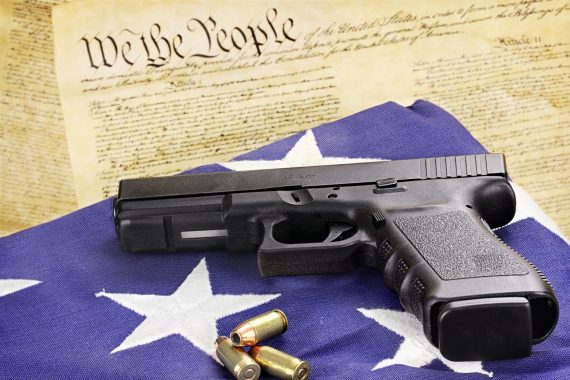 Last week, Tennessee Governor Bill Hanslem signed into a law a bill that prohibits employers from forbidding employees from keeping guns in their car even when parked on property owned by the employer:
NASHVILLE, Tenn. (AP) – Gov. Bill Haslam has signed legislation that allows workers to sue their employers if they are fired for storing guns in cars parked on company lots.

The Republican governor signed the measure this week.

Both chambers overwhelmingly passed the measure despite opposition from the Tennessee Chamber of Commerce.

The state in 2013 enacted a law to give handgun-carry permit holders the right to store their firearms in vehicles on company lots regardless of their employers' wishes.

But an attorney general's opinion later found that while the law decriminalized the actions of those who ignored posted gun bans on private property, employers could still terminate workers for violating company firearms policies.
Tennessee is not the first state where this issue has come up, of course. Other state legislatures, especially in states where there are already laws that are rather liberal in permitted both the open carrying of weapons in public and concealed carry, in some cases without having to receive any separate license from the state. In many of those states, motivated in no small part by incidents of workplace violence that have occurred around the country, and no doubt also motivated by concerns over their own liability in the even of some future tragedy, employers have adopted policies barring employees from carrying weapons while on company premises. To the extent that some of these employers are businesses open to the public, the rules have also been expanded to regulate the ability of customers to bring their weapons on company premises. Quite often, these efforts by employers and business owners to regulate the presence of weapons on their property has been met with resistance by gun rights advocates who see these policies as some sort of infringement of their rights and have responded both with protests and, in several cases, legislation such as what was passed into law in Tennessee last week. Given the political influence that these groups have in many states, it's not surprising that they've been successful, even though what they're advocating is quite clearly an infringement of private property rights.
George Scoville made this observation when he wrote about the first generation of this Tennessee bill two years ago:
Store and office building owners voluntarily buy leisure from employees with wages and benefits, which may include a parking spot, or they voluntarily offer parking as an amenity to consumers in exchange for patronizing their place of business. Employees and consumers alike want to bring firearms with them to the workplace, for purposes of personal protection. But some employers who are anti-gun, for perhaps a multitude of reasons (political ideology, property insurance premium prices, etc.), decided they wanted to prohibit guns from their property. The current law attempts to protect these employers'/owners' rights to determine who may receive their permission to enter their property, and under what conditions.

Now come gun owners, asking the legislature for a law to effectively criminalize firearm prohibition on private property. Employers and property owners erred in the first place, asking the legislature to step in and criminalize firearmpossession. But now both groups seek a government intervention to compel the other group to acquiesce to the terms of an otherwise voluntary commercial exchange! In 2011, the Tennessee GOP gained control of both chambers of the assembly and the governor's mansion for the first time in history. It's maddening to watch a Republican Party hell-bent on using big government to solve "problems."
To toss aside one argument that some advocates of these types of laws make, it's rather obvious that what were are dealing with here is most emphatically not a Second Amendment issue. Regardless of what one might think about the nature of the right that amendment protects, the one this that is absolutely clear is that it solely applies to actions taken by government entities. Just as there is no such thing as a First Amendment right against a private individual or business that would allow one to stand on their property and spout off political opinions, there is no right under the Second Amendment that would permit a gun owner from forcing a property owner to allow them to bring on gun on their property. This is because, as a general rule, the Bill of Rights applies solely to government action and does not create any kind of enforceable right between individuals. Because of this, it simply non-sensical to talk about this Tennessee law in the context of the Second Amendment.
If there is one actual right that's at issue here, it's the one that is being violated, namely the private property rights of business owners and employers, a right that necessarily includes the right to determine the rules upon which someone will be granted access to that property. Unlike the non-existent Second Amendment right of employers to keep a gun in their car, or on their person, even if the property owner says other wise, these are real rights of long-standing in the Constitution as well as in American law and in the British Common Law on which it's based. While some may dismiss a new government rule that limits in yet another manner the way that property owners may use their property as a minimal reduction in rights, Dustin Siggins is correct when he points out that laws like the one in Tennessee involve nothing less than the state abrogating the rights of property owners in the name of a non-existent right:
Tennessee Republicans decided that the Second Amendment rights of employees have priority over the property rights of employers.

Second, this violates the idea that government should, for the most part, let private actors handle their own issues. Like the Obama administration's abortifacient, sterilization, and contraception mandate, however, the Tennessee government has unnecessarily decided to declare that employees have rights to employer property.

(…)

The real issue is the principle of liberty. A business owner should have the liberty to serve whomever he or she wishes, and a customer can take it, leave it, or boycott it. Likewise, should my employer not allow Bibles on campus, I — an orthodox Catholic — can either accept that policy, negotiate to change it, or work elsewhere.
Jazz Shaw brings up an issue that others I've spoken with about these types of laws frequently mention:
There is also the question of where the employer's "property" ends, which Dustin correctly notes in his piece. True, the parking lot is the property of the employer, but does that make the employee's automobile their property as well? You either allow employees to park in your parking lot or you don't. What they have in their cars – assuming it's legal – is really their business if it's not being brought into the workplace and potentially affecting the owners and staff. In a parallel case, many employers with security concerns do not allow workers to bring their cell phones into the office because of the camera and audio recording capabilities of modern phones. But they pretty much universally allow the workers to lock them in their cars while at the office. And most importantly, that scenario applies to a device which isn't even covered by your constitutional rights.

This law seems to me to have been a good compromise. The employer can bar carrying weapons in the workplace, but the employee's car is not the workplace. And punishing them for such storage is an unreasonable burden on their constitutional rights.
Again, the emphasis on constitutional rights is completely inappropriate because the rights protected by the Constitution do not apply to relationships outside of the relationship between the individual and the state. The fact that an employee may have the right to carry a weapon in public does not mean he has a right to bring that weapon onto his employer's property, or anyone else's for that matter. At the same time, Jazz's point regarding whether the employer's property rights extend to the employees car is, on at least some level, a valid one. Taken to it's extreme, after all, the property rights argument means that the employer would have the right to search an employee's car to determine if they have brought a firearm on company premises. It's already the case, however, that private entities have far more authority to conduct such searches because the Fourth Amendment does not apply to them. More importantly, even taking this concern about mass searches being conducted by employers into account, it quite simply doesn't justify the idea of the government intervening on the side of employees or customers and essentially allowing them to violate the property rights of the business owner. Furthermore, if one takes the car argument to its logical conclusion then employers and business owners shouldn't even have the right to prevent individuals from carrying weapons on their person on company property. After all, as Siggins notes in his post, if a car is autonomous from the parking lot on which it's parked then surely the body of an individual would be as well. The problem with this view, of course, is that it extends Second Amendment rights far beyond where they were intended to go and does real damage to property rights in the process.
In the end, if an employee does not like the fact that his or her employer forbids weapons on company premises, then they are free to find another job. Alternatively, they could try to persuade their employer to change the rule. What they aren't free to do, though, is use the power of the state to have their preference turned into a right and, in the process, damaging the actual rights of property owners.