The Biden Impeachment Tantrum
The inmates are running the asylum.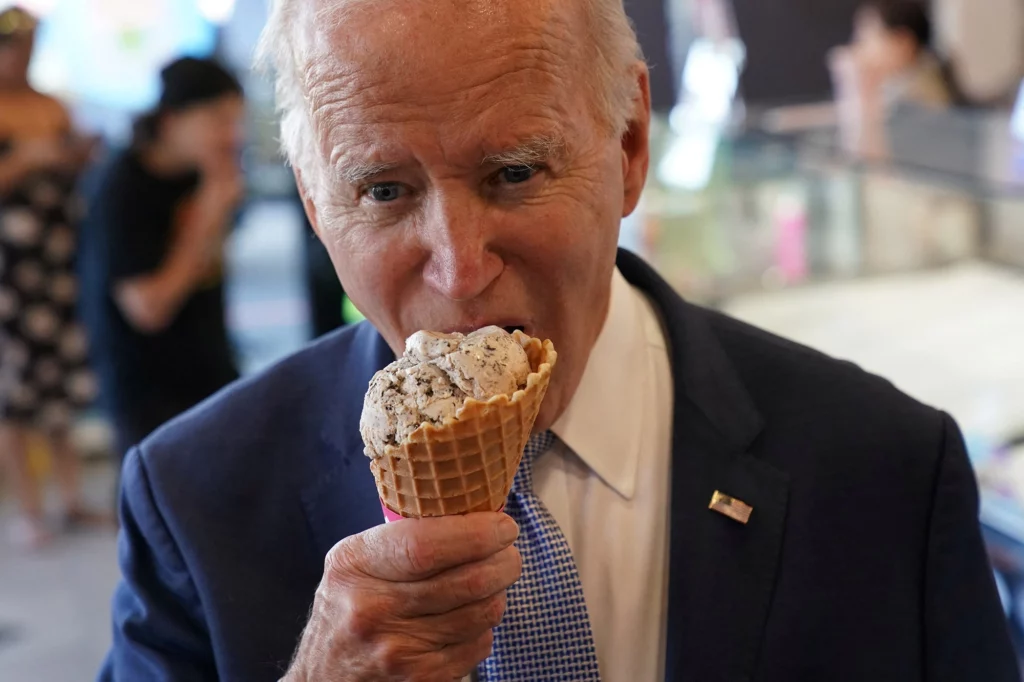 NBC News ("Kevin McCarthy announces House will begin an impeachment inquiry into Biden"):
House Speaker Kevin McCarthy, R-Calif., said Tuesday he is directing three House committees to open an impeachment inquiry into President Joe Biden in an effort to seek bank records and other documents from the president and his son Hunter Biden.

Speaking to reporters at a news conference, McCarthy said an impeachment inquiry is a "logical next step" of the GOP-led investigations that have been going on for months.

"This logical next step will give our committees the full power to gather all the facts and answers for the American public," which he said "is exactly what we want to know — the answers."

"I believe the president would want to answer these questions and allegations, as well," he said.

House Republicans, McCarthy said, "uncovered serious and credible allegations into President Biden's conduct."

"These are allegations of abuse of power, obstruction and corruption," he said. "They warrant further investigation by the House of Representatives."

McCarthy said Oversight Chairman James Comer, R-Ky., will lead the inquiry in coordination with Judiciary Committee Chairman Jim Jordan, R-Ohio, and Ways and Means Committee Chairman Jason Smith, R-Mo.

A vote to launch an impeachment inquiry would be a first step in the effort to remove Biden from office; it isn't a vote on impeachment itself.

McCarthy's decision is a major reversal after he told the conservative website Breitbart this month that he wouldn't open an impeachment inquiry without a vote of the full House. He doesn't appear to have enough votes to proceed on the issue, facing skepticism from across the GOP spectrum due to the lack of evidence implicating the president in Hunter Biden's alleged transgressions.

It also marks a reversal for McCarthy from 2019, when he inveighed against Democrats for initiating an impeachment inquiry into President Donald Trump before a vote, questioning the legitimacy of such an investigation unless the House were to authorize it. House Democrats eventually voted to authorize it.
The Hill ("Senate GOP says House lacks evidence for impeachment"):
Senate Republicans say the House GOP doesn't appear to have enough evidence to pursue impeachment proceedings against President Biden and are skeptical about the prospect of setting up an inquiry with multiple committees already investigating the president and his son, Hunter Biden.

Republican senators are highly skeptical that Speaker Kevin McCarthy (R-Calif.) could even muster enough votes in the House to pass an article of impeachment and warn it would be quickly dismissed if it ever got to the Senate, possibly without going to a full trial.

Their message to House conservatives is simple: Don't distract from the issues where Republicans will have the upper hand in the 2024 election — the economy and border security — to pursue a fruitless impeachment effort.

"It really comes to how do you prioritize your time? I don't know of anybody who believes [Senate Majority Leader] Chuck Schumer [D-N.Y.] will take it up and actually have a trial and convict a sitting president," said Sen. John Cornyn (R-Texas), a member of the Senate GOP leadership team.

Cornyn noted that House Republicans could investigate the Bidens without launching a formal impeachment inquiry because they control the lower chamber.

"Since they got the majority, they got the chairmen of the various committees, they could do all of that now without going to a formal inquiry," he said. "Members of the House don't really care what I think. All I can tell you, it's unlikely to be successful in the Senate.

"Rather than doing something they know is unlikely to end the way they would like, maybe they want to emphasize other things."

Cornyn is far from alone in his assessment.

Senate Republican Whip John Thune (S.D.) on Monday expressed reservation about linking a bill to avoid a government shutdown to a vote on launching impeachment proceedings.

"Well, obviously they can launch [a formal inquiry] there without tying it to government funding. Hopefully they can work all that out, how they want to handle those issues in the House," he said.

Asked if there's enough evidence to impeach Biden, Sen. Shelley Moore Capito (R-W.Va.), another member of the Senate GOP leadership team, replied: "I do not."

Sen. Marco Rubio (R-Fla.), for his part, said attempting to impeach a sitting president "should generally be avoided for the interest of the country."

"It can't become routine," he warned.

Rubio also criticized Democrats for pushing highly partisan articles of impeachment against then-President Trump in late 2019 and early 2020 and then for holding a second impeachment trial after Trump left office in 2021.

Rubio and other Republicans warned at the time that Democrats would lower the bar for impeaching a president.

Fast-forward more than two years, and they say it doesn't mean House Republicans should get a green light to launch an impeachment inquiry against Biden without compelling evidence of a "high crimes and misdemeanors."

"There are countries like Peru that routinely now impeach whoever the president is, and it's become almost a national sport," Rubio said.
WaPo ("White House slams impeachment inquiry as 'goose chase'"):
The White House denounced Republicans' impeachment inquiry into President Biden on Tuesday, asserting that the president has done nothing wrong and calling the move an "evidence-free goose chase" that will spur Democrats to rally behind Biden.

The impeachment inquiry presents a new set of challenges for Biden as he runs for reelection in what could be a rematch with former president Donald Trump, who remains the front-runner for the Republican nomination.

Congress will probably have broader authority now to dig into the president's finances and could spend more resources investigating the president and his family. An active inquiry could also impede Biden's efforts to stay out of the political fray, undermining his effort to keep a light campaign footprint and focus on appearing presidential for as long as possible.

Some Biden supporters also worry that a drawn-out inquiry could take a personal toll on the president, especially since it may center on his son Hunter.

"Nobody wants to go through it," said Jennifer Palmieri, a Democratic strategist who worked in President Bill Clinton's White House when he was impeached. "There can be political upsides, but no one wants to go through it. It is certainly going to wear on the president some, and it's also personal — and that's just rough."

Still, Democrats were quick to note that the move carries significant political risks for Republicans as well. Palmieri noted that Clinton hit the highest approval ratings of his presidency when he was facing impeachment proceedings, and Democrats picked up seats in the 1998 midterm elections in a voter backlash against the GOP.

Democrats said the inquiry into Biden could similarly have political consequences for Republicans, particularly because the GOP has not unearthed credible allegations against the president.

"They have no evidence, so they're launching the next phase of their evidence-free goose chase simply to throw red meat to the right wing so they can continue baselessly attacking the president to play extreme politics," Ian Sams, a White House spokesman, said in a statement.
CNBC ("Biden impeachment inquiry gives White House a fight it's ready for"):
The White House's oversight and investigations war room finally got the battle on Tuesday that they'd been arming themselves for.

House Speaker Kevin McCarthy's announcement that he has directed GOP-led House committees to open an impeachment inquiry into President Joe Biden was the long-anticipated retribution that White House aides had been waiting for, after House Democrats twice impeached Donald Trump during his term in office.

Ever since Republicans retook the House majority last year, the White House has been building a team of legal experts and spokespeople to counter the congressional inquiry launched into the president and his son, Hunter Biden.

And in recent months, as the calls for impeachment grew louder on the far right of the GOP, the new White House war room has responded by publicly refuting Republican accusations and amplifying the voices of impeachment skeptics within the GOP caucus.

[…]

Absent a smoking gun, Republicans have latched on to testimony from Devon Archer, a former business partner of Hunter Biden's, who told the House Oversight and Accountability Committee that over a 10-year period, Hunter put his father on speakerphone while talking to business associates "about 20 times," and that Joe Biden attended two meals with Hunter and his business associates.

Archer also told the committee the elder Biden did not discuss business matters on any of the calls and meetings. Nonetheless, the younger Biden sought to portray an "illusion" of access to the then-vice president as part of his business "brand," he said.

The lack of hard evidence hasn't deterred the court of public opinion, however. A CNN poll released last week found a majority of Americans, 61%, believe the president was involved in his son's business dealings while he was vice president, with 42% believing the involvement was illegal.

McCarthy has been under intense pressure from some far-right GOP members to press for impeachment even as others warn it's too early. With a slim 222-212 majority in the House, the whims of every member of McCarthy's caucus count.

Rep. Marjorie Taylor Greene, R-Ga., said she would not vote on any necessary budget bills unless the House opened an impeachment inquiry. Congress has about 12 working days to pass all 12 appropriations bills and get Biden's signature before the government shuts down on Sept. 30. Rep. Matt Gaetz, R-Fla., threatened to oust McCarthy from his speakership if impeachment proceedings did not begin.
McCarthy is in a no-win situation here, holding an incredibly thin majority and a divided caucus. He can't hold onto his post, much less get much of anything done, without the votes of the craziest members of the coalition. Still, if he had any integrity or courage, he'd tell them to pound sand on this one.
When even one as feckless and spineless as Rubio is telling you that this is bad for the institution, you really ought to listen. This amounts to a tantrum by the MAGA wing: You impeached our guy so now we're impeaching yours. Except that their guy committed actual crimes while in office and this one, at least as far as nine months' worth of digging has found, has not. That should matter.
Beyond basic decency and respect for the rule of law, this simply makes no sense politically. It's bad for incumbent Republican Representatives in all but the most MAGA districts.