The Clinton-Bush-Obama Trifecta
Are two-term Presidencies the new normal?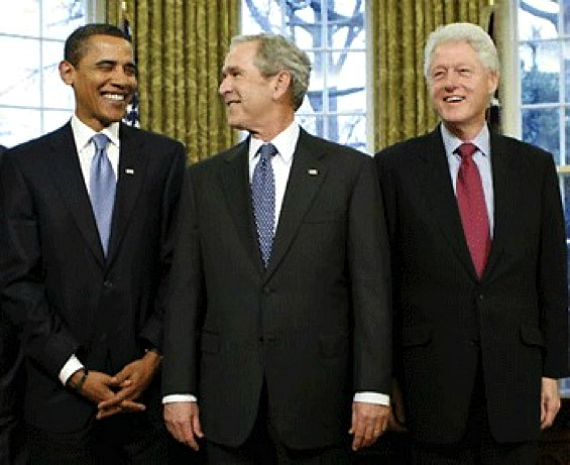 President Obama's re-election on November 6th marked a unique event in American history. For only the second time in American history, we will have three tw0-term Presidencies in a row. The last time this occurred was from 1801 to 1825 when Thomas Jefferson, James Madison, and James Monroe followed each other in succession and marked the triumph of what was then known as the Democratic-Republican Party over the Federalists, who would in time be replaced by the relatively short-lived Whigs, who would of course be replaced by the Republicans by the time 1856 rolled around.
It's really quite an extraordinary event when you think about it. For most of the 19th Century, we were subjected to a series of one-term Presidencies that ended after four years not so much because the incumbent lost the General Election, but because they had insufficient support inside their own party to even guarantee them the nomination for a second term. In the 20th Century, five incumbent Presidents — Taft, Hoover, Ford, Carter, and Bush — lost their re-election bids, and if you add in Lyndon Johnson's decision not to run in the face of overwhelming intra-party opposition to his Vietnam war policy, it would amount to six. At the same time, though, it's worth noting that Obama's re-election is the fourth time of the last five Presidential elections in which the incumbent President was re-elected, a 90% 80% rate.
Now, we find ourselves at the beginning of the final four years of what will be a twenty-four year period of two-term Presidencies. Is this the new normal, or just an abberation? Political Science Professor Andrew Polasky argues that we've entered a new era in which incumbent President's have an even stronger advantage at re-election time than they have in the past:
Ronald Reagan, Bill Clinton, George W. Bush, and Barack Obama faced no challenge when they decided to seek renomination. Certainly they had their critics within their own party, especially the Democratic incumbents. Both Clinton and Obama faced murmurings of liberal discontent. But it did not suffice to propel a challenger to enter the fray.

On the other side, George H.W. Bush encountered sharp conservative opposition from Pat Buchanan. Although Buchanan never represented a serious threat for he nomination, he did pressure Bush 41 from the right. Bush's situation paralleled that of Johnson, Ford, and Carter, each of whom did battle with a popular rival in his own party (Eugene McCarthy, Ronald Reagan, and Ted Kennedy).

With no competition for the nomination, a sitting president does not have to engage in one of the familiar exercises of American electoral politics in the modern era — repositioning himself between the primary season and the general election campaign. Mitt Romney's attempt to redefine himself in the final months of the campaign, to shake the "etch-a-sketch" once he sewed up the nomination, is a necessary move given the sharp difference between the primary and general electorates.

Dedicated Republican voters today skew far to the right of the population as a whole. This gives a boost to idiosyncratic ideologues (libertarian Ron Paul) or fire-breathing social conservatives (Rick Santorum), who stand no chance of winning in a general election. The make-up of the Republican primary electorate, weighted heavily toward (or, more accurately, weighed down by) Tea Party activists, also forces more moderate or malleable candidates to market themselves as, in Romney's words, "severely conservative."

Much the same situation applies in the Democratic Party, with the activists and party-linked interests tilted well to the left. In 2008, Democratic aspirants for the presidential nomination elbowed each other aside in their eagerness to call for the quickest end to the war in Iraq or the most comprehensive version of universal health insurance. Fortunately for the Democrats, their primary electorate makes its peace more readily with the need to line up behind a relatively moderate candidate who can win a general election. Nevertheless, the leftward tug can leave a Democratic nominee with some baggage entering the general campaign.
I think Polasky places far too much importance on Buchanan's run in 1992, to be honest. President Bush 41 was in a precarious position as it was given the state of the economy and the perception that had been created that he was out of touch with what was going on in the country, a perception which may have been unfair in retrospect, that I'm honestly not sure that a quixotic primary challenge by a former Nixon speechwriter really was the thing that doomed his campaign. Nonetheless, he is correct in pointing out that, over the past two decades, no incumbent President has had anything approaching a serious primary challenge. Not only that, but there's been very little thought in the pre-election buzz that led up to 1996, 2004, or 2012 that there was any chance that the incumbent would be seriously challenged. Yes, it's true that for the past two years or so Pat Caddell  and Doug Schoen were writing Op-Ed's in whatever publication was desperate enough to pay them arguing that Hillary should challenge Obama, or that Obama should not  run at all so that Hillary could run, but other than the inane bloviations of hacks like that, no serious person ever suggested mounting a primary challenge to Barack Obama. Just like nobody ever seriously suggested mounting a primary challenge to Bill Clinton or George W. Bush.
Some of this, I suggest, can be attributed to the fact that both of our major political parties have become far more rigid and ideological than they might have been in the past. The idea of  a Ted Kennedy mounting a primary challenge against his party's President is seems like an alien concept today. Indeed, even Pat Buchanan's 1992 challenge was a waste of time in retrospect, although some might argue that it was a precursor of Ross Perot's independent bid in the General Election. Nonetheless, if we are truly past the days when incumbent President's are going to be challenged inside their own party, then two-term Presidencies may end up being the new normal.