The Conservative Legal Machine
There's a reason President Trump's Supreme Court picks are "normal" in a way his national security and economic teams are not.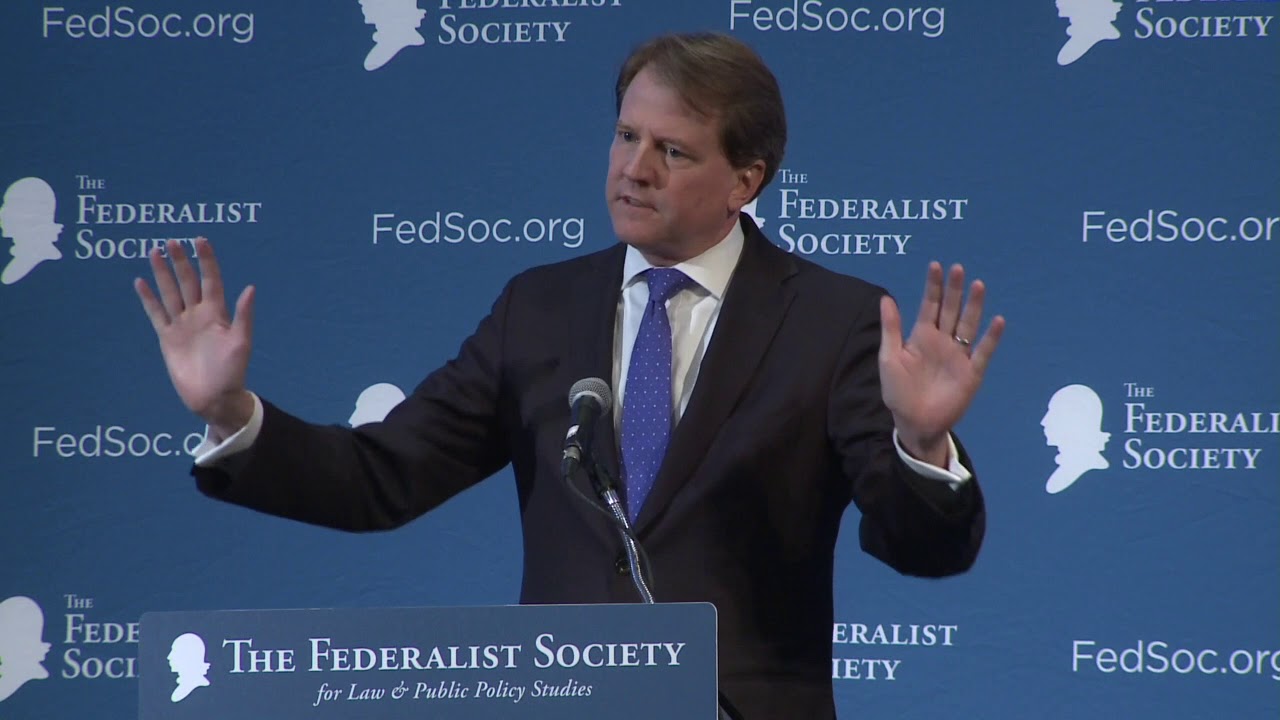 In his post "The Most Normal Thing about the Trump Administration," Steven Taylor noted, while he seldom colors within the lines otherwise, Trump's judicial appointments are exactly what one would expect for a Republican President. One explanation is that, as Hal_10000 suggests, is that Trump has "outsourced" the selection of nominees. And, indeed, he has. While Senator Bob Casey and others are claiming they were "dictated to him by the Heritage Foundation," it's actually less sinister and more complicated than that.
David Brooks explains in a column titled "It Took a Village to Raise Kavanaugh."
Kavanaugh is the product of a community. He is the product of a conservative legal infrastructure that develops ideas, recruits talent, links rising stars, nurtures genius, molds and launches judicial nominees. It almost doesn't matter which Republican is president. The conservative legal infrastructure is the entity driving the whole project. It almost doesn't even matter if Kavanaugh is confirmed or shot down; there are dozens more who can fill the vacancy, just as smart and just as conservative.

This community didn't just happen; it was self-consciously built. If you want to understand how to permanently change the political landscape, it's a good idea to study and be inspired how it was done.

Back in the 1970s, the legal establishment was liberal. Yale Law School was the dynamic center of liberal legal thinking. Lawyers who had begun their careers during the New Deal were at the height of their power and prestige. The Ford Foundation funded a series of legal aid organizations to advance liberal causes and to dominate the law schools.

Even Republican Supreme Court picks like Harry Blackmun and Sandra Day O'Connor tended to drift left because the prevailing winds in the whole profession were strongly heading that way.

As Steven Teles notes in "The Rise of the Conservative Legal Movement," the first conservative efforts to stand up to the left failed. Business groups funded a series of conservative public interest law firms. But the business groups had no intellectual heft, they were opportunistic and they had zero moral appeal.

First came the critique. In 1980, Michael Horowitz wrote a seminal report for the Sarah Scaife Foundation, explaining why conservatives were impotent in the legal sphere. Horowitz suggested, for example, that conservative legal organizations pick cases in which they represented underdogs against big institutions associated with the left.

Then came the intellectual entrepreneurs. Aaron Director of the University of Chicago Law School inspired many of the thinkers — like Ronald Coase and Richard Posner — who would create the law and economics movement. This was a body of ideas that moved from the fringes of American legal thought to the very center. This movement was funded by groups like the John M. Olin Foundation, which was willing to invest for the long term and not worry about "metrics" or "measurable outcomes."

Then came the network entrepreneurs. In 1982, a group of law students including Lee Liberman Otis, David McIntosh and Steven Calabresi founded the Federalist Society, which was fundamentally a debating society. They could have just hosted events with like-minded speakers, but debates were more interesting and attracted better crowds.

The Federalist Society spread to other law schools and beyond pretty quickly. It turned into a friendship community and a professional network, identifying conservative law students who could be promoted to fill clerkships.

As Teles points out, the key features of the Federalist Society were the limits it would put on itself. It did not take stands on specific policy issues. It did not sponsor litigation on behalf of favorite causes. It did not rate judicial nominees the way the American Bar Association did. It did not go in for cheap publicity stunts, like the Dartmouth Review crowd of that era did.

It wielded its immense influence indirectly, by cohering a serious, disciplined community and letting it do the work.

Otis, McIntosh and Calabresi all went to work in the Reagan administration. They are now part of a vast army of conservative legal cadres, several generations deep, working throughout the system or at organizations like the Center for Individual Rights and the Institute for Justice.
Commentor gVOR08 dubs this "a nice capsule history on how to buy the judiciary" but that's not it at all. Nobody is being "bought" here. It's simply a successful attempt to build an alternative network from scratch.
The path to the federal bench in the modern era starts with the elite law schools, with Harvard accounting for by far the most. And prestige in the profession, if not money, comes from academic posts and publications in major law reviews. And, even once on the bench—including the Supreme Court—one's reputation within the profession came from how one's opinions were received within the legal academy.
For a variety of reasons, that process made it hard to find qualified conservatives for the court. While there are plenty of conservatives in the law, they're a minority in the academy. Conservative judges were less likely to get high scores from the ABA. And, to the frustration of Republican Presidents, judges they thought were conservative tended to drift left once on the bench.
The Federalist Society and the broader conservative network solved most of those problems. Conservative law students who had an aptitude for appointed positions in Republican administrations, clerkships with Republican judges and justices, and potential service on the bench themselves could be identified early and nurtured. Rather than be an unwelcome minority within an establishment that leaned to the left, they now had an alternative establishment in which they were at home.
While there's a strong danger of groupthink in this scenario, there's nothing nefarious about it. And we've seen similar projects on the left in other pursuits. For example, the Center for a New American Security was founded in 2007 by Michèle Flournoy and Kurt Campbell, two highish level national security officials in the Clinton Administration, to nurture talent for a Democratic administration. Scores of CNAS alumni, including Flournoy and Campbell themselves, served in the Obama administration and would certainly have done so in a Hillary Clinton administration. Instead, they're now a place where Obama formers and Hillary wouldabeens can write op-eds criticizing the Trump administration and hone an alternative policy for the next time Democrats get a turn.
Which brings me to this aside in Brooks' piece:
Trump bucked the conservative foreign policy establishment and the conservative economic establishment, but he's given the conservative legal establishment more power than ever before, which is why there are so few never-Trumpers in legal circles.
I can only speculate as to why that is. Hal_10000 suggests that "Picking a judge is hard and there is no way [Trump] would have the patience to do the actual hard work needed to sort out candidates for himself." My alternative explanation is twofold.
First and most importantly, Trump has very strong, visceral level views on the economy and national security but not on the law. Supreme Court picks, particularly, tend to be about abstract theories of Constitutional and statutory interpretation and all Trump cares about is whether he wins or looses.
Second, there's simply a bigger gap between Democratic and Republican judicial candidates than between Democratic and Republican national security and economic professionals.  The reason most Republican national security officials I know are #NeverTrump types is that Trump's views on the post-World War II international system are shockingly and dangerously alien to the bipartisan consensus among professionals in the field. The same is true in terms of trade policy. While there are strong differences of opinion between Democrats and Republicans on these issues, they're really on emphasis, not the broad strokes of how the game should be played.
The combination of these two things, then, makes it easy for Trump to simply outsource judicial selections. Whatever one thinks of their judicial philosophies, both Neil Gorsuch and Brett Kavanaugh have impressive pedigrees, which we know Trump likes. They win him praise from Republican officials, which we know Trump likes. The base, which like Trump himself, really has no gut instincts on judicial philosophy, hear "young Scalia" and are trained to think that's a good thing. So, score another for Trump.