The Consolidation of Journalism
The Internet killed the newspaper without really replacing it.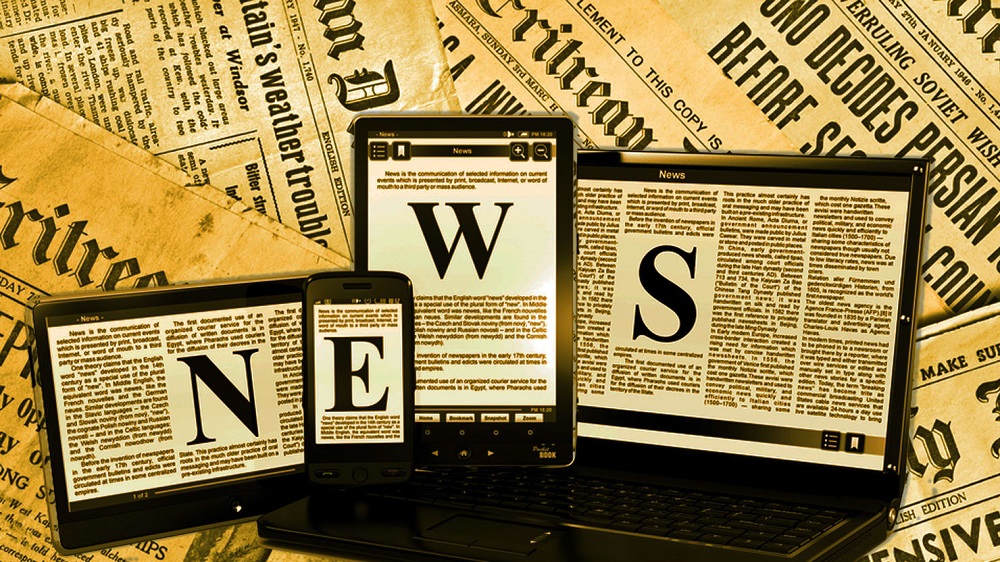 Talking Points Memo founder Josh Marshall surveys the demise of local newspapers and the failure of most online outlets in an Atlantic essay titled "Scale Was the God That Failed." His premise is that the former lost the advantages of monopoly power and the latter simply lacked a sustainable business model. Or, as the search optimization headline of the online version puts it, "The Digital News Industry Was Built on Lies."
What happened to newpapers is well documented but a reminder is useful:
For several decades in the latter half of the 20th century, most American cities and towns had a single newspaper. Even many of us who were alive then find it difficult now to comprehend just how geographically isolated information and news were at the time. If you lived in Southern California in the 1970s or '80s, for example, and wanted to stay abreast of the news in all its dimensions, you had little choice but to subscribe to the Los Angeles Times. Some cities and towns had two papers, but the same basic model operated almost everywhere in the United States. That gave these publications a de facto monopoly on commercial speech in their region.

[…]

The internet destroyed those local monopolies in the late '90s, and most papers have never recovered. Suddenly, readers in Omaha, Nebraska, had countless news sources to choose from, and advertisers had limitless options as well. Inertia carried some publications forward for a time; things took a few years to shake out. But the crucial point is that almost all of the elements of good, newspaper journalism—big newsrooms paying middle-class salaries and giving reporters the time to get the story right—were made possible by those monopolies. Without them, there would have been no 20th-century newspapers as many of us knew them.
It's worth noting, though, that most of those newspapers were simply terrible. Once one got below the level of say, the Birmingham News, local newspapers were mostly staffed with rather poor writers and the system was such that good writers at small papers worked their way up to the big time. Because I moved around a lot, I subscribed to a lot of local papers and, often, to a second paper from the nearest bigger-city market. (Even in, say, 2000, it was really expensive to get the New York Times or even the Atlanta Journal-Constitution in Troy, Alabama.)
Still, the fact of the matter was that even bad local papers had reporters covering local news, keeping at least some eye on city hall, the school board, and the rest. That's mostly gone now outside the big cities.
The failure of online to make it work is longer and excerpting doesn't do it justice.
The super-low costs of entry and the lack of geographic limitations that were key to the explosive growth of digital journalism were also key to its undoing. These new publications had no way to recreate the profitability and stability that the old regional monopolies had made possible.

[…]

The chronic oversupply of publications chasing a fixed number of ad dollars has required publishers to continually charge less for ads that demand more of readers. For the biggest players, which scaled up quickly to dominate digital media, there was—at first—enough money to go around. But most digital publications were funded on the premise that scale would eventually lead to dominance and stability, much as it had with technology firms. News publishing, however, doesn't work that way.
Marshall explains why in some detail but the short version is that Facebook and Google managed to hoover up most of the ad money and venture capitalists finally figured out that there was no pot of gold at the end of the rainbow and thus quit backing online venues that were never going to make enough money to pay their staff and keep the lights on. Which is to say, damn near all of them.
Not all publications are doomed. A few big, metro newspapers have evolved into national outlets, blending ad dollars with increased subscription revenues. They have reporting resources that are difficult to match and serve a broad audience. Successful D.C.-centric political publications operate in a unique advertising market, tapping into corporate America's lobbying budget, and they'll continue to thrive. Other publications, such as The Atlantic, are operating sustainably in various niches of their own, leveraging a unique vision or approach to the news and the reader loyalty this earns to produce subscription revenues. Outlets with no subscription revenue are a rarity in publishing history.
The problem is that it's very hard to get people to pay for something they're used to getting for free. I'm willing to pay for the New York Times, the Washington Post, and the Atlantic, which are go-to outlets for me, so long as the price is reasonable. But I'll either find workarounds or simply avoid the LA Times, Boston Globe, Bloomberg, and others that have very tight paywalls around content that I don't have to have. I'm enough of a news junkie that I'd be willing to pay more than I do now for a bundled package that included unlimited access to everything but it just makes no sense to subscribe to outlets where I'd want to read maybe 5-10 stories a month.
Ultimately, Marshall is sanguine about the whole thing:
All of this is to say that news publishing is a tough business. It requires finding an unserved niche, providing some unique service, and building a durable relationship with a specific customer base. But that's really no different from most forms of commerce: doable, but hard; potentially profitable, but usually not wildly so. In digital publishing, scale was the god that failed. And thousands of journalists went along for the roller-coaster ride, without anyone warning them how it was bound to end.
What has happened in the digital journalism space is something that was next to impossible to achieve twenty or thirty years ago: building individual brands. Before then, with the exception of a handful of news anchors and columnists, nobody knew who journalists were. So, a Matt Yglesias, Ezra Klein, or Glenn Greenwald can easily take their readers with them to new outlets or, indeed, charge readers directly for their work.
A century or so ago, the creation of mass media meant that a handful of superstar actors and musicians could get fabulously wealthy selling to a national or even international audience, while leading to a radically decreased demand for local actors and musicians. The same has happened with journalism: the very best papers, magazines, and journalists are richer than ever. But there's much less demand for middle-grade talent and none at all for those who would have made a decent living at not-very-good local papers a quarter-century ago.
Still, while the consolidation and destruction may well continue, it's hard to argue that we're worse off overall. I'm less informed about local news than I was twenty years ago and that's not great. But I have a near-inexhaustible supply of great national and international news and analysis at my fingertips wherever I go. And the supply of niche content in pretty much any area that one may find interesting has simply exploded. If the tradeoff for that is the demise of lousy newspapers and employment opportunities for untalented reporters, it's almost surely worth it.