The End Of Old Fashioned Retail Politics?
Is technology making retail politics less important?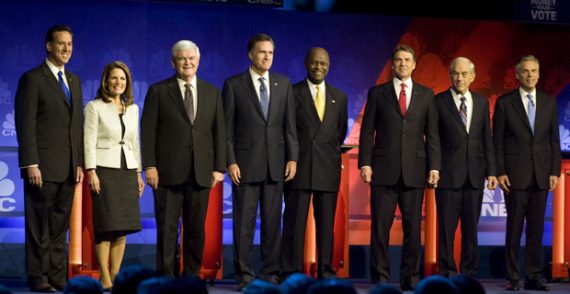 In a report that seems absolutely counterintuitive given how common it's become to bemoan the role of money in politics The Washington Post reported yesterday that the Republican primary race for 2012 is set to be one of the least expensive in a decade:
Dec. 1 (Bloomberg) — Even as experts predict that the 2012 presidential race will be the most expensive in U.S. history, a funny thing is happening on the way to the Republican nomination: It's becoming one of the cheapest primaries in a more than a decade.

The top nine Republican candidates spent $53 million through September, compared with $132 million spent at the same time four years ago. The sum is even lower than totals reported during the same period in the 2004 and 2000 primaries — when most candidates still were abiding by campaign spending limits in order to receive public matching money.

In the crowded Democratic primary in 2004, the candidates had spent $58 million through Sept. 30, 2003. Four years prior, a primary field of ten Republican candidates had spent $68 million in the first three quarters of 1999.

One major difference is a profusion of televised debates — 11 so far — negating the need for costly commercials.

"The debates and the daily drama of the Republican presidential primary are the new TV," said Ken Goldstein, president of Kantar Media's Campaign Media Analysis Group in Arlington, Virginia.

The spending slump is having an effect on the campaign trail. Advertising in the first two states to hold contests, Iowa and New Hampshire, has plummeted 75 percent. And candidates who have barely registered in what's sometimes called "the money primary" are vaulting into the lead.
While the drop off in ad spending is no doubt disappointing the Iowa and New Hampshire (and Boston) media, it doesn't seem to have had much of an impact on interest in the race, or the polls. In fact, it's worth noting that the last two candidates to rise in the polls — Herman Cain and Newt Gingrich — have also been the two candidates to have the least active ground operations in states like Iowa and New Hampshire, or anywhere else for that matter. Instead, they, like many of the other candidates, communicate with their supporters and potential voters via the debates, media appearances (principally Fox News Channel), and the Internet. We've also learned that it's possible to create an ad, post it on YouTube, and watch it go viral. Outside of the production costs for such videos, which can be minimal when you're talking about something as simplistic as the famous Herman Cain "smoking" ad, the campaign spends absolutely nothing on the ad and yet ends up getting tons of free media when the ad gets played, repeatedly, on the cable networks. It's really a quite ingenious strategy.
The question we don't know the answer to yet is whether this kind of under-the-radar non-traditional campaign can lead to electoral success. In Newt Gingrich's case in particular, there is a serious question as to whether or not his lead in the recent polls in Iowa really means anything considering that he essentially has no organization in that state. Traditionally, campaigns with a good ground organization are the ones that succeed electorally, especially in caucus states where getting your supporters to a specific location at a specific time is even more essential than in states that hold primary elections. Other candidates further down in the polls, such as Rick Perry, Michele Bachmann, and Rick Santorum, have spent far more time in Iowa than Gingrich and have a far more organized ground operation. Under a traditional analysis, one would expect them to be better prepared for caucus day than his campaign will be, meaning that they could end up outperforming their current poling numbers. If Gingrich pulls off an Iowa win, though, then it could be a signal that things really have changed and it makes one wonder if technology is creating a world where old fashioned retail politics isn't quite as important as it used to be.
H/T: Jazz Shaw