The End Of Sarah Palin?
One columnist argues that Sarah Palin's response to the Arizona shootings mark the end of whatever political future she might have had. He's probably correct.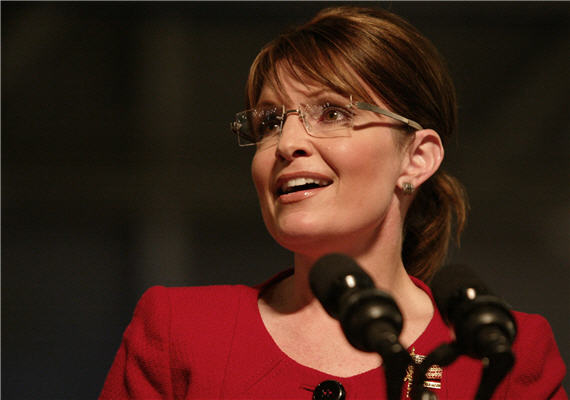 In the Los Angeles Times, Doyle McManus asserts that the Arizona shootings, and most importantly, Palin's not-very-well-received response to the controversy that erupted thereafter, will effectively mark her end as a serious political force. McManus acknowledges, and I agree, that the argument that Palin is in any responsible for the shootings is absurd, but, he argues, that doesn't really matter:
The Arizona shootings and their aftermath will probably be remembered as the end of Palin's chances of being taken seriously as a Republican presidential candidate. She had an opportunity to rise to an occasion, and she whiffed.

Palin's viability as a presidential candidate had already been diminishing. The decline started with her abrupt resignation from her day job as governor of Alaska in 2009. Last year, one of massive success for conservative Republicans almost everywhere, she had the almost unique distinction among major GOP figures of seeing her standing plummet.

(…)

In surveys of Republican voters, Palin still ranks as one of the four top choices for the 2012 presidential nomination, along with former Massachusetts Gov. Mitt Romney, former Arkansas Gov. Mike Huckabee and former House Speaker Newt Gingrich. But the most important numbers aren't going her way. In an NBC-Wall Street Journal poll last month, 50% of respondents said they had an unfavorable view of Palin; that's huge. Only 20% said they had negative feelings toward Romney. A year earlier, Palin's negative rating was 40%. Her principal accomplishment over the past year, it seems, has been to alienate more voters.
Actually, as this chart shows, the general public's opinion of Palin has gotten steadily worse the more it has gotten to know about her since she was introduced to the country on August 29, 2008: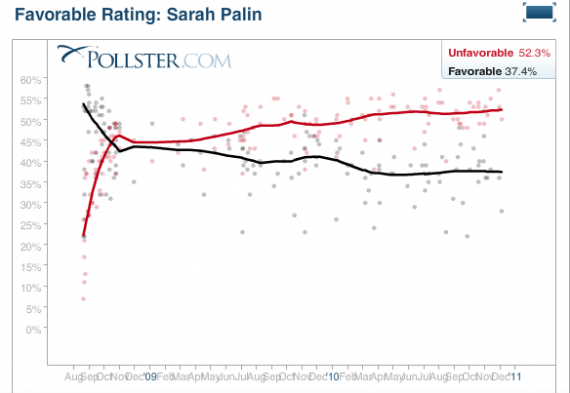 Even more problematic from Palin's perspective is that virtually everyone seems to have made up their mind about her. In one poll, the number of people who said they had no opinion about her or didn't have enough information to form an opinion was in the single digits. That's a problem for a potential candidate because it means that, in order to succeed, you have to convince people who don't like you to change their mind, which is a much harder task than educating people who don't have an opinion about you yet. Add to this the fact that Palin is the most polarizing of all the potential 2012 GOP nominees and the fact that, according to one recent poll, 2/3 of the public said they would never vote for her, and the idea of Sarah Palin ever being President of the United States begins to look pretty silly.
And that was before the controversy that erupted after the shootings and the way that Palin mis-handled it:
Palin had a chance with her statement on the Tucson tragedy to show voters she's equal to the demands of the presidency. Instead, the eight-minute video she released Wednesday reflected her chosen role as lightning rod of the right. Rather than rise to the occasion, she continued the partisan slugfest.

Noting that heated rhetoric was nothing new in an America where politicians used to resort to dueling with pistols, she went on to defend vigorous disagreement. "If you don't like a person's vision for the country, you're free to debate that vision. If you don't like their ideas, you're free to propose better ideas."

It would have been good if she had stopped there. But then, with characteristic passion, she turned to what she knew would be her most memorable line: a charge that her critics are the ones guilty of fomenting violence.

"Especially within hours of a tragedy unfolding, journalists and pundits should not manufacture a blood libel that serves only to incite the very hatred and violence they purport to condemn," she said. "That is reprehensible."

(…)

A "blood libel" isn't just a groundless charge that something sparked bloodshed. It is used primarily to refer to the monstrous anti-Semitic charge that Jews kidnapped and killed Christian infants for ritual use, a falsehood that provided a twisted justification for pogroms.

Palin was justified in accusing her critics of unfairness in using the tragedy as a talking point and in pointing a finger at her. But she went much further than that: She asserted that their argument "serves only to incite … violence."

Consider that assertion for a moment: Palin says her words could not possibly have created a climate of violence, but claims her opponents' words are certain to.
Nobody else in the media seems to have picked up on that particular logical flaw in Palin's argument — most were focused on the "blood libel" phrase itself — but McManus is absolutely right here. After making an eight minute speech in which she purports to argue that it is improper to accuse someone of inciting violence when they strongly advocate their political views, Palin goes on to say that her critics are inciting violence when they criticize her strong advocacy of her political views.
It's similar to times in the past when Palin has asserted that people who criticize her are somehow violating her rights. In the final days of the 2008 campaign, she complained that journalists who were asking questions about her and her record were violating her First Amendment rights and that such journalists were "a threat to democracy." During the Carrie Prejean beauty pageant/gay marriage kerfuffle, she accused the media and pageant officials of violating Prejean's First Amendment rights. Back in May she essentially said that journalists who printed stories she didn't like were a threat to freedom of the press. And, most recently, she invoked the First Amendment to defend Dr. Laura Schlesinger and Juan Williams when they got caught up in media firestorms of their own creation.
As the chart above shows, while it may be an argument that plays well with her base, it is not one that plays well with the American public as a whole.
McManus goes on to theorize that Palin will wind up being the leader of just one faction of the GOP coalition, and that's certainly possible but it's hard to see how she would last for very long as a power center in the GOP if she isn't the nominee in 2012, or when she loses if she somehow does become the nominee.
Yes, Sarah Palin was unjustly dragged into the aftermath of the Tuscon shootings but, as McManus and Steven Taylor both argue, she had an opportunity to try to turn things around. She clearly blew it.