The Fine Line Between Supporter and Co-Belligerent
America's involvement in the Israeli and Ukrainian war efforts is more than advertised.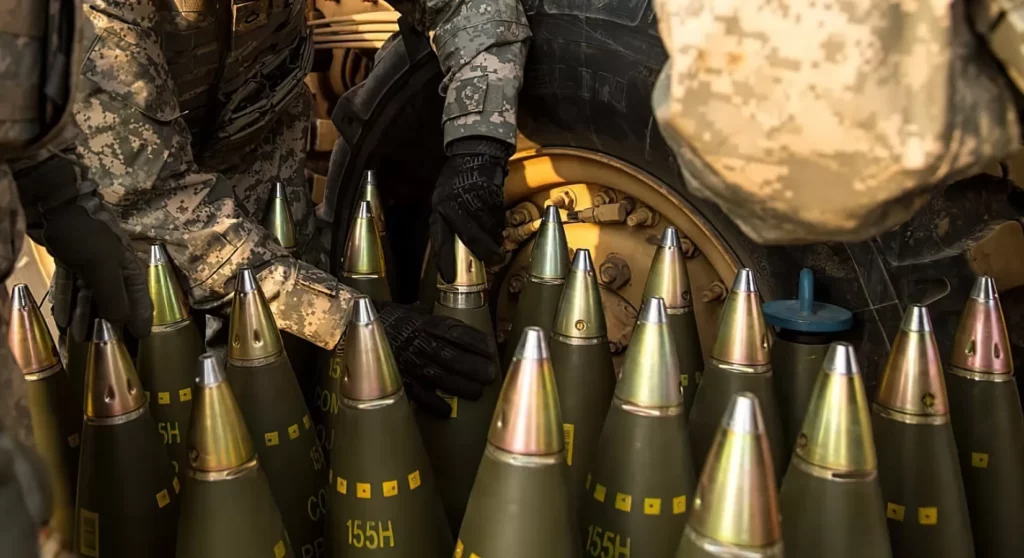 While the Ukrainian and Israeli fights are different in many ways, they're frequently tied together politically. And both demonstrate the complexity of providing major materiel, training, intelligence, and related support to belligerents while simultaneously avoiding being seen as a combatant. Two stories that emerged yesterday illustrate this.
AP ("Pentagon rushes defenses and advisers to Middle East as Israel's ground assault in Gaza looms"):
The Pentagon has sent military advisers, including a Marine Corps general versed in urban warfare, to Israel to aid in its war planning and is speeding multiple sophisticated air defense systems to the Middle East days ahead of an anticipated ground assault into Gaza.

One of the officers leading the assistance is Marine Corps Lt. Gen. James Glynn, who previously helped lead special operations forces against the Islamic State and served in Fallujah, Iraq, during some of the most heated urban combat there, according to a U.S. official who was not authorized to discuss Glynn's role and spoke on the condition of anonymity.

Glynn will also be advising on how to mitigate civilian casualties in urban warfare, the official said.

Israel is preparing a large-scale ground operation in an environment in which Hamas militants have had years to prepare tunnel networks and set traps throughout northern Gaza's dense urban blocks. Glynn and the other military officers who are advising Israel "have experience that is appropriate to the sorts of operations that Israel is conducting," National Security Council spokesman John Kirby said Monday. The advisers will not be engaged in the fighting, the unidentified U.S. official said.
Glynn is the 3-star Deputy Commandant for Manpower and Reserve Affairs. Previously, he was the commanding general of Marine Special Operations Command (MARSOC). That we're advertising his role in planning the invasion is interesting.
But advising is a very small part of our role there:
The military team is one of many fast-moving pieces the Pentagon is getting in place to try and prevent the already intense conflict between Israel and Hamas from becoming a wider war. It also is trying to protect U.S. personnel, who in the last few days have come under repeated attacks that the Pentagon has said were likely endorsed by Iran.

Kirby said Iran was "in some cases actively facilitating these attacks and spurring on others who may want to exploit the conflict for their own good, or for that of Iran. We know that Iran's goal is to maintain some level of deniability here. But we're not going to allow them to do that."

The White House said President Joe Biden spoke with Israeli Prime Minister Benjamin Netanyahu on Monday to update him on "U.S. support for Israel and ongoing efforts at regional deterrence, to include new U.S. military deployments."

On Monday, the U.S. military garrison at an-Tanf, Syria, came under attack again, this time by two drones. The drones were shot down and no injuries were reported. It was the latest episode of more than a half-dozen times in the last week that U.S. military locations in the Middle East had come under rocket or drone attack since a deadly blast at a Gaza hospital.

Last Thursday the destroyer USS Carney shot down four land-attack cruise missiles launched from Yemen that the Pentagon has said were potentially headed toward Israel.

In response, over the weekend the Pentagon announced it was sending multiple Patriot missile defense system battalions and a Terminal High Altitude Area Defense system to the Middle East, as well as repositioning the Eisenhower strike group to the U.S. Central Command area of responsibility. The ship had previously been en route to the Eastern Mediterranean.

The shift means that the Navy will have a carrier strike group off the shore of Israel — the Ford carrier strike group — and another, the Eisenhower, potentially maneuvered to defend U.S. forces and Israel from the Red Sea or the Gulf of Oman.

"We're going to continue to do what we need to do to protect and safeguard our forces and take all necessary measures," Ryder said. "No one wants to see a wider regional conflict. But we will not hesitate to protect our forces."
Aside from serving as a reminder that US forces are still in active, if relatively small-scale, conflict across the region this illustrates how intertwined all this fights are. Escalation is a real possibility here.
WaPo ("Ukrainian spies with deep ties to CIA wage shadow war against Russia"):
The cluttered car carrying a mother and her 12-year-old daughter seemed barely worth the attention of Russian security officials as it approached a border checkpoint. But the least conspicuous piece of luggage — a crate for a cat — was part of an elaborate, lethal plot. Ukrainian operatives had installed a hidden compartment in the pet carrier, according to security officials with knowledge of the operation, and used it to conceal components of a bomb.

Four weeks later, the device detonated just outside Moscow in an SUV being driven by the daughter of a Russian nationalist who had urged his country to "kill, kill, kill" Ukrainians, an explosion signaling that the heart of Russia would not be spared the carnage of war.

The operation was orchestrated by Ukraine's domestic security service, the SBU, according to officials who provided details, including the use of the pet crate, that have not been previously disclosed. The August 2022 attack is part of a raging shadow war in which Ukraine's spy services have also twice bombed the bridge connecting Russia to occupied Crimea, piloted drones into the roof of the Kremlin and blown holes in the hulls of Russian naval vessels in the Black Sea.

These operations have been cast as extreme measures Ukraine was forced to adopt in response to Russia's invasion last year. In reality, they represent capabilities that Ukraine's spy agencies have developed over nearly a decade — since Russia first seized Ukrainian territory in 2014 — a period during which the services also forged deep new bonds with the CIA.

The missions have involved elite teams of Ukrainian operatives drawn from directorates that were formed, trained and equipped in close partnership with the CIA, according to current and former Ukrainian and U.S. officials. Since 2015, the CIA has spent tens of millions of dollars to transform Ukraine's Soviet-formed services into potent allies against Moscow, officials said. The agency has provided Ukraine with advanced surveillance systems, trained recruits at sites in Ukraine as well as the United States, built new headquarters for departments in Ukraine's military intelligence agency, and shared intelligence on a scale that would have been unimaginable before Russia illegally annexed Crimea and fomented a separatist war in eastern Ukraine. The CIA maintains a significant presence in Kyiv, officials said.

The extent of the CIA's involvement with Ukraine's security services has not previously been disclosed. U.S. intelligence officials stressed that the agency has had no involvement in targeted killing operations by Ukrainian agencies, and that its work has focused on bolstering those services' abilities to gather intelligence on a dangerous adversary. A senior intelligence official said that "any potential operational concerns have been conveyed clearly to the Ukrainian services."

Many of Ukraine's clandestine operations have had clear military objectives and contributed to the country's defense. The car bombing that killed Daria Dugina, however, underscored Ukraine's embrace of what officials in Kyiv refer to as "liquidations" as a weapon of war. Over the past 20 months, the SBU and its military counterpart, the GUR, have carried out dozens of assassinations against Russian officials in occupied territories, alleged Ukrainian collaborators, military officers behind the front lines and prominent war supporters deep inside Russia. Those killed include a former Russian submarine commander jogging in a park in the southern Russian city of Krasnodar and a militant blogger at a cafe in St. Petersburg, according to Ukrainian and Western officials.

Ukraine's affinity for lethal operations has complicated its collaboration with the CIA, raising concerns about agency complicity and creating unease among some officials in Kyiv and Washington.

Even those who seesuch lethal missions as defensible in wartime questionthe utility of certain strikes and decisions that led to the targeting of civilians including Dugina or her father, Alexander Dugin — who officials acknowledge was the intended mark — rather than Russians more directly linked to the war.

"We have too many enemies who are more important to neutralize," said a high-ranking Ukraine security official. "People who launch missiles. People who committed atrocities in Bucha." Killing the daughter of a pro-war firebrand is "very cynical," the official said.

Others cited broader concerns about Ukraine's cutthroat tactics that may seem justified now — especially against a country accused of widespread war atrocities — but could later prove difficult to rein in.

"We are seeing the birth of a set of intelligence services that are like Mossad in the 1970s," said a former senior CIA official, referring to the Israeli spy service long accused of carrying out assassinations in other countries. Ukraine's proficiency at such operations "has risks for Russia," the official said, "but it carries broader risks as well."
There's a lot more, but you get the idea.
Here, we're seeing the classic problem with proxy wars: the proxy almost always has different interests and values than the sponsor. But it also illustrates just how deeply the US military and intelligence community is involved in training and planning the Ukrainian fight.
In both cases, it would be perfectly reasonable for the other side to view the United States as an active belligerent in the conflict, with our military and intelligence assets legitimate targets. Indeed, that already seems to be happening in the Middle East, although our targetability there is overdetermined.
In both cases, the cause is just, with US support warranted on both values and national security grounds. In Ukraine, in particular, the Biden administration has clearly been cognizant of the risk of escalation, as evidenced by its being dragged very slowly and reluctantly in expanding the range and lethality of weapons being supplied. But I suspect that the general public sees our involvement as merely expensive, not risky.