The Framers Aren't All They're Cracked up to Be
The men who gathered in Philadelphia to write the Constitution were geniuses. But they couldn't predict the future.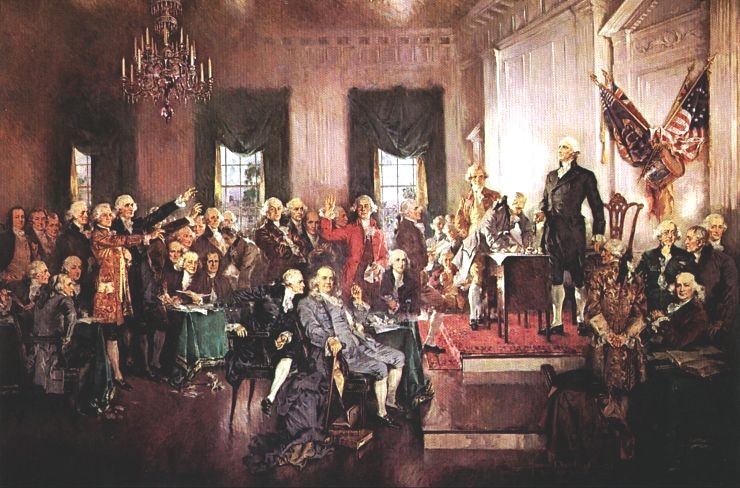 In response to Steven Taylor's "Checks and Balances are Not What They are Cracked up to Be," longtime commenter @Michael Reynolds argues that the Framers ultimately crafted a system that served their own interests and thereby contributed to a lot of human misery. While he's not wrong, it's mostly unfair to have expected otherwise.
Michael begins,
They also failed to anticipate the Wyoming vs. California effect on the Senate and on the electoral college. They failed to anticipate the degree to which issues would become small 'd' democratized and inevitably dumbed down and radicalized. They failed to anticipate that the US would become a dominant global power benefitting from that global system. They failed to anticipate the US military role in modern history and the development of ICBM's which pushed power to the executive. They failed to anticipate automatic rifles in private hands.
To blame the Framers for having failed to anticipate partisanship, as Steven does, is quite reasonable. Political parties, after all, had existed in England for a century when the Constitution was written.
That they failed to anticipate the challenges of the frontier, much less global empire, is more understandable. They were writing from the perspective of a nascent country of four million people along the Eastern Seaboard thousands of miles away from other civilized countries in an era before steam power. Not only would the modern world have baffled most of them, they would never have imagined that we'd still be trying to govern ourselves by the document.
More importantly, while the "Wyoming vs. California effect" has indeed had a pernicious impact, the Framers weren't building a theoretical governmental system but proposing a radical change to an existing framework. Under the existing Articles of Confederation, the 13 states were sovereign equals. Rhode Island and Delaware were simply not going to consent to suddenly having one-tenth the voting power of Virginia or even one-eighth that of Massachusetts or Pennsylvania. That they acceded to the Great or Connecticut compromise, which created a Senate where all states were equal but a House where representation was based on population (and even non-voting slaves counted three-fifths) was a rather remarkable display of statesmanship.
They made a lot of mistakes – chiefly the failure to deal with Native Americans, African-Americans or women. But also the Second Amendment. These oversights have cost us how many dead Indians, how many dead or enslaved blacks, how many dead on both sides in the Civil War? And how many dead at the hands of gun nuts? Millions.
Again, I don't think these are "oversights" so much as hindsight. While there were surely some "woke" folks in 1787 who thought that blacks and Indians ought have equal representation—and presumably many more who thought white women should—it was simply inconceivable that there were enough to have written a Constitution reflecting those values. Much less get it ratified by three-quarters of the state legislatures of the day.
If we had a simple one person, one vote system Trump would never have been elected. If we had a proportional Senate Trump would now be facing an actual trial instead of McConnell's travesty. Maybe it's time to take a more realistic view of the founders we tend to treat as oracles of eternal wisdom.
Michael, Steven, and I are in full agreement that the Senate and Electoral College are anachronisms and ought to go. And Steven and I were telling US Government 101 students that the Framers were brilliant but flawed men—and, at the end of the day, mere politicians—two decades ago.
We also largely agree on this coda:
The system they created has ceased to function in a way that represents the will of the American people. They created a system that benefitted people like themselves: wealthy white males and that's who it has benefited for a century and a half. The Senate has gone from 100% white to 90% white, in 150 years. In that same time we've gone from 100% male to 'just' 75% male. IOW from one perspective the constitution has done what it was built to do: preserve the dominance of wealthy white men.
I first took an oath to the Constitution, swearing to defend its principles and the Republic it governed, more than 35 years ago. I've renewed it several times since, meaning it every time. It's truly remarkable that a document crafted by eighteenth-century politicians to deal with the circumstances of a tiny, fledgling country has managed to survive into the twenty-first century and the circumstances of a continental nation and global superpower.
I was able to tell myself for most of that time that the Constitution still worked. Sure, the inequity between the small and large states has exploded and made the system less democratic in that regard. But we've also made it much more democratic in others, extending the franchise to all citizens, regardless of race, gender, or class, over eighteen.* And I was long sympathetic to the notion that our policies should reflect national consensus rather than pure majoritarianism, so was fine with the filibuster and the "Wyoming-California effect" until the last decade or so.
But it's one thing for the wishes of 51 percent of the country to be thwarted by the strong opposition of the other 49 percent and quite another for the wishes of 30 percent to predominate. It's one thing for the Presidency to go to a narrow loser in a once-every-century-plus event as it did in 2000; it's quite another for it to go to someone who lost by nearly three million votes just sixteen years later.
The Senate, and therefore the Presidency, were designed to over-value the preferences of small-state voters. That became increasingly problematic as the size disparity between states grew but could nonetheless be justified on theoretical grounds. As we've become more polarized and, especially, as politics became more nationalized, it's harder to justify.
Moreover, there's no obvious mechanism for fixing the problem. It's next to impossible to amend the Constitution in any case and much moreso in this instance. It's inconceivable that the Senate would vote to take away the power of the smaller states; it would be political suicide for small-state Senators.** And, if that somehow happened, it's inconceivable that the small-state legislatures would go along.
________________
*Yes, there are caveats in practice but they're not a function of the Constitutional arrangements at the national level but of federalism. Further, that more women and non-whites aren't elected to office is more a function of our history and culture than our institutional arrangements.
**I suppose partisanship could override state loyalty, such that a Democratic landslide in 2020 could decide that realignment would serve the party's long-time interest.