The GOP's Bizarre Iowa Debate/Forum/Church Revival Meeting
Did you know there was another GOP debate last night? Well, you didn't miss much.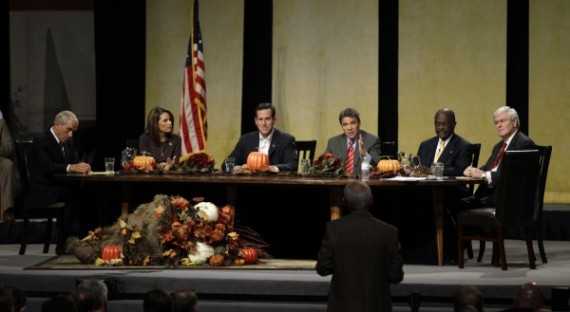 Unless you were on Twitter last night, or otherwise paying attention to politics when the normal people were all watching college football, you probably didn't know that 5 Republican candidates had what you can either call a "debate" or a church meeting last night in Iowa. It was called  the Thanksgiving Family Forum, sponsored by The Family Leader. Yes, that's the same Family Leader that called on the Republican candidates to sign a virulently anti-gay pledge earlier this year, a pledge that candidates like Mitt Romney, Gary Johnson, and Jon Huntsman refused to sign. Perhaps that's why Huntsman and Johnson weren't even invited. Mitt Romney apparently was invited to the event, but decided to decline, and based how the whole thing went down, it seems to have been a wise decision on his part:
Looking to court this state's critical voting bloc of evangelical Christians, Republican presidential candidates sharply attacked secularism and the Supreme Court while calling for greater restrictions on abortion and gay rights at an event here on Saturday.

At a forum on moral values, which was held at First Federated, an evangelical church in Des Moines, the six candidates in attendance largely stuck to Republican orthodoxy and avoided criticizing one another. Instead, they called for dramatic changes in current law to achieve conservative aims.

To limit abortion, former House speaker Newt Gingrich, one of the leading candidates in polls here, proposed a federal law defining "personhood" as starting at conception, similar to a provision backed by abortion opponents that was rejected earlier this month by voters in Mississippi. Texas Gov. Rick Perry said he supported provisions that would limit the ability of gay couples to adopt children, while businessman Herman Cain called for changing provisions in the tax code that restrict churches' involvement in politics if they want to keep their tax-exempt status.

Several committed to supporting state same-sex marriage bans and eventually a constitutional amendment to prohibit it, although libertarian candidate Rep. Ron Paul (Tex.) said the issue should be dealt with by churches and families instead of the government.

"As long as abortion is legal in this country . . . we will never have rest because that law does not comport with God's law," said former Pennsylvania senator Rick Santorum.

Gingrich decried a shift toward secularism in America that he called a "disaster."

"The degree to which the left is prepared to impose intolerance and to drive out of existence traditional religion is a mortal threat to our civilization and deserves to be taken head-on and described as what it is, which is abuse of government to oppress the Americanpeople against their own values," Gingrich said.
That's the kind of thing you expect to hear at pretty much every Republican debate, of course, so it's no surprise that they hit those themes last night. As Politico noted, though, there was plenty about this event that was different from any other debate:
Moderator Frank Luntz, a GOP pollster who was clearly pleased the candidates didn't lob shots at one another as they have in the other televised debates, said he felt "like Dr. Phil" as he tried to draw confessions about regrets and personal failings out of the candidates at the subdued affair.

"Although I was remarkably successful in many ways," Gingrich said of his days in Congress, "there was a part of me that was truly hollow." He said he read the two main Alcoholics Anonymous books — not because he was drinking, but because he had "precisely the symptoms of someone who was collapsing."

He did not mention his two divorces specifically or his extramarital affairs — topics he tackled in a newly launched campaign website aimed at hitting back at attacks — but he did talk about redemption.

Describing his marriage with wife, Callista, as a positive, he said, "We're very close to our two daughters. … [Healing] has required a great deal of pain, some of which I have caused others, which I regret deeply."

Another emotional moment for Cain came when he described walking out of a surgeon's office when he'd been diagnosed with Stage 4 liver cancer and telling his wife, "I can do this. She said, 'We.'"

Santorum brought the crowd to silence when he described the birth of his disabled daughter Bella, whom he talks about frequently — but about whom he candidly admitted he saw as "less of a person because of her disability" when she was born and described his guilt over it.

"I prayed at that moment, please let her live," he said.

Perry did not get specific about his path to faith, instead repeating a story he's told before about feeling unhappy and like something was "missing" when he returned from a stint with the Air Force in his 20s, saying, "In every person's heart and soul there is a hole that can only be filled by the Lord Jesus Christ."
It's not surprising that there was personal stuff like that given that the event took place in a church, and it's hard to find much fault even with a guy like Herman Cain when he talks about surviving a cancer diagnosis that doctors thought was going to kill him, or Santorum's story about a daughter that isn't supposed to be alive. At the same time, though, there was plenty that went down last night that would likely scare the crap out of people who don't travel in the evangelical, far right circles from which The Family Leader originates. And there were plenty of moments caught on the video feed that someone somewhere is likely to use to reinforce the Democratic meme that Republicans are all a bunch of far-right wingnuts.
While there were few areas of disagreement, we did see some contentious moments when the topic of  federal control over issues like gay marriage and abortion game up. Not surprisingly, the commitment that these candidates purport to have for principles of Federalism goes out the window when these topics come up. Rick Santorum rejected the idea that states should have the right to define marriage as they see fit, and all of the candidates with the exception of Ron Paul supported a Federal Marriage Amendment that would make same-sex marriage illegal even in those states where it has been approved by the democratically elected representatives of the people (although Paul still inexplicably supported the clearly unconstitutional Defense of Marriage Act).
On abortion, the rhetoric was even more radical. Newt Gingrich spoke out in favor of using Congress to basically overturn Roe V. Wade by passing a law that said that personhood for purposes of the 14th Amendment begins at the point of conception. This is an idea that has been advanced by Princeton University Professor Robert George, and was the subject of discussion during a September 2011 forum in South Carolina:
During the forum, Princeton professor Robert P. George asked all five candidates whether they would support legislation, under Section Five of the 14th Amendment, that would restore legal protection for unborn children. The 14th Amendment guarantees that no state shall "deprive any person of life, liberty, or property, without due process of law." The fifth section gives Congress the power to enforce, "by appropriate legislation, the provisions of this article." The strategy Professor George is proposing would be for Congress to legislate that unborn children are persons under the 14th Amendment.
Leaving aside the legal viability of this strategy, it was part of a theme of the evening that was, at its core, profoundly disturbing. In addition to Gingrich advocating the idea that Congress has the authority to overrule a Constitutional ruling of the Supreme Court via legislation, we had Ron Paul advocating restricting the jurisdiction of the Federal Courts so that they couldn't rule on issues involving abortion or same-sex marriage to begin with, Rick Santorum talking about eliminating the Court of a Judge in Texas because of his rulings on issues related to offshore drilling, and pretty much all the candidates declaring war on the Ninth Circuit Court of Appeals because it is perceived, somewhat incorrectly I would argue, as a "liberal court." It's the same war on the judiciary that I wrote about several months ago, and it remains wrong for the same reasons I pointed out back then. The judiciary is a co-equal branch of the Federal Government and, when it comes to protecting the liberties of citizens and the rights of the minority, the most important one. The extent to which Republican judicial philosophy seems to have drifted away from a respect for the Constitution to a belief that, when it comes to individual rights, majority will should win out in the end.
There was a time, say back in the Founders Era, when majorities were something to be restrained, especially when they sought to use the government to restrict the rights of the minority, or of the individual which happens to be the smallest minority. For a long time conservatives seemed to share this distrust of majoritarianism, perhaps because they were in the minority themselves for so long. The Judiciary exists precisely for the purpose of standing against the majoritarian impulses of the Legislative and Executive Branches and saying "no, you can't do that." In fact, some of the Judiciary's greatest failures (Dred Scott, the Slaughterhouse Cases, Plessy v. Ferguson, and Korematsu to name just a few) have come when it has abandoned that role and let the majority ride roughshod over the rights of the minority. For the most part, though, the Courts have performed their task well over the past two centuries, and the extent to which these candidates for President find it so easy to turn a co-equal branch of government into the enemy is profoundly troubling.
It's understandable why these candidates would appear at this forum. Iowa's GOP has a strong core of evangelical conservatives that will go a long way toward deciding who wins the caucuses in January. At the same time, though, it's also understandable why Romney would not show up at all. He really doesn't win anything by talking to this audience and he stood to lose support among independent voters and more moderate Republicans by being associated in any way with the rhetoric of groups like The Family Leader or The National Organization For Marriage, a co-sponsor of the debate. One even wonders whether the debate itself will have much of an impact. At most, there seemed to be about 17,000 people viewing the livestream of the event, and there were no C-Span cameras there, reportedly due to a contractual dispute. That low viewership may be the best thing that happened to the GOP last night. As Steve Benen notes, the one thing last night event did was reinforce the idea that, despite the fact that the economy is the number one issue in this election, the base of the GOP remains dominated by people obsessed with "culture war" issues like abortion and same-sex marriage. If that message gets out to the general public, it could be the best thing to happen to Democrats in 2012
Update: Jazz Shaw has a piece up at Hot Air about the debate that is, shall we say, a bit more charitable than my take. Give it read.