The Impeachment Crisis Of 2015?
Could things possibly get worse on Capitol Hill? Grover Norquist seems to relish the possibility.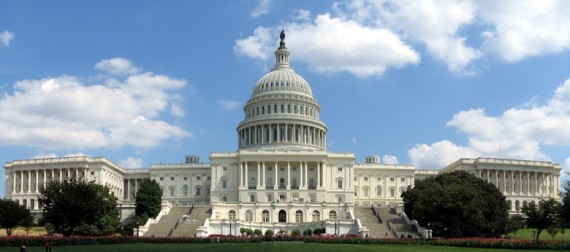 Grover Norquist predicts an epic showdown between President Obama and a Republican Congress if the President is re-elected:
NJ What if the Democrats still have control? What's your scenario then?

NORQUIST Obama can sit there and let all the tax [cuts] lapse, and then the Republicans will have enough votes in the Senate in 2014 to impeach. The last year, he's gone into this huddle where he does everything by executive order. He's made no effort to work with Congress.
Norquist is making a few assumptions about 2012 here, but I don't think they're all that off base. The first is that the GOP will hold on to the House of Representatives and, while there is some generic ballot polling showing the Democrats leading Republicans right now, political analysts like Charlie Cook, Larry Sabato, and Stuart Rothenberg all expect the GOP to hold on to control this year. Partly, this is due to the simple advantages of incumbency, but to a large degree it's due to the advantages that the GOP seems to be picking up in redistricting that will make it harder to unseat Republican incumbents in many states. The recently approved redistricting map in Virginia, for example, protects all incumbents quite nicely, including the three Republicans elected in 2010. In the Senate, even if the GOP doesn't take control, they still have a fairly good shot of winning in states like Virginia, Missouri, Nebraska, and North Dakota. Looking ahead to the 2014 midterms, the large number of Democratic freshman elected in 2008 gives the GOP another chance to pick up enough seats to either take control or add to an already existing majority.
Norquist seems to be suggesting that the GOP would end up with enough Senators after the 2014 elections to convict the President after an Impeachment trial. That seems slightly silly to say the least since it would mean the GOP having at least 67 Senators, which is a higher majority than even the Democrats were able to achieve after back-to-back Congressional landslides in 2006 and 2008.
But the numbers don't really matter, let's consider for just a second what Norquist is saying here. He's suggesting that a Republican Congress would consider impeaching a President because he refused to extend the Bush Tax Cuts or, to put it more precisely, because he refused to extend the Bush Tax Cuts for all taxpayers. It wouldn't be the first time that a Congress tried to impeach a President over what was essentially a policy dispute, of course; that's essentially what the Impeachment of Andrew Johnson was all about. That doesn't make it proper, or even rational for that matter. On some level, I cannot honestly believe that Norquist is serious about this.
Nonetheless, this would appear to be an indication of the kind of position that Norquist intends to take regardless of what happens in the 2012 elections. The Bush Tax Cuts will undoubtedly be an issue in the election, and one can already foresee a Lame Duck Congress in November and December trying to deal with this issue. It seems almost impossible, though, that a Lame Duck Congress would be able to reach any kind of agreement on the issue at all. If President Obama loses the election, he'll have no negotiating power at all and Republicans will simply wait until after January 20, 2013 to deal with the issue. Even if he is re-elected, though, the likelihood of a deal seems small. As in December 2010, the fact that President Obama is on record as saying he wants to extend the tax cuts for people earning less than $250,000/year will lead Republicans to play the same game of chicken that they did back then, betting that the President still won't want to risk the tax cuts expiring. It will either work, or it will lead to a stand off.
Perhaps it will be different next time. There are some Republicans in the Senate, like Tom Coburn, who've expressed interest in negotiating a comprehensive tax reform package. That's really the only way this silly stand-off over the Bush Tax Cuts can be resolved, because fighting every two years or so over extending them is a waste of time and only contributes to the sense of economic uncertainty that businesses which plan further ahead into the future than two years at a time. People like Norquist don't help the situation at all, and if the GOP continues to follow his advice the party is just going to continue contributing to public frustration with Washington. At some point, they will pay a price for that at the polling place.