The IRS Scandal Expands
Partisan targeting by the IRS should not be permitted to stand.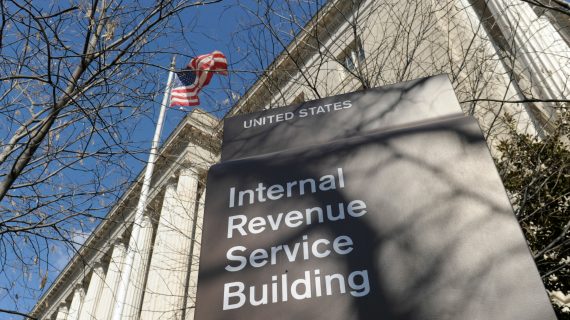 On Friday, the Internal Revenue Service issued what it called an apology to Tea Party affiliated and other conservative groups after it was revealed that employees of the agency had been unfairly singling these groups out for further scrutiny in response to their applications for tax exempt status. At the time, the agency said that the activity had occurred last year and that it was limited to a group of IRS employees at a single regional IRS Service Center responsible for processing the applications. In its statement, the agency claimed that this had all occurred without the knowledge of senior IRS employees and, again, that it had only happened last year. A report by the agency's Inspector General is supposed to be released sometime later this week, but we've already learned that it will state that the harassment of conservative groups started earlier that 2011, and that senior IRS officials were aware of it far earlier than the initial statement claimed:
WASHINGTON (AP) — Senior Internal Revenue Service officials knew agents were targeting tea party groups as early as 2011, according to a draft of an inspector general's report obtained by The Associated Press that seemingly contradicts public statements by the IRS commissioner.

The IRS apologized Friday for what it acknowledged was "inappropriate" targeting of conservative political groups during the 2012 election to see if they were violating their tax-exempt status. The agency blamed low-level employees, saying no high-level officials were aware.

But on June 29, 2011, Lois G. Lerner, who heads the IRS division that oversees tax-exempt organizations, learned at a meeting that groups were being targeted, according to the watchdog's report. At the meeting, she was told that groups with "Tea Party," "Patriot" or "9/12 Project" in their names were being flagged for additional and often burdensome scrutiny, the report says.

The 9/12 Project is a group started by conservative TV personality Glenn Beck. In a statement to the AP, Beck suggested that the revelations were hardly news to him and other conservatives.

"In February 2012, TheBlaze first reported what the IRS now admits to — that they unfairly targeted conservative groups including the 9/12 project," Beck said, citing his website and TV network. "It is nice to see everyone else playing catch-up and finally asking the same questions that TheBlaze started raising over a year ago."

Lerner instructed agents to change the criteria for flagging groups "immediately," the report says.

The Treasury Department's inspector general for tax administration is expected to release the results of a nearly yearlong investigation in the coming week. The AP obtained part of the draft report, which has been shared with congressional aides.

Among the other revelations, on Aug. 4, 2011, staffers in the IRS' Rulings and Agreements office "held a meeting with chief counsel so that everyone would have the latest information on the issue."

On Jan, 25, 2012, the criteria for flagging suspect groups was changed to, "political action type organizations involved in limiting/expanding Government, educating on the Constitution and Bill of Rights, social economic reform/movement," the report says.

While this was happening, several committees in Congress were writing numerous letters IRS Commissioner Douglas Shulman to express concern because tea party groups were complaining of IRS harassment.

In Shulman's responses, he did not acknowledge targeting of tea party groups. At a congressional hearing March 22, 2012, Shulman was adamant in his denials.

"There's absolutely no targeting. This is the kind of back and forth that happens to people" who apply for tax-exempt status, Shulman said at the House Ways and Means subcommittee hearing.
Predictably, news that IRS agents were singling conservative organizations out for further scrutiny has led to something of an "I told you so" argument on the right. As the AP notes in the linked article, there had been complaints from many of these grassroots organizations that they were being subjected to undue scrutiny as part of their application for tax exempt status. At the time, these claims were largely ignored by the mainstream media and the IRS's denial that anyone was being targeted based on their political beliefs was taken at face value. To some extent, I would argue that these groups are right to feel this way because it turns out that they were right, they were indeed being singled out because of their political beliefs. As The Washington Post explained in an editorial published yesterday, that is a very serious matter:
A BEDROCK principle of U.S. democracy is that the coercive powers of government are never used for partisan purpose. The law is blind to political viewpoint, and so are its enforcers, most especially the FBI and the Internal Revenue Service. Any violation of this principle threatens the trust and the voluntary cooperation of citizens upon which this democracy depends.

So it was appalling to learn Friday that the IRS had improperly targeted conservative groups for scrutiny. It was almost as disturbing that President Obama and Treasury Secretary Jack Lew have not personally apologized to the American people and promised a full investigation.

"Mistakes were made," the agency said in a statement. IRS official Lois Lerner explained that staffers used a "shortcut" to sort through a large number of applications from groups seeking tax-exempt status, highlighting organizations with "tea party" or "patriot" in their names. The IRS insisted emphatically that partisanship had nothing to do with it. However, it seems that groups with "progressive" in their titles did not receive the same scrutiny.

If it was not partisanship, was it incompetence? Stupidity, on a breathtaking scale? At this point, the IRS has lost any standing to determine and report on what exactly happened. Certainly Congress will investigate, as House Majority Leader Eric Cantor (R-Va.) promised. Mr. Obama also should guarantee an unimpeachably independent inquiry.
The Wall Street Journal agrees:
Just because you're paranoid doesn't mean the IRS isn't out to get you. We only wish that were a joke. On Friday, an Internal Revenue Service official disclosed for the first time, and by way of apologizing, that the agency that wields the taxing power of the federal government had targeted conservative groups for special scrutiny during the 2012 election season. Apology or not, that can't be the end of the matter.

The stunning admission didn't emerge in an official statement by a senior official at the Treasury Department, which supervises the IRS. Instead, IRS Director of Exempt Organizations Lois Lerner disclosed it on Friday in response to a question from the audience at a meeting of American Bar Association tax lawyers in Washington, D.C.

Ms. Lerner acknowledged that the agency had flagged groups with the words "tea party" or "patriot" to have their tax returns inspected, presumably with an eye on the legality of their tax exemption. Ms. Lerner called this "inappropriate," which it certainly was, and she said it wasn't done "out of any political bias," which is hard to believe. If there was no political bias, why were only conservative groups targeted? White House spokesman Jay Carney also called the IRS actions "inappropriate" on Friday, which makes that the word of the day.

(…)

It's important to understand that the timing of these requests, in the middle of the 2012 campaign, had the effect of stifling political activity. The targeted groups had tax-exempt status that allowed them to participate in certain kinds of political messaging. But any such group receiving IRS missives is immediately going to become cautious, lest it risk the arbitrary wrath of some tax official. The speech-squelching effects may have been especially important in Ohio, which was ground zero in the battle for the White House.

(…)

Republicans were up in arms Friday about the IRS disclosure, and rightly so. We assume they will use their oversight power in the House to find out what happened, and whether these Cincinnati kids were really operating on their own.

Other than the power to prosecute, the taxing authority is the most awesome power the government has. It can ruin people and companies. When wielded for political purposes, it is a violation of the basic contract the American people have with their government. The abuse admitted by Ms. Lerner can't be dismissed in a casual apology on a casual Friday as no big deal. It's a very big and bad deal.
An official with the American Civil Liberties Union called, speaking before the latest revelations had been made public called the idea of the IRS using partisan criteria to target taxpayers "about as constitutionally troubling as it gets."  He's right. There have been other times in our history when government agencies that are supposed to be politically neutral have been used for partisan purposes. Most famously, this occurred during the Watergate scandal when the Nixon-era IRS was used to target political enemies of the President. Indeed, those activities were part of one of the Articles of Impeachment filed against President Nixon before he resigned from office in 1974. In the wake of that scandal, laws were changed in an effort to ensure that the agency would be less subject to intimidation or abuse by the political branches of government. For example, there are now only a handful of positions in the agency that are subject to Presidential appointment and their terms are staggered such that they don't coincide with the assumption of power of a particular Administration. This is also true of the Director of the FBI and the members of the Federal Reserve Board and its Chairman, among others.  The intention is to give the IRS Commissioner some degree of political independence and it seems as though it has generally worked well. Indeed, the individual served as IRS Commissioner up until last November was appointed by George W. Bush and the position is currently being filled by an Acting Commissioner until President Obama makes his own appointment, who will serve well into the first term of whomever is elected President in 2016.
There is no evidence in this case that there was outside political pressure on the IRS in this particular case, of course, but that doesn't mean that there aren't serious issues raised by the fact that groups were being targeted based on their political ideology. In it's initial statement, the IRS claimed that this was an isolated incident and that only a small handful of workers were involved. The latest revelations, though, suggest that there was something more pervasive going on, and the fact that senior IRS officials were aware of the problem two years ago raises other serious issues. As noted above, when this issue was being investigated by Congress last year, outgoing IRS Commissioner Douglas Shulman testified that there was no political targeting going on. Now however, we know that individuals within the IRS as highly place as the agency's Chief Counsel were aware that it was in fact happening way back in 2011. Did Shulman know about this as well, or was this information kept from him for some reason? If he did know, what did he do in response to it, and why did he tell Congress that there wasn't any targeting going on when he testified in March of 2012? Finally, did anyone at the Treasury Department, of which the IRS is a part, have any knowledge of what was going on here, and what did they do to try to stop it if they did?
At the very least, this is a matter that demands Congressional investigation, and there are already indications that committees in both the House and the Senate will be taking this matter up. I'd also argue that the people involved in this matter, including supervisors who were aware of what was going on, should be disciplined, or even terminated, for allowing it to continue. There may also be grounds for a criminal investigation if it turns out that any of the IRS employees involved broke any laws in this matter. This isn't a matter that should be taken lightly, and the IRS's apology should not be permitted to be the end of this matter.