The Limits Of Non-Violence
Mohandas Ghandi pioneered the idea of non-violent resistance, but there are times and places where non-violence is little more than a ticket to a death camp.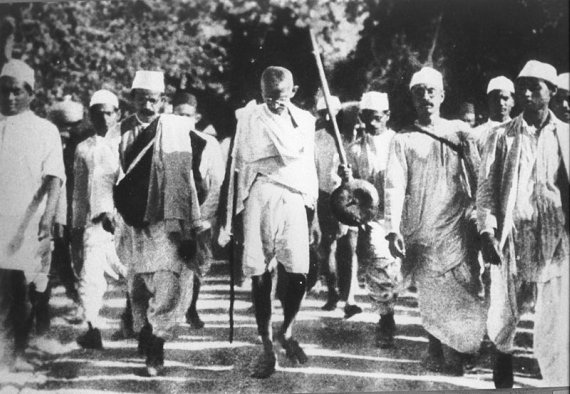 Matthew Yglesias closes out a post on the effectiveness of non-violent protest with this rather odd paragraph:
Over the years I've come to adopt a pretty extremist view on this, and I think I'm even prepared to accept the reductio ad Hitler case. Had it been feasible to coordinate the population of Poland, Denmark, Norway, France, Belgium, the Netherlands, etc. into a mass campaign of non-violent resistance to German occupation I think that would have brought even Hitler down. The problem there is essentially about how difficult it is to sustain collective action rather than about the need to fight evil with violence.
The problem with this example is that the non-violent protest sort of assumes that the entity you're protesting against isn't simply going to turn the machine guns on you, pull the trigger, and kill you in the middle of your "non-violent" protest. Given their actions from 1933 onward, it's fairly clear that there was very little that would have restrained the Nazi leadership from doing exactly that. They did it to their own citizens, after all, and they saw no moral problem with sending millions of Jews off to death camps to be killed. Do you really think that they would have had any problem with sending a few tanks into the crowd of a "non-violent" protest in Paris in 1941 ?
If you want a more contemporary example, you need look no further than Tiananmen Square in June 1989. Faced with a non-violent protest that was being broadcast around the world, the Chinese government decided to use force to break it up. Whatever the goal of that protest was, it's fairly clear that non-violence in the face of tanks is of, at best, only limited utility.
Non-violent protest is a good thing, and in a society based upon the Rule Of Law, I would argue that it is the only acceptable form of protest. Non-violence worked for Ghandi and Dr. King precisely because they were working within a system that, at least at its core, respected the Rule of Law. In a tyrannical society, however, both of them would've been dead before their movements ever got off the ground.
In the face of actual tyranny non-violent resistance is little more than a suicide pact.