The Phony Populism Of Politicians
Politicians on both sides of the aisle like to tell people they're just "average Americans," but they're lying and the American people seem to have figured out that they're lying.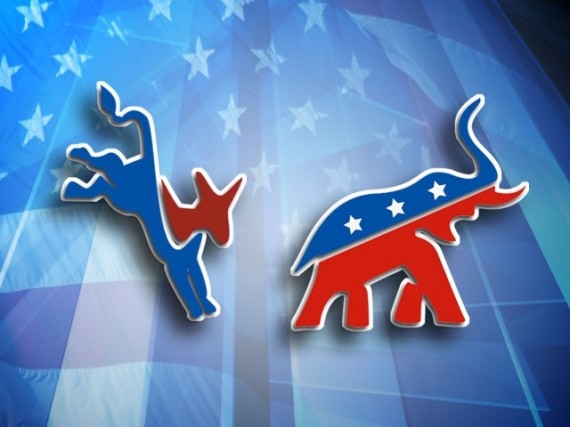 In a New York Times Magazine piece set to drop on Sunday, Mark Leibovich takes on some of the Republican Senate candidates and what he calls the "Bumpkinifunciton" of the midterm elections:
Joni Ernst, the Iowa state senator and Iraq War veteran, was standing in a barn in a purple flannel shirt and an unzipped vest. Beside her, various swine burrowed in the hog lot; two small pigs spooned; there was copious squealing. When Ernst, who grew up on a farm castrating hogs, opened her mouth to speak, she drew the inevitable connection between her upbringing and her current role as a Republican candidate for the United States Senate. "When I get to Washington, I'll know how to cut pork," Ernst said, smiling. Title cards reinforced her credentials. ("Joni Ernst: Mother. Soldier. Conservative.") "I'm Joni Ernst, and I approve this message because Washington is full of big spenders. Let's make 'em squeal."

The 30-second spot, titled "Squeal," was part of a trilogy of ads for the candidate released earlier this year. In another, Ernst, enrobed in a biker jacket, rides a Harley-Davidson to a gun range. ("Joni Ernst: Set Sights on Obamacare"). In a third, titled "Biscuits," the camera focuses on a man's hands as they add butter to flour and use molds to cut circles. "When I was working fast food, I learned the key to a great biscuit is lots of fat," Ernst tells the camera. "Problem is, Washington thinks the same thing about our budget."

(…)

As we have often been reminded, this was supposed to be a very important election cycle. The Republicans' hopes of retaking the Senate could easily hinge on squeaker races like Ernst's in Iowa. This, along with the possibility of padding their majority in the House, would be a significant development for the nation, just as the issues loom huge, complex and ISIS-Ebola scary. And yet countless candidates seem determined to tout their fitness for these enormous challenges by trying to out-bumpkin one another. This spring, Ernst's opponent, Bruce Braley, a four-term congressman, assured voters that he "grew up doing farm jobs and working a grain elevator."

There is, of course, a delicate art to bumpkinizing. Republicans, in particular, have been burned in recent Senate elections by nominating candidates — Christine O'Donnell, for instance, or Todd Akin — who turned out to be too bumpkin for their own good and imploded in winnable races. This time around, the strategy has been tweaked: If you want to come off as an amateur, it's helpful to be a pro of some sort. One of the year's more unlikely populist heroes, after all, is a cowboy poet from South Dakota named Larry Pressler. This Washington outsider, who is running for Senate as an Independent, also happens to be a former Republican senator and a lobbyist who has considered running for mayor of Washington.
Because the piece predominantly focuses on Ernst and other Republican candidates, both those running those year and those who have run in the past, Leibovich's piece is inevitably being criticized as a partisan attack by several commentators on the right. Leon Wolf at RedState for example falls back on the idea of this being part of an attack by elitists on Americans outside the New York-Washington corridor and even titles his piece "The New York Times Hates Being In America," This type of argument isn't new, of course, it has roots all the way back in the Nixon Administration and Vice-President Agnew's attacks on the "nattering nabobs of negativism" in the media. More recently, it can be seen in the assertions of those such as Sarah Palin and Rush Limbaugh who talk about "liberals" on the East and West Coasts considering the rest of America as being "flyover country" that can safely be ignored, likely not recognizing that their own attacks are essentially arguing that the people who live on the East and West Coasts don't represent "real America." It is, in other words, the rhetoric of the culture war that Pat Buchanan claimed existed in his incendiary and infamous speech at the 1992 Republican National Convention, and one that the right has been fighting since the time Nixon was in office.
Jazz Shaw dosesn't go quite as far as Wolf, but he makes a similar argument:
These "bumpkins" which Leibovitch so casually dismisses as being unworthy of participating in a modern democracy are, in fact, representative of a large swath of the nation. There are still people who actually live in farm country and maintain the values he so cheerily derides. There are people working in factories and mills – at least those few who can still find jobs – and get up every day worrying about problems which probably seem quaint, if not fictional, to those who spend their lives living in Manhattan, D.C. or Hollywood.
Now, it's certainly true that there are certain caricatures of the conservatives by people on the left  that classify their political opponents as stupid, or ill-informed, or whatever you may have, and I suppose one can read Leibovich's piece in that way. However, it's worth noting that the same sorts of caricatures exist on the right when it comes to their political opponents. It's also true that conservative politicians have a disturbing tendency to dismiss the opinions of experts in almost any field if their conclusions or recommendations disagree with their political positions, and, in the case of people like Sarah Palin, to dismiss the importance of expertise on issues entirely. When you do something like that, it's not too hard to see why people who think education and expertise is  important tend to look down on you. These caricatures are, perhaps, a natural consequence of political rivalry and the fact that people increasingly tend to socialize and interact only with people like them, but that doesn't make it true in either case. More importantly, focusing on Leibovich's comments about Ernst and other candidates misses a broader point that he makes in the speech that speaks to something that's true of all of our politics, and which I think explains to a great degree why the average American, who is far less interested in politics and partisan battles than politically engaged people on either side of the aisle:
Skilled politicians have a proud tradition of conveying utter contempt for their profession, especially when they're running to keep their jobs. This is, to some degree, rooted in our history. As they drafted the Constitution, the founding fathers envisioned that their new republic would be governed by a temporary leadership class of farmers, doctors and assorted commoners who would retain close ties to their communities. Self-styled feisty populists, like Andrew Jackson, tended to denigrate the well-bred qualities of their opponents. "Andrew Jackson, who can fight" was how the decorated general sold himself in the 1828 presidential campaign, compared with "John Quincy Adams, who can write." Jackson, who in fact was a wealthy and experienced politician, won easily.

The historian Garry Wills has referred to this entrenched American tendency as "the glorification of the amateur and contempt for the professional." This dynamic was heightened during the 1960s, and even more so after Watergate, when an increasingly antiestablishment electorate gravitated toward candidates who could prove that they had no link to the professional order. The 75 new Democrats who were elected to Congress in 1974 — the so-called Watergate babies — swept in largely on a promise to overturn "traditional" politics. The Republican House overthrow of 1994, in response to Bill Clinton's shaky first couple of years, was grounded in fashioning a class of 73 anti-Washington Washingtonians. Led by Newt Gingrich, nearly all of them were committed to term limits and to spending as little time in Washington as possible. (For the record, many of them are still there.)
Whether he intended to do it or not, Leibovich has made a point here that applies to all politicians on both sides of the aisle, and which has been a part of American politics for time immemorial. It points to the most common theme of politicians, which can generally be described as the idea that they are a man or woman "of the people," that they are in touch with the "regular guy," and that they are running against Washington and the government. That last one tends to be particularly hilarious when it comes from someone who has been a part of politics for much of their adult lives, and ever more so from Members of Congress, Senators and Presidents who are running for re-election while trying to tell the public that they are not part of what's wrong in the system that they are the predominant part of. Even more so, though, every politician feels the need to try to pretend that they are just like "regular" Americans even when it quite obvious that they aren't. Members of Congress are in Washington working at most four days a week. When the House and Senate are gaveled to a close on a Thursday afternoon they are out the door and on an airplane to their home districts for fundraising, parties, or glad-handing, or sometimes all three at once. They get special parking places on Capitol Hill and National Airport, and priority access through TSA and boarding lines while their constituents just look on. With a base salary of $174,000, and the ability to use their office budgets to hire family members to "work" for them, they earn an amount of money well above what the average American earns and that gap becomes even larger when you add in benefits and pensions. This leaves out of the equation, of course, that many of these people, on both sides of the aisle, were independently wealthy before ever entering office and will have the opportunity to become even wealthier after they leave office. The idea that any of them are "average" Americans or have any real connection to such people is, by and large, utterly absurd.
That's not to say that there aren't genuine populists out there, of course, but the vast majority of politicians who project the image of being the aw-shucks common man are projecting a false image. To some extent, this is a necessity for them because it seems to be what American voters have wanted to see from their politicians, at least in recent decades. More recently, though, it seems as though Americans are seeing through the illusion that these politicians and their handlers are trying to project and that, combined with the facts of Washington gridlock, general government incompetence, and the fact that nobody seems to ever actually get anything constructive done anymore, it has made them far more cynical about politics than they've been in the past. You can see it in the polling that shows increased disapproval of government at all levels, record low approval of Congress and other government institution, and declining interest in politics by the very same "average Americans" that the politicians claim to be appealing to. They know the politicians are lying to them and they're losing patience with the lies. And I don't blame them one bit.