An 'Ambitious' Yet Pointless State Of The Union, And An Utterly Pointless Response
The State Of The Union Address was more of the same, and the same will be true of Washington going forward.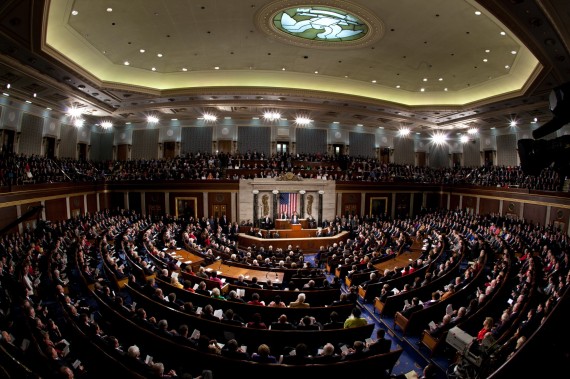 Last night's State of the Union Address was about what everyone expected it would be. The President set a broad, ambitious agenda that Congress will promptly ignore, Republicans put out another sacrificial lamb to tackle the worst job in America, and, after reading through the speech, it became clear that my instinct to skip the speech altogether was the right idea after all.
The New York Times characterized the President's speech as "ambitious" and his tone as "defiant":
WASHINGTON — President Obama claimed credit on Tuesday for an improving economy and defiantly told his Republican adversaries in Congress to "turn the page" by supporting an expensive domestic agenda aimed at improving the fortunes of the middle class.

Released from the political constraints of a sagging economy, overseas wars and elections, Mr. Obama declared in his sixth State of the Union addressthat "the shadow of crisis has passed," and he vowed to use his final two years in office fighting for programs that had taken a back seat.

He called on Congress to make community college free for most students, enhance tax credits for education and child care, and impose new taxes and fees on high-income earners and large financial institutions.

We have risen from recession freer to write our own future than any other nation on Earth," Mr. Obama said in an hourlong address to a joint session of Congress seen by an estimated 30 million people. "Will we accept an economy where only a few of us do spectacularly well? Or will we commit ourselves to an economy that generates rising incomes and chances for everyone who makes the effort?"

Confident and at times cocky, the president used the pageantry of the prime-time speech for a defense of an activist federal government. He vowed to continue a foreign policy that combines "military power with strong diplomacy," and he called on Congress to lift the trade embargo on Cuba and pass legislation authorizing the fight against the Islamic State.

He said approval of a resolution granting him that power — something he has long argued he does not need to carry out the five-month-old campaign — would send an important signal. "Tonight, I call on this Congress to show the world that we are united in this mission," Mr. Obama said. "We need that authority."

"This effort will take time," he said of the battle to defeat the Islamic State, the Sunni militant group that is also known as ISIS or ISIL. "It will require focus. But we will succeed."

Mr. Obama met a skeptical but respectful Congress hours after vowing to veto Republican legislation that would restrict abortion and speed the approval of natural gas pipelines, the latest in a series of veto threats that reflect his eagerness to confront conservative ideology.

(….)

Mr. Obama's plans — which would offer free community college for millions of students, paid leave for workers and more generous government assistance for education, child care and retirement savings for the middle class — are to be financed in large part by $320 billion in tax increases over the next decade on higher income earners as well as a fee on large financial institutions.

The tax plan would raise the top capital gains tax rate to 28 percent, from 23.8 percent. It would also remove what amounts to a tax break for wealthy people who can afford to hold on to their investments until death. Mr. Obama also said he wanted to assess a new fee on the largest financial institutions — those with assets of $50 billion or more — based on the amount of risk they took on.

Those proposals would pay for the community college initiative, which would cost $60 billion over a decade, as well as an array of new tax credits intended for the middle class. They include a new $500 credit for families with two working spouses; a subsidy of up to $2,500 annually to pay for college; and the tripling, up to $3,000, of an existing tax break to pay for college.

"It's time we stop treating child care as a side issue, or as a women's issue," Mr. Obama said, "and treat it like the national economic priority that it is for all of us."
The Washington Post, meanwhile, emphasized the President taking credit for progress he claims to have made in the last six years, and Republicans pushing back with their new found power:
President Obama, who took office six years ago amid a historic recession and two U.S. wars, declared unequivocally Tuesday that the nation had clawed its way out of those dire straits, praising Americans for their resilience but also pointedly taking credit for leading the way.

"America, for all that we've endured; for all the grit and hard work required to come back; for all the tasks that lie ahead, know this: The shadow of crisis has passed," Obama said in his sixth State of the Union address to the nation and a joint session of Congress in the House chamber.

After years of fighting with Republicans over where to take the country, Obama delivered an hour-long defense of his policies that at times sounded like a victory lap. He asserted that the brightening economic picture — including accelerating job growth, more people with health insurance and lower gas prices — had proved that he was right, and his adversaries misguided, all along.

On Wednesday, he was headed to Idaho, a deep-red state he hasn't visited since becoming president, to follow up on his speech as Republicans pushed back against his agenda.

The president had been cautious over the past two years not to gloat over news of fitful economic growth, mindful that the economy remained tenuous and public confidence uneasy. But with the jobless rate well below 6 percent, the stock market nearing record highs and his job-approval ratings rebounding, Obama on Tuesday night dropped his veneer of reserve and appeared to delight in having proved his critics wrong.

"At every step, we were told our goals were misguided or too ambitious, that we would crush jobs and explode deficits," he said. "Instead, we've seen the fastest economic growth in over a decade, our deficits cut by two-thirds, a stock market that has doubled, and health-care inflation at its lowest rate in 50 years."

"So the verdict is clear," Obama said.

At times Tuesday, Obama chided Republicans to help improve Washington's political discourse. He harked back to the themes of national unity that helped him get elected in the first place in 2008 and called for more bipartisan cooperation on key issues.

But in doing so, Obama also served to remind the GOP of the reasons their relationship is so fraught — pausing at one point from his prepared text to deliver a spontaneous, and quite partisan, barb. When Republicans jokingly applauded after Obama noted that he had run his last campaign, the president quipped: "I know because I won both of them."
In other words, this was pretty much a standard Barack Obama State of the Union Address, ambitious plans, soaring rhetoric, and a sprinkling of proposals that most likely will never actually see the light of day never mind get a vote by the current Congress. On some level, the President and his advisers have to know this themselves. After all, you don't get to work at the high levels of the White House staff without being able to recognize the political reality of what complete Republican control of Congress for the last two years of a two-term Presidency means. And yet the President spent a good part of his speech proposing an agenda that he has to know is unlikely to see the light of day, not just because of the partisan makeup of Congress, but also because whomever ends up being the Democratic nominee for President next year, and thus the de facto head of the Democratic Party going forward, is going to have their own policy priorities and their own agenda and, most importantly, is going to have to respond to the problems facing the nation at the world at the time they are center stage. The ideas put forward by a lame duck President two years earlier are pretty much going to have been tossed into dustbin of history, most likely never to be seen again. On some level, of course, this is part of the natural effort that any two-term President makes to appear to remain relevant to the political debate even as they slip into the twilight years of their Presidency, and to attempt to have some say in the direction of the country beyond the threat of using the Veto pen. It's entirely understandable, but that doesn't make any of it any more politically dead on arrival than it actually is. Obviously, things might be different if the President's party still had some power on Capitol Hill — although even then, we are at the point now where Democrats are beginning to think more about the 2016 election than what can be accomplished over the next two years — but in the current political reality the President's list of goals for the coming year is pretty much the political equivalent of the kid with all the cool toys on his Christmas list who will end up with socks and pajamas under the tree on Christmas morning.
If the State of the Union address is largely a waste of time, the still recent practice of the opposing party's response to that address is even more of one, Invariably, it ends up being a thankless task more likely to lead to embarrassment for the person giving the speech and,, this year, the thankless task was handed to new Iowa Senator Joni Ernst:
There was no talk of castrating hogs in Joni Ernst's response to President Obama's State of the Union address Tuesday night. And there wasn't a water bottle in sight.

Instead, the freshman Republican senator from Iowa delivered a straightforward, almost mechanical speech calling for bipartisanship in Congress. She told viewers—and President Obama—that "there's a lot we can achieve if we work together."

Ernst, the official, smiling face of the GOP Tuesday night, was sworn into the Senate a mere two weeks ago. But during her campaign in a tight midterm race last year, she made her mark as the face of a reimagined Republican Party—at least, the goal of a GOP reimagining. She's the first woman ever elected to Congress from Iowa, and also the first female combat veteran to serve in the Senate—she was in the U.S. Army Reserves and the Iowa National Guard for 21 years.

Invoking her own humble upbringing in rural Iowa, Ernst recalled having to wrap her "one good pair of shoes" in plastic bread bags to protect them on rainy days. Though her parents didn't have much, she said, they "worked hard for what they did have." She lamented that families today have "less and less to show for" their hard work.

"We see our neighbors agonize over stagnant wages and lost jobs," she told viewers in a brief address. "We see the hurt caused by canceled health care plans and higher monthly insurance bills."

Drawing on the GOP's big win in November's midterm elections, Ernst said the party heard the country "loud and clear" when voters elected a wave of Republicans and put the party in control of both chambers of Congress. And though she generally stuck to a conciliatory tone when referring to Obama, she alluded to the president's promised veto of the controversial Keystone pipeline as an example of obstruction to a "serious job-creation" proposal.

"President Obama has been delaying this bipartisan infrastructure project for years, even though many members of his party, unions, and a strong majority of Americans support it," Ernst said. "The president's own State Department has said Keystone's construction could support thousands of jobs and pump billions into our economy, and do it with minimal environmental impact."

Highlighting her military experience, Ernst delivered the speech from the Senate Armed Services Committee room, having joined the committee at the start of the new Congress. Even her shoes fit the message: She rocked arguably chic camo heels for the occasion.

The SASC room, Ernst said, "is where we'll debate strategies to confront terrorism and the threats posed by al-Qaida, ISIL, and those radicalized by them." Giving her condolences to victims in France, Nigeria, Australia, and Canada, she called for a "comprehensive plan to defeat" terrorists.
Some of the commentary I heard this morning called Ernst's deliver "wooden," and I can see where that is coming from after having watched a bit of the speech itself, but on the whole it seems that Senator Ernst did about as good a job as you could expect in this situation. To the extent the delivery was "wooden," I suppose that can be blamed on the fact that she was reading it off of a teleprompter which she likely isn't as used to as more experienced public speakers. Beyond that, though, there really isn't anything about the speech that stands out, which is perhaps the best that Ernst could have hoped for under the circumstances. When it comes to a speech like this, the less that people are talking about it, the better. In any event, with this ceremonial nonsense out of the way Washington can get down to what it does best which, judging by the last ten years or so, basically involves both political parties yelling at each other while not actually accomplishing anything.