Fearful Of Trump, Republicans Refuse To Answer A Simple Question
Fear of Donald Trump and his minions is making it hard for Republicans to answer a simple question.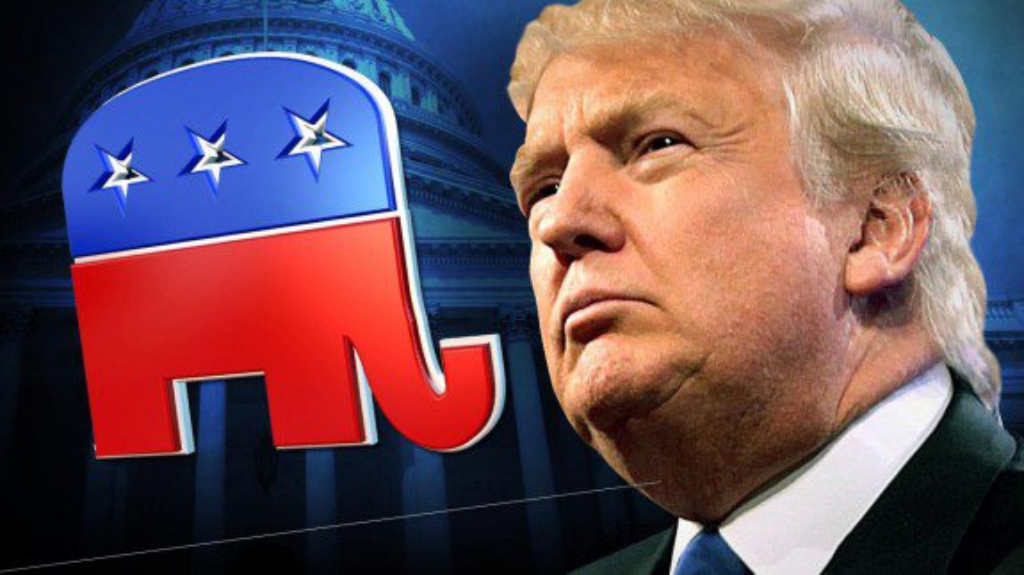 The Associated Press notes that Republicans are having an awfully difficult time coming up with an answer to a seemingly simple question:
A simple yes-or-no question keeps tripping up Senate Republicans: Should the president ask foreign countries to investigate political rivals?

A month ago the question was a legal and constitutional no-brainer. It's illegal to accept foreign help in a political campaign, an action that also raises questions about U.S. sovereignty. But President Donald Trump last week forcefully defended his right to do so as he publicly called on both China and Ukraine to investigate former Vice President Joe Biden and Biden's son, Hunter. A private request for Ukraine to launch a probe triggered an impeachment inquiry in the Democratic-controlled House of Representatives.

On Thursday, two Republican senators — Joni Ernst of Iowa and Cory Gardner of Colorado — repeatedly refused to answer reporters' questions on whether a president should make such a request of a rival power. "I don't know that we have that information in front of us," Ernst said in Iowa, even though the president made the request in front of cameras on the White House lawn.

In Denver, Gardner likewise wouldn't answer reporters' variations on the question 12 separate times before an appearance with the Colorado Chamber of Commerce. Like Ernst, he tried to punt to the Senate Intelligence Committee, which is investigating the circumstances around Trump's private call with Ukraine. "It's an answer that you get from a very serious investigation," Gardner told reporters when asked about the appropriateness of the president's public comments.

The hesitance of the two senators, who are both up for re-election next year in competitive states, contrasted with the stances of two Republicans not facing the voters anytime soon. On Wednesday, Sen. Lamar Alexander of Tennessee, who is retiring next year, said in a statement that it was "inappropriate" for Trump to make his request. But, Alexander added, impeachment would be a "mistake."

Sen. Rob Portman of Ohio, who was easily re-elected in 2016, told reporters on Tuesday that Trump's request was "wrong" but argued it isn't an impeachable offense.

(…)

Ernst and Gardner also tried to turn the question into an attack on the other party. After House Speaker Nancy Pelosi tweeted a video of Ernst refusing to answer questions about a president's overseas call for political help, Ernst tweeted back: "Actually, American elections should be decided by ELECTIONS. Not politicians. I know you're still upset about the results from 2016, but people here in Iowa would sure appreciate it if you spent less time playing political games and actually brought #USMCAnow up for a vote." USMCA is the acronym of a new version of the North American Free Trade Agreement.

In Denver, Gardner also tried to turn his awkward situation into an opportunity to attack Pelosi and Democrats. He contended that Democrats were looking for an excuse to remove Trump from office.
CBS News makes note of a similar phenomenon:
On Thursday, "CBS This Morning" co-hosts Anthony Mason and Tony Dokoupil pressed Republican Senator Rand Paul on whether the president was wrong to ask Zelensky to investigate the Bidens. And repeatedly, Paul skirted directly answering. Here is their exchange:

"Is it wrong, or isn't it?" asked "CBS This Morning" co-host Anthony Mason, of the president's request to investigate the Bidens.

"Well the — no I think it's not incorrect or wrong to," Paul responded.

"It's okay for the president to be—" Mason questioned.

"Well, no, let me finish," Paul said. "What I would say is that aid that we give to other countries should be contingent upon behavior. And whether or not we should have Ukraine trying to eradicate corruption, yes."

"This was specifically about Mr. Biden," Mason interjected.

"Well, I don't know, ask the American people if they think $50,000—" Paul said.

"I'm asking you. You're a senator," Mason said.

"Well I know, but ask the American people do you think $50,000 a month that Hunter Biden was getting might have been corrupt?" Paul said.

"You were running for president in 2016 — would you have done this if you were elected?" co-host Tony Dokoupil said.

"I think everybody has different ways that they would approach things," Paul said.

"You, sir, you," Dokoupil said.

"Well, the thing is, now we're getting down to whether or not it's personality and how he interacted in a phone call. Do you impeach people because he has a more direct way of approaching?" Paul said.

"It's not a question of impeachment. It's a question of, is it right or wrong to ask a foreign leader to ask in an election? With — by the way — nearly $400 million in aid hanging over his head?" Mason said.

"I guess the thing is, would you say we can't investigate corruption if they happen to be a political figure?" Paul said.

A handful of Republicans have taken a different tactic, suggesting the president was joking or unserious when he openly called on China to investigate the Bidens in front of dozens of journalists and cameras on the White House South Lawn.

BRENNAN: Are you comfortable with what the president has said here in this call for foreign governments Ukraine and China to investigate his political opponent?

BLUNT: Well I- I doubt if the China comment was serious to tell you the truth. The president—

BRENNAN: You don't take the president —

BLUNT: The president —

BRENNAN: — at his word?

BLUNT: No, the president loves to go out on the — on the White House driveway. I haven't talked to him about this. I don't know what the president was thinking. But I do know he loves to bait the press and he does that almost every day…

Some have gone as far as Republican Senator Lindsey Graham, who says he didn't see anything wrong with the Ukraine call as summarized. But Graham did have concerns about any request about China.

"I'm okay with what the president did," Graham told WSPA. "I don't think he did anything wrong talking to the Ukraine cause we give them money and aid. I think it was wrong to ask China to investigate. I don't trust China to be fair to anybody Trump, me, or you. So that was a mistake."
The extent to which Republicans, especially Republicans in the Senate are weaseling around on this question is interesting for two reasons.
First, they are at least two some extent drawing a distinction between themselves and their colleagues in the House in that they aren't quite as eager to jump full-in on the spin and propaganda that the White House dishes out on this issue. There's a distinct difference, for example, between what you hear from a Senator like Cory Gardner and what you hear from Congressmen like Mark Meadows and Jim Jordan. At least part of that difference, of course, is due to the fact that Gardner is running for re-election in a state that is at least purple and turning more and more Democratic by the day. That can be best seen in recent polls that show the freshman Republican trailing his most likely opponent former Governor John Hickenlooper. The most recent poll of the state from Emerson College, for example, shows Hickenlooper ahead by fourteen points. Jordan and Matthews, by contrast, come from solidly red districts, meaning that whether they actually believe it or not they need to show complete loyalty to Trump to keep their jobs.
Second, the Republicans who are weaseling obviously seem to want to say something but feel as if they can't do so without risking Trump lashing out against them and the Republican base, which is entirely behind Trump, turning against them. The exceptions to this rule are those Senators, such as Mitt Romney, who can be confident that they have their own base of support back home that doesn't depend on fealty to Trump. Additionally, some of these Republican Senators need to play both sides of the street because they live in states where being overly close to the President could end up coming back to bite them in the General Election. Because of this, they're generally doing their best to avoid taking a stand either way.
Obviously voters should not let them get away with this. Whether you're a Trump supporter, a NeverTrump-er, or something else voters deserve to know where their representatives stand on the seemingly simple question of whether or not it's wrong for a President to seek foreign assistance in trying to bring down a political rival. The fact that they cannot or will not do so says all that needs to be said about them.