The Politics of Hurricane Sandy
Naturally, most of us are asking: What does this mean for next Tuesday's election.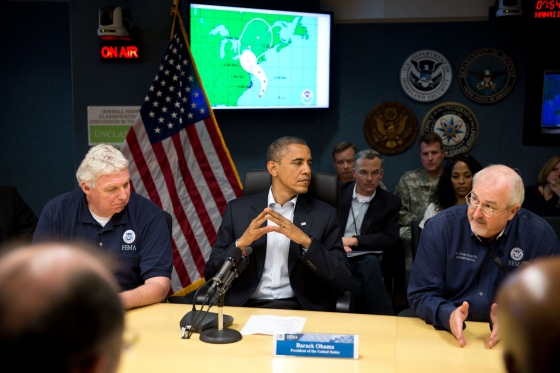 What's projected as a record storm is hitting the Eastern Seaboard, shutting down the federal government, New York City, public transit, highways, and pretty much everything else. Naturally, most of us are asking: What does this mean for next Tuesday's election.
Well, no normal person is asking that. (Unless you count commenters on Washington Post weather posts as normal. I don't.) But it's the latest sensation among political operatives and pundits.
More bizarrely, Newt Gingrich is trying to make hay out of this by observing, "You'll notice [President Obama]'s canceling his trips over the hurricane. He did not cancel his trips over Benghazi." Because, obviously, an attack on a consulate half a world away demands precisely the same response as a massive weather event directly impacting your location.
Less stupidly, Politico's Jonathan Allen ("Hurricane Sandy: 5 political questions") notes that both campaigns have been forced to scrap events in Virginia and many have speculated that storm coverage will force the cancellation of a lot of stretch run political commercials. But Allen figures Sandy helps Obama.
It's hard to see how the storm helps [Mitt Romney]. The Republican nominee has more than closed the gap with the incumbent over the final weeks of the campaign, taking a slim lead in most national polls. But his national boost hasn't been mirrored in two pivotal states: Ohio and Virginia. Already Romney had to scrap a full day's worth of events in Virginia Sunday.

Obama has had to change his schedule, too, but he's not the one trying to make up ground.

And even though there are multiple schools of thought on how Sandy could affect voters' feelings about the candidates or the nuts and bolts of getting folks to turn out, it's still hard to see how the storm could help Romney. That is, unless the government botches the response and voters blame Obama.

[…]

As president, Obama's best politics are to simply do his job well. On Sunday, he visited the Federal Emergency Management Agency's headquarters for a briefing, which is pictured prominently on the White House Website. The president, in suit and shirt with no tie, sits between FEMA Administrator Craig Fugate and Deputy Administrator Richard Serino.

"The president will be in the thick of it — which is when he's at his best," the Democratic source said. "There is no way for Romney to replicate that."
In very close elections—and it looks like this will be one of those—any little thing can be seen as a difference maker. Certainly, the storm is scrambling the candidates' plans for the stretch run. Campaign events and advertising are being affected. The conversation is being changed. George Will likes to quip that nobody pays attention to the campaign until after the World Series ends.* It ended last night. But the media will be talking about Sandy, not politics.
But it's next to impossible to say how or whether the storm is going to impact the ability to persuade a relative handful of undecided voters in Ohio, Virginia, Iowa, and New Hampshire. Could Romney lose the race because he's unable to campaign in Virginia and New Hampshire in the final days? Maybe. Then again, an extra couple of days in Ohio could just as easily be a blessing in disguise, putting him over the 270 Electoral vote threshold.
Does a natural disaster give a sitting president the advantage of getting to look presidential? Sure. But Obama has had four years to do that.
______________
*TV ratings would suggest Will is living in the distant past. Regular season NFL games draw more interest than last night's clinching game.