The "Post-Truth" Era?
General (Retired) Michael Hayden has some harsh, and concerning, criticisms of the Trump administration.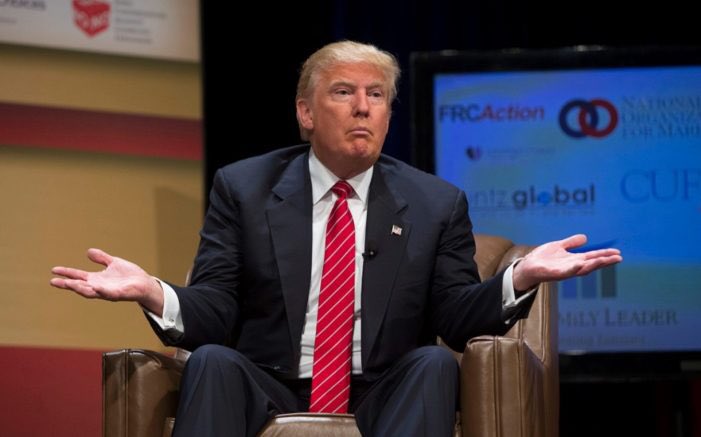 A couple of weeks ago, Michael Hayden, retired Air Force General and former head of both the CIA and the NSA, gave a talk to the Alabama World Affairs Council, which I attended.  I was struck that one of my take-aways from the talk was a feeling of nostalgia. No, not nostalgia for the Bush administration nor Hayden's views on fighting the war on terror, with which I have some serious criticisms.  No, I was nostalgic for foreign policy discussions by government officials based in fact and knowledge.  I was reminded of this upon reading Hayden's essay (adapted from a forthcoming book) is today's NYT:  The End of Intelligence.
I was specifically struck by the following (emphasis mine):
We have in the past argued over the values to be applied to objective reality, or occasionally over what constituted objective reality, but never the existence or relevance of objective reality itself.

In this post-truth world, intelligence agencies are in the bunker with some unlikely mates: journalism, academia, the courts, law enforcement and science — all of which, like intelligence gathering, are evidence-based. Intelligence shares a broader duty with these other truth-tellers to preserve the commitment and ability of our society to base important decisions on our best judgment of what constitutes objective reality.

The historian Timothy Snyder stresses the importance of reality and truth in his cautionary pamphlet, "On Tyranny." "To abandon facts," he writes, "is to abandon freedom. If nothing is true, then no one can criticize power because there is no basis upon which to do so." He then chillingly observes, "Post-truth is pre-fascism."
First, I think the nostalgia I noted above is in concert with this observation by Hayden:  academia and the intelligence community might not always agree on interpretation and application of knowledge, but they do share a lot in common insofar as they both assume that there is a truth to pursue.  Hayden further elaborates:
Intelligence work — at least as practiced in the Western liberal tradition — reflects these threatened Enlightenment values: gathering, evaluating and analyzing information, and then disseminating conclusions for use, study or refutation.
Second, the Snyder quote, while dramatic, has the ring of truth.  We all should be concerned about post-truth politics and politicians, especially since one sits in the White House and is shaping one of our two political parties in that direction.
President Trump both reflects and exploits this kind of [post-truth] thinking. It is fair to say that the Trump campaign normalized lying to an unprecedented degree. There was the candidate's claim that legions of Arabs celebrated wildly in New Jersey as the World Trade Center collapsed. He defended his calls for the intentional killing of the Sept. 11 terrorists' families because "they knew what was happening" and had "watched their husband on television flying into the World Trade Center," something for which there is zero evidence. He insinuated that Senator Ted Cruz's father had a hand in John F. Kennedy's assassination and that the Supreme Court justice Antonin Scalia had been murdered.

When pressed on specifics, the president has routinely denigrated those who questioned him, whether the "fake" media, "so called" judges, Washington insiders or the "deep state." He has also condemned Obama-era intelligence officials as "political hacks."

David Priess, an intelligence officer who once gave presidential daily briefings, asked me whether I thought Mr. Trump could distinguish between truth and untruth. He raised the controversial speech Mr. Trump gave at a Boy Scout Jamboree in West Virginia in July 2017, a speech that was overly political and occasionally tasteless. In the face of sharp criticism, the president said that the Scouts' leader had called him to say it was "the greatest speech that was ever made to them."

Of course, no such call ever occurred. But was Mr. Trump actually able to draw a distinction between the past that had really happened and the past that he needed at that moment? Mr. Priess's point was that you could sometimes convince a liar that he was wrong. What do you do with someone who does not distinguish between truth and untruth?
And it is not just truth, but adequate amounts of basic information that are at stake:
The president by all accounts is not a patient man. According to The Washington Post, one Trump confidant called him "the two-minute man" with "patience for a half page." He insists on five-page or shorter intelligence briefs, rather than the 60 pages we typically gave previous presidents. There is something inherently disturbing in that. There are some problems that cannot be simplified.
This is a known fact about the current POTUS, but it continues to astound and disgust.
Third, there are real consequences for fact-free decision-making:
The president continues to attack the Iranian nuclear deal and is likely to end it even in the face of intelligence that Iran has not committed a material breach of the compact, that the deal makes it more difficult for Iran to build a weapon and that it gives us visibility into its nuclear program.
I would note that at his talk he went out of his way to underscore that he had plenty of criticisms about the Iran nuclear deal, and he was critical of Secretary Kerry's negotiations.  Yet, he also stressed that now that the framework is in place it is by far our best tool for keeping Iran from becoming a nuclear power.  He was seriously concerned about the consequences of Trump pulling out of the plan.
At any rate, the whole piece is worth a read.