The Unanswered Question About Drones
Rand Paul's questions about the nation's drone war were only the beginning.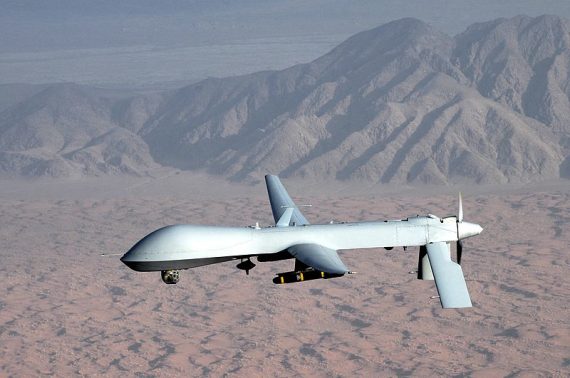 NYU Law Professor Ryan Goodman notes that, notwithstanding the Obama Administration's response to Senator Rand Paul's question about the use of drones on American soil, there remains a far more important, and unanswered, question:
What, exactly, does the Obama administration mean by "engaged in combat"? The extraordinary secrecy of this White House makes the answer difficult to know. We have some clues, and they are troubling.

If you put together the pieces of publicly available information, it seems that the Obama administration, like the Bush administration before it, has acted with an overly broad definition of what it means to be engaged in combat. Back in 2004, the Pentagon released a list of the types of people it was holding at Guantánamo Bay as "enemy combatants" — a list that included people who were "involved in terrorist financing."

One could argue that that definition applied solely to prolonged detention, not to targeting for a drone strike. But who's to say if the administration believes in such a distinction?

American generals in Afghanistan said the laws of war "have been interpreted to allow" American forces to include "drug traffickers with proven links to the insurgency on a kill list," according to a report released in 2009 by the Senate Foreign Relations Committee, then led by John Kerry, now the secretary of state.

The report went on to say that there were about 50 major traffickers "who contribute funds to the insurgency on the target list." The Pentagon later said that it was "important to clarify that we are targeting terrorists with links to the drug trade, rather than targeting drug traffickers with links to terrorism."

That statement, however, was not very clarifying, and did not seem to appease NATO allies who raised serious legal concerns about the American targeting program. The explanation soon gave way to more clues, and this time it was not simply a question of who had been placed on a list.

(…)

Mr. Holder's one-word answer — "no" — is not a step toward the greater transparency that President Obama pledged when he came into office, but has not delivered, in the realm of national security.

By declining to specify what it means to be "engaged in combat," the letter does not foreclose the possible scenario — however hypothetical — of a military drone strike, against a United States citizen, on American soil. It also raises anew questions about the standards the administration has used in deciding to use drone strikes to kill Americans suspected of terrorist involvement overseas — notably Anwar al-Awlaki, the American-born cleric who was killed in a drone strike in Yemen in 2011.

Is there any reason to believe that military drones will soon be hovering over Manhattan, aiming to kill Americans believed to be involved in terrorist financing? No.

But is it well past time for the United States government to specify, precisely, its views on whom it thinks it can kill in the struggle against Al Qaeda and other terrorist forces? The answer is yes.
Goodman has an excellent point here. As I noted, the questions that Rand Paul raised in his filibuster were important but they didn't really touch on the broader question of how we've been running the War On Terror for nearly the past dozen years.  It's a question that applies not just to how we run the drone campaign and targeted killings, but to the very essence of the "war" itself. For example, as Goodman notes elsewhere in the piece, included among the groups of people identified as "enemy combatants" and detained at the prison complex at Guantanamo Bay are people identified primarily as financiers of terror groups. It's fairly clear that targeting the financiers of terrorism is an acceptable tactic and one that is likely to have no small degree of success in limiting the ability of groups to carry out attacks. However, does that mean that they belong in the same classification as people like Khalid Shiek Mohammed, or that they should be indefinitely detained rather than prosecuted in a Federal Court and sent to a Federal Prison? Assuming for the moment that indefinite detention is an acceptable practice, and I would suggest that the jury is still out on that one, it strikes me that the definition of who is eligible for this extraordinary punishment is far too broad.
This also applies to the drone campaign. As Goodman notes, what the Obama Administration (and the Bush Administration) classifies as "engaged in combat," and thus eligible to be targeted for killing, has never been specifically laid out and has been expressed in such vague and general terms that do nothing but raise even more questions about how far they would go if given the opportunity. Given the fact that these drone strikes have done nothing but stir resentment in places like Afghanistan and Pakistan, it strikes me that we deserve some kind of answer from the Administration about what standard they're using and who, exactly, they contend they have a right to kill.